Idol finale crunches competition, comes up short of past glories
05/21/09 05:38 PM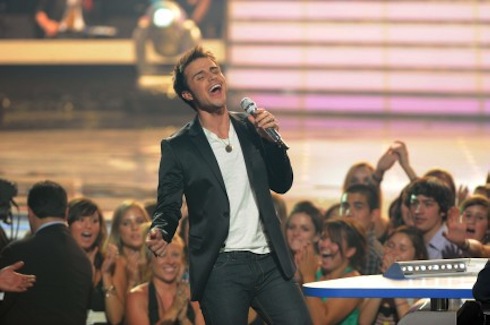 Newest Idol Kris Allen sings his lungs out Wednesday night.
By ED BARK
Rival networks would like to have this "problem."
Wednesday night's Season 8 finale of
American Idol
easily had more viewers than the combined competing programming on ABC, CBS, NBC and The CW. But its 28.8 million viewers marked the first time in five years that an
Idol
closer had fallen short of the 30 million mark in the national Nielsens.
Kris Allen's upset victory over Adam Lambert instead tied the Season 3 finale's total audience, which is the second lowest in the show's eight-edition history. Season 1, which began in the summer, has the smallest finale audience -- 22.8 million. Here are the
Idol
viewer totals for the eight finales to date:
Season 1
-- 22.8 million
Season 2
-- 38.1 million
Season 3
-- 28.8 million
Season 4
-- 30.3 million
Season 5
-- 36.4 million
Season 6
-- 30.8 million
Season 7
-- 31.7 million
Season 8
-- 28.8 million
The Tuesday and Wednesday editions of
Idol
remained network television's No. 1 and No. 2 shows for the 2008-09 regular season, which officially ended Wednesday.
Auditions this summer for Season 9 will include the show's third stop in Dallas, Fox4 announced during Wednesday's post-finale 9 p.m. newscast.