New season: CBS' The Good Wife is far superior to its title
09/22/09 03:42 PM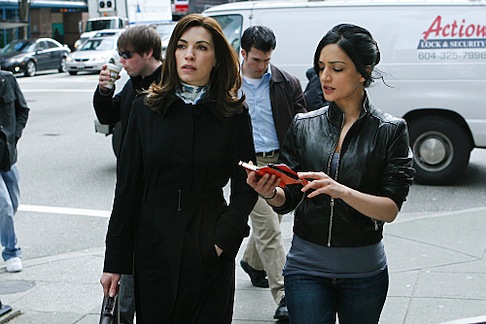 Julianna Margulies and Archie Panjabi of The Good Wife. CBS photo
By ED BARKPremiering:
Tuesday, Sept. 22nd at 9 p.m. (central) on CBS
Starring:
Julianna Margulies, Chris Noth, Christine Baranski, Josh Charles, Archie Panjabi, Matt Czuchry, Makenzie Vega, Graham Phillips
Produced by:
Tony Scott, Ridley Scott, Robert King, Michelle King, Dee Johnson, David Zucker
By ED BARK
The spurned woman is played by Julianna Margulies. The spurned man could be Jay Leno.
CBS' best bet for a new breakout hit -- without
CSI
or
CIS
in the title -- is a new Julianna Margulies drama that probably could use a snappier moniker.
But
The Good Wife
will have to do, and after a few episodes it probably won't matter. Going against
The Jay Leno Show
on Tuesdays this fall, here's a crackling good legal drama with a side dish of what it's like to be married to the likes of Mark Sanford, Eliot Spitzer or John Edwards.
In fact, the most satisfying scene in Tuesday's premiere comes early in the action, when Margulies' character, Alicia Florrick, delivers a crisp slap to the chops of her husband, Peter (Chris Noth).
He's just resigned as state's attorney of Cook County after making a public statement to the media with Alicia standing beside him. Admitting to "a failure of judgment" regarding his private assignations with various women, he otherwise plans to fight the "scurrilous charges" leveled against him. Sound a little familiar?
"Hey, you all right?" Peter asks after they've retreated backstage. That's when the slap comes, and you'll like both the sound of it and the message behind it.
Peter is then jailed, leaving Alicia to resume the career she sacrificed on his behalf to both aid his career and tend to their two now teenage children. It's been 13 years since she's practiced law after graduating at the top of her class from Georgetown. Now Alicia is a junior partner on a trial basis as a defense attorney at a Chicago law firm where one of her ex-classmates, Will Gardner (Josh Charles), has tossed her a lifeline.
He's on her side, but the firm's icy top litigator, Diane Lockhart (Christine Baranski), is intent on throwing Alicia to the sharks. She also faces in-house competition from young Cary Agos (Matt Czuchry), who has both a sense of entitlement and the inside track.
Margulies is terrific as an embattled justice-seeker on two fronts. But her resiliency and resolve aren't entirely at the expense of a sense of humor or a mother's warm touch. One of the resonant scenes in Tuesday's opener is a very small one. It's simply mom telling 14-year-old son, Zach (Graham Phillips), "You're adorable," while he helps her out on the computer.
The cast also includes Archie Panjabi (Kalinda Sharma) as Alicia's resourceful legal investigator and Mary Beth Peil in the role of Peter's judgmental mother, Jackie, who's helping out at home. Veteran character actor David Paymer likewise makes an impression with a guest star stint as a firm but fair judge.
The featured case, by the way, involves a retrial of a young woman charged with murdering her ex-husband and pinning it on a masked car-jacker. Evidence on her behalf is ingeniously and believably compiled. And for once, there's no gruesome corpse in the mix.
Future episodes will juggle Alicia's reborn career with Peter's efforts (in a recurring role by Noth) to both beat his rap and reconcile with her.
This is CBS' sturdiest, savviest new drama series in years, with all of its parts in excellent working order. Tepid title or not, Leno had better watch out.
GRADE:
A