Bible study: ABC's Of Kings and Prophets may be too late for that
03/07/16 01:48 PM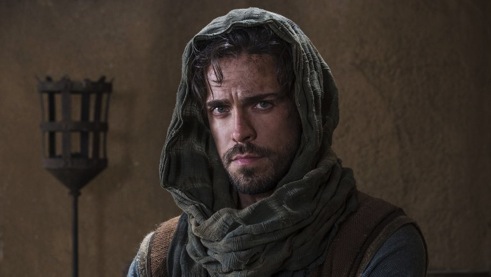 The hunky good shepherd David (Olly Rix) plays the harp and wields a mean, lethal slingshot in Of Kings and Prophets. ABC photo
Premiering:
Tuesday, March 8th at 9 p.m. (central) on ABC
Starring:
Olly Rix, Ray Winstone, Simone Kessell, Maisie Richardson-Sellers, Jeanine Mason, Mohammad Bakri, Nathaniel Parker, Haaz Sleiman, James Floyd
Produced by:
Chris Brancato, Adam Cooper, Bill Collage, Reza Aslan, Jason T. Reed, Mahyad Tousi
By ED BARK
@unclebarkycom on Twitter
ABC is tardy to the biblical party with
Of Kings and Prophets
, which finally makes its delayed debut after the History network prospered with
The Bible
and NBC bombed with
A.D. The Bible Continues
.
Originally announced as a Sunday night entry on ABC's fall schedule,
Kings and Prophets
now hopes to be writ large on Tuesday nights, beginning with a March 8th premiere. The setting is "1,000 Years Before Christ," with a battle-weary King Saul (Ray Winstone) hoping to unite the 12 fractious tribes of Israel against the sinister Philistines by marrying off his daughter, Merav (Jeanine Mason), to a rug merchant son of Judah.
Complications ensue. They're mostly triggered by the grizzled prophet Samuel (Mohammad Bakri), who initially looks as though he hasn't bathed in 40 days and nights. Saul ends up going back to war against his will after fretting to his concubine, "Is this how I'm to be remembered, as Saul the butcher?"
David (Olly Nix) is remembered as the Old Testament young man who slew Goliath with his slingshot. But this doesn't happen until the third of three episodes made available for review. David, who facially is reminiscent of
Game of Thrones
' satr Peter Dinklage, first squares off against a lion who's been slaughtering Jewish shepherds' sheep. Emerging victorious, he's given a gig as Saul's court harpist. This puts David in close proximity to Saul's other daughter, Michal (Maisie Richardson-Sellers), the illegitimate offshoot of an earlier kingly concubine. "I just really like her," David tells a pal near the start of Episode 2.
Kings and Prophets
is fairly graphic for a broadcast network production, although the cameras regularly turn away from any prolonged violence. Filmed in Cape Town, South Africa, it's also pretty picturesque at times. And the storied battle between David and Goliath (guest star Garth Collins) turns out to be surprisingly gripping, even if it's more than a bit ginned up and Goliath could use more hugeness.
That said, this is an extreme long shot in terms of estimable audience acceptance and therefore longevity. Even if one fully believes in some sort of divine ratings intervention, it's hard to imagine
Kings and Prophets
doing much business on a network that's struggled all season.
The story also dawdles at times, despite efforts to spice things up with some of that good ol' Old Testament iniquity. In Episode 2, Saul's lonely wife, Queen Ahinoam (Simone Kessell), hungrily commands, "I need you. I need you now." She's talking to David, and not about any yearnings to hear one of his harp solos. David later is told, in Episode 3, that his high-strung brother "needs a good grind." I think you get the gist.
Among the central players, Winstone is the most effective as the constantly put-upon Saul. He brings presence to this command role, whether raging or trying a little tenderness.
It's all "Based Upon the Bible," as noted in the closing credits. And at least there are no efforts -- as of yet -- to turn David into a dashing kung-fu fighter. NBC's classically laughable 1999
Noah's Ark
miniseries, with Jon Voight as the title character, remains the clubhouse leader in that respect. During the course of its events, the Ark was attacked by pirates and also solicited by a peddler (played by James Coburn), who arrived on the scene in a pedal-powered mini boat to announce, "I'm running a special this week."
He wound up selling Ark passengers a wide variety of accessories, including a funny hat for one of the resident penguins. I swear on a stack of Bibles that this was part of the show.
Kings and Prophets
for the most part is deadly serious in both its approach and intent. It sounds strange to say its time has passed. But in television's grand biblical scheme of things, ABC failed to strike while the burning bush still seemed somewhat hot. Too many months later, this now looks like a fire sale.
GRADE:
C+
Email comments or questions to:
unclebarky@verizon.net