Abnormal's increasingly the new normal for CW's fall season
05/16/13 08:19 AM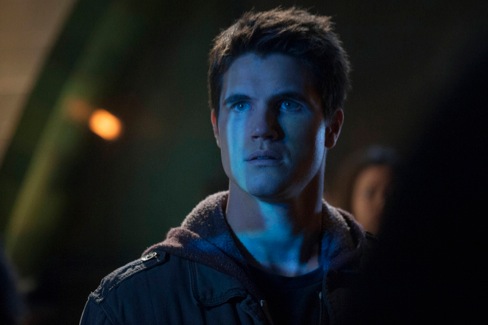 Robbie Amell stars in The Tomorrow People. CW photo
By ED BARK
@unclebarkycom
The little CW network might as well go ahead and rename itself Syfy Junior. Four of its five new scripted series for next season are otherworldly and the other is set in 16th century Scotland.
The network already is home to
Supernatural, The Vampire Diaries, Arrow
and
Beauty and the Beast
. And all those heavily ornamented posers on
America's Next Top Model
also can seem as though they've just arrived from another planet.
Three of the newcomers are for this fall, with a
Vampire Diaries
spinoff called
The Originals
likely to generate the most buzz on a network that got a bit of a lift last season from
Arrow
.
Cancellations include
90210, Gossip Girls, Emily Owens, M.D.
and
Cult
, which most TV watchers new knew was on in the first place. The returning
Nikita
will get a six-episode kiss-off on a night and date yet to be announced. Returnees
Hart of Dixie, Supernatural, Beauty and the Beast
and
The Carrie Diaries
all are relocating to new nights.
Here are CW's three new fall series:
The Originals
(drama) -- Set in New Orleans, this
Vampire Diaries
offshoot centers on Klaus Mikaelson, the "original vampire-werewolf hybrid." A veteran of 48 episodes of
VD
, he's still played by Joseph Morgan. An alliance with witches is brewing -- this can only be toil and trouble -- when Klaus returns to the city his family helped build. Why? He's heard that someone is plotting against him.
The Tomorrow People
(drama) -- The title characters are humans "born with paranormal abilities," which don't include a glimpse into the future staying power of this series. Stephen (Robbie Amell) thought he was normal until he began teleporting in his sleep. So he eventually hooks up with three other Tomorrow People, who of course are being "hunted down by a paramilitary group of scientists known as Ultra." Greg Berlanti, executive producer of
Arrow
, is at the controls.
Reign
(drama) -- Newcomer Adelaide Kane stars as "headstrong" teen Mary, who's nearing the start of her tumultuous Queen of Scots tenure. She has an arranged engagement to "dashing" Prince Francis (Toby Regbo), who's intrigued but still reluctant to commit. His "roguish" half-brother Bash (Torrance Coombs) has his own agenda. Uh-oh -- royal triangle.
This is CW's announced fall schedule:
MONDAY
--
Hart of Dixie
Beauty and the Beast
TUESDAY
The Originals
Supernatural
WEDNESDAY
Arrow
The Tomorrow People
THURSDAY
The Vampire Diaries
Reign
FRIDAY
The Carrie Diaries
America's Next Top Model
Here are the three midseason newcomers:
Star-Crossed
(drama) -- Emery and Roman first meet as six-year-olds. She's a small-town human girl and he's an Atrian from outer space. They quickly become friends before Roman is tracked down and taken away. Years later, she learns he's still alive, imprisoned with fellow Atrians in a closely guarded camp known as the Sector. And so on. The principal love birds are played by Aimee Teegarden (
Friday Night Lights
) and Matt Lanter (
90210
).
The 100
(drama) -- Lo, it's been 97 years since "nuclear Armageddon" destroyed Earth. The last survivors were 400 denizens of 12 international space stations. They'd been orbiting at the time and since have multiplied to 4,000. Now, in a bold experiment, 100 juvenile human prisoners are exiled on Earth to see if the place is still livable. Starring a cast of largely unknowns, plus Henry Ian Cusick from
Lost
and Paige Turco (
Person of Interest, Damages
).
Famous In 12
(reality) -- Can a family become famous in just 12 weeks time? Hey, that's an eternity in these times. Then again, this family will be on the CW network, so the odds perhaps are insurmountable. It's billed as a "unique social experiment" in which the guinea pigs will "each get a series of challenges to create a public profile fit for a Kardashian." Furthermore, they'll "exploit all forms of social media to wage a campaign of fame." Hoo boy.
Email comments or questions to:
unclebarky@verizon.net