NBC's Parks and Recreation resumes a campaign that doesn't hurt to watch
04/17/12 03:11 PM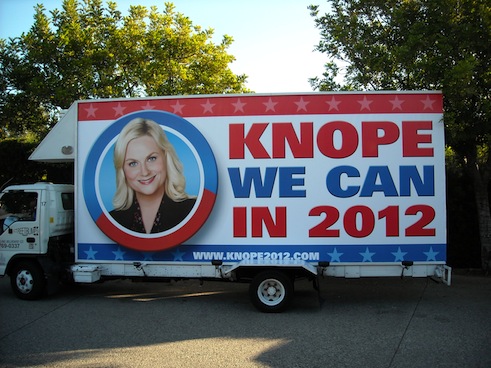 Leslie Knope's city council campaign is hitting high gear. Photo: Ed Bark
By ED BARK
NBC's Thursday night comedy carousel is taking another spin, with
Up All Night
the latest to get off while
Parks and Recreation
gets back on.
This is good news for those who need a break from the interminable presidential campaign and Diane Sawyer's
exclusive report
(on Tuesday's ABC
World News
) about how the Romney dog, Seamus, got diarrhea during one of those strapped-to-the-carhood vacation trips that he otherwise "loved."
Instead, let's enjoy a nice soft landing into the homestretch of Leslie Knope's campaign to win a seat on the Pawnee City Council. In this case, absurdity has its privileges when
Parks and Recreation
begins where it last left off on March 8th. Its new time is 8:30 p.m. (central), starting on April 19th.
NBC sent three episodes to look at. And they're all quite amusing and virtually certain to draw roughly one-third the audience for comedy kingpins such as ABC's
Modern Family
and CBS'
The Big Bang Theory
.
The Peacock, which used to flex its Thursday night ratings might with the likes of
Friends, Seinfeld, The Cosby Show
and
Cheers
, has been utterly under the radar in recent years with a critically praised but scantly seen rotation.
Besides
Parks and Recreation
, this season's lineup has included
Community, 30 Rock, Whitney, The Office
and the aforementioned
Up All Night
. And even
The Office
has fallen on hard times without Steve Carell and with the previously announced departure of James Spader after this season.
Still, NBC is likely to renew five of the above, with only
Up All Night
viewed as being "on the bubble," according to most assessments. But the network has no hopes of any of them ever becoming a "breakout hit," with those days done for
The Office
and never a reality for the others.
It's a shame in the case of
Parks and Recreation
, which recently won a prestigious Peabody Award but is averaging just 4.4 million viewers per episode to rank 130th among all prime-time programs.
Amy Poehler's lead character had appreciably more exposure during her years on
Saturday Night Live
. But
Parks and Recreation
, in its fourth season, is getting fairly close to the semi-magical 100-episode mark, the number deemed necessary for gainful syndication. And after a less than scintillating start, it's evolved into one of network TV's better half hours of understated mirth.
In Thursday's return, subtitled "Live Ammo," Leslie finds herself at the mercy of a retiring councilman (guest star Bradley Whitford) intent on cutting the parks budget by eight percent. Urged to reconsider, he instead backs the closing of an animal shelter housing 32 dogs and cats -- plus a pig. Charges of being a "dog murderer" are then gleefully leveled by her opponent's campaign manager. You just can't win.
Next week's episode pits Leslie and rich kid fron-runner Bobby Newport (Paul Rudd) in a televised debate. They share the stage with several also-rans, including gun shop owner Fester Trim (Brad Leland of Buddy the car dealer fame on
Friday Night Lights
) and adult film star Brandi Maxxxx.
Fester's principal campaign plank is assault rifle vending machines. And one of the debate moderators, "legendary newswoman Joan Callamezzo, newly single" as she bills herself, is thoroughly in the tank for Bobby. Poehler both wrote and directed this one, and it' has some very funny stuff.
The May 3rd episode is built around a climactic bus tour with just a day left in the campaign. It begins to go badly awry, of course.
Parks and Recreation
is in no real danger of significantly improving its ratings at this point. It's destined to be one of TV's little pleasures, taking its rightful place someday amid the likes of
NewsRadio, Lateline
and
Buffalo Bill
. They also were part of the NBC family in times when the network had a wealth of far more visible comedy smashes.
The only difference between then and now is the overall poor ratings health of
all
of NBC's sitcoms. And that's no joke.