NBC's Do No Harm does no harm if you're first medicated into unconsciousness
01/29/13 12:17 PM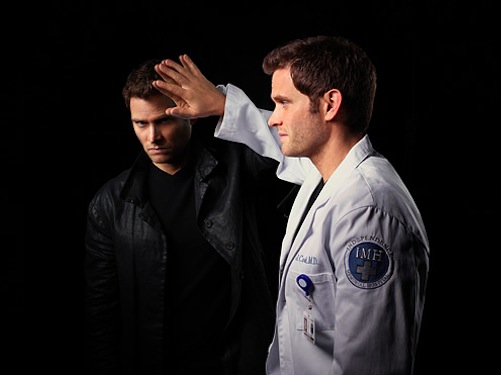 Steven Pasquale is doc with a dark side in Do No Harm. NBC photo
Premiering:
Thursday, Jan. 31st at 9 p.m. (central) on NBC
Starring:
Steven Pasquale, Alana De La Garza, Phylicia Rashad, Michael Esper, Lin-Manuel Miranda, Ruta Gedmintas, John Carroll Lynch, Samm Levine
Produced by:
David Schulner, Peter Traugott, Rachel Kaplan
By ED BARK
@unclebarkycom
Post-
Sunday Night Football
and
The Voice
, NBC lately has been plummeting back to earth after a surprisingly big prime-time ratings splash in the season's first four months.
That plummet likely won't be slowed by
Do No Harm
, a wacked-out Jekyll & Hyde-ish medical drama that has a little pop but mostly fizzles. It premieres on Thursday, Jan. 31st following the one-hour series finale of
30 Rock
and two episodes of
The Office
.
Steven Pasquale (
Rescue Me
) throws himself into the dual lead role of ace surgeon Jason Cole and hopped-up, evil-doing alter ego Ian Price. This decidedly dark side of Cole had been kept under control by a nightly shot of some sort of powerful med. But now the effectiveness has worn off, meaning Price can no longer be discounted. And his appetite for general mayhem is stronger than that character in those
ongoing Allstate commercials
.
Although energetically executed,
Do No Harm
is all over the place in the two episodes sent for review. It's simply not coherent enough to sustain weekly interest.
Pasquale hangs in there as best he can while pivoting from Cole to Price at a finger-snap pace. Caught in the middle is Dr. Lena Solis (Alana De La Garza), who has the hots for Cole until he plays rough with her sexually as Price. It's a constant wonderment that she doesn't turn him in. But Cole keeps buying time by begging for her forgiveness. "You will never see that side of me again," he promises before Hulking out anew.
Meanwhile, Cole's Philadelphia hospital colleague, Dr. Ruben Marcado (Lin-Manuel Miranda), keeps working on a new drug designed to put Price out of the picture again. Hospital administrator Vanessa Young (Phylicia Rashad) is also an ally, admiring Cole's talent while largely ignoring his constant tardiness and insubordination.
A third woman named Olivia Flynn (Ruta Gedmintas) is not a part of the hospital scene, but had an intimate relationship with Cole before he started becoming Price. Now she's in renewed jeopardy, as is her little boy.
Do No Harm
also throws in layman therapist Will Hayes (the always serviceable John Carroll Lynch), who drops in and out to offer advice on the order of, "When you embrace the Ian in you, you will know how to fix this."
Heights of absurdity are scaled early and often. But perhaps never more so than in an Episode 2 scene that finds Price (impersonating Cole) urging the angry father of a seriously ill little girl to blow off steam by throwing a vase of flowers at a nursing station desk. He does so and immediately calms down while the gathered nurses continue to work as if nothing at all had happened.
The little girl of course later is saved after Cole (impersonating Price) convinces a group of drug-dealing thugs not to kill him. He then rides off in an expensive convertible owned by one of the bad guys and sells it to rent a state-of-the-art piece of hospital equipment that had been vetoed by Rashad's Dr. Young because of its cost. You can't make this stuff up -- although
Do No Harm
does.
Given its overall ridiculous bent,
Do No Harm
would be better titled
Heckle and Jeckle
. They were vintage talking twin cartoon magpies who could be both mischievous and malicious. And in their own way, they made a lot more sense.
GRADE:
C-minus
unclebarky@verizon.net