Pop fizzling with a pop star in CBS' Happy Together
10/01/18 05:17 PM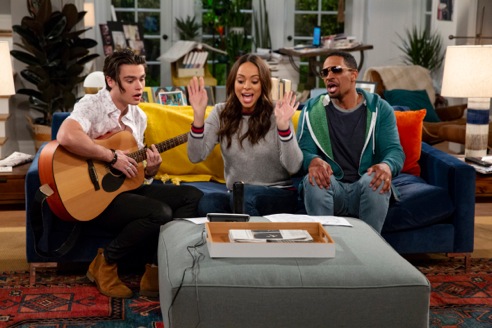 A white pop star crashes with an initially reluctant black couple in Happy Together. Harry Styles is a co-executive producer.
CBS photo
Premiering:
Monday, Oct. 1st at 7:30 p.m. (central) on CBS
Starring:
Damon Wayans, Jr., Amber Stevens West, Felix Mallard, Chris Parnell, Stephnie Weir, Victor Williams
Produced by:
Austen Earl, Tim McAuliffe, Ben Winston, Harry Styles, Michael Rotenberg, Jonathan Berry
By ED BARK
@unclebarkycom on Twitter
Not content to invade a black couple's space with just one new comedy about white interlopers, CBS has another one in
Happy Together
.
It's paired with the likewise themed
The Neighborhood
, but this one is notably thinner in even short-term possibilities.
Australian pop heartthrob Cooper James (Felix Mallard), who seems purer than the baby Jesus, has just broken up with a ditzy, self-absorbed movie star named Sierra Quinn (guest star Peyton List). James Corden talks about it on his late night CBS show while Jake and Claire Davis (Damon Wayans, Jr., Amber Stevens West) just happen to be tuned in.
Jake also is Cooper's accountant. So it makes perfect sense -- no, it doesn't -- that he'd ring their doorbell the next morning and ask if he can crash with them for a short while until everything dies down. It's supposedly loosely drawn from a brief period when One Direction's Harry Styles lived in the attic of Ben Winston, who with Styles is a co-executive producer of
Happy Together
.
The couple agrees to this, but complications ensue when Cooper takes Jake and Claire with him to one of his favorite clubs. "Oh my God, this place is incredible!" Jake exclaims, even though it looks like nothing of the sort, even by sitcom standards.
Anyway, Claire and Jake let loose by drinking shots and dancing with abandon while the paparazzi blaze away. Media accounts then contend that Cooper is dating an older lady, namely Claire. This prompts snooty Sierra to barge back into his life while the shell-shocked Davises are looking for a diplomatic way to put him back in circulation.
Through it all, Cooper remains incredibly nice to everyone, including Claire's overbearing and star-struck parents (Stephnie Weir, Victor Williams). There's less edge to him than an Olive Garden pasta dish. And to their chagrin, the Davises realize (again through media footage) that the poor little lamb is clearly miserable with she-devil Sierra, and therefore needs to be rescued again and relocated under their roof.
Ubiquitous
Saturday Night Live
alum Chris Parnell, who also will be a series regular, drops in very briefly as Cooper's manager, Wayne. He leaves no impression at all in Monday's premiere, and it's hard to imagine how this series can sustain itself.
It's remotely possible, perhaps, that slews of pre- and early teen girls will be content to merely gaze upon Cooper for a half-hour's time each week. But that's assuming they even know what CBS is. Nah.
Happy Together
otherwise is the season's slightest new sitcom on a network that has done much better by this genre in recent seasons with the likes of
Young Sheldon, Mom
and
Life In Pieces
. In this case, the premise simply has no foreseeable promise.
GRADE:
C-minus
Email comments or questions to:
unclebarky@verizon.net