HBO's Picture Paris serves a main course of Julia Louis-Dreyfus
12/17/12 11:38 AM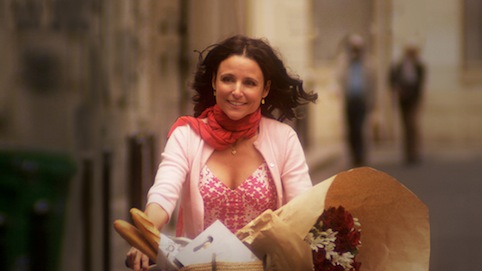 Julia Louis-Dreyfus goes Parisian in new short film. HBO photo
By ED BARK
@unclebarkycom
The most gainful post-
Seinfeld
career is still being enjoyed by Julia Louis-Dreyfus, who had a nice run in CBS'
The New Adventures of Old Christine
and now is rolling along with her Emmy-winning role in HBO's
Veep
.
The half-hour HBO film
Picture Paris
(premiering
Monday, Dec. 17th at 8 p.m. central
) allows Louis-Dreyfus to tap her inner Woody Allen in tandem with husband Brad Hall, who wrote and directed it.
Mais oui
, there's also a little
American Horror Story
in play here. You'll have to be patient.
Season 2 of
Veep
is coming early next year on a yet to be announced date. So
Picture Paris
is a little place-holder in which a mostly makeup-less Louis-Dreyfus plays an impending empty nester named Ellen Larson.
Son Zack (Matthew Fahey) is heading off to college, freeing Ellen and husband, Randy (D.W. Moffet), to take a long-planned trip to Paris. The possibilities at hand are romanticized in ongoing French narration by Eric Elmosnino, with subtitles provided. An eager Ellen is in 24-hour French mode, including cooking and language lessons.
C'est
not so
manifique
.
The film is described as "quirky" in HBO publicity materials. For a good while it also seems almost numbingly predictable, albeit with nice Parisian scenery also in play. But then comes a major twist of an ending.
Sacre bleu!
. Did. Not. See. That. Coming.
Louis-Dreyfus is winning in the central role, and there's also some nice work by Gregory Fittoussi as a debonair waiter named Marcel. We'll leave it at that, with the proviso that
Picture Paris
in the end will be an acquired taste.
GRADE:
B
unclebarky@verizon.net