A comic in full prime: HBO's Louis C.K.: Oh My God
04/12/13 09:55 AM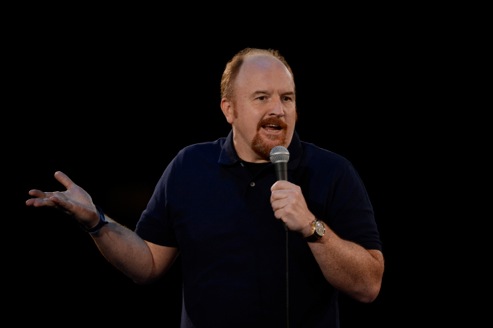 Louis C.K. at heart is still a standup guy. HBO photo
By ED BARK
@unclebarkycom
"Red-Hot Comic Returns to the Network for his Fourth HBO Stand-Up Special," says the come-on.
And who might that be? Louis C.K. without question. Because no comedian is red hotter right now. Chris Rock. Jerry Seinfeld. Dave Chappelle. All took their turns in the red hot seat. But for the past year or so it's been Louis C.K. by a mile, with his FX series
Louie
striking the match on behalf of a somewhat slovenly 45-year-old guy with everyman looks and no airs about him.
HBO's
Louis C.K.: Oh My God
(
Saturday, April 13th at 9 p.m. central
) is another work of art from a guy who's taking an extended hiatus from
Louie
to do what he damned pleases for a while.
Filmed in February at the Celebrity Theatre in Phoenix, the one-hour special is bracingly unvarnished and gets quickly to the point.
"This is easily the nicest place for many miles in every direction," Louis says of his theater-in-the-round surroundings. After the first wave of laughter recedes, he adds, "That's how you compliment a building and shit on a town in one sentence."
His delivery is crisper than the bacon he adores. One riff leads seamlessly to another, whether he's talking about the sanctity of divorce, parents who post their kids' every moves on Facebook or the beauty of age over youth. As in, "A 55-year-old garbageman is a million times smarter than a 28-year-old with three PhDs." We won't get into further details of why he thinks this is. Other than to say that life experiences add up, no matter how base they might be.
Much of the material is graphic. But whether using a blunt instrument or a scalpel, Louis invariably succeeds in making his pointed points. After a brief discourse on animal and aquatic life, he says to big laughter, "Must be awful to be other kinds of stuff. I'm glad I'm this." Mainly because it's a "massive upgrade" when you are "out of the food chain."
This doesn't come off the top of his head. Composing and crafting an hour of new material is no small task even for the most resourceful of comedians. Louis remains a master at it, though. He doesn't do impressions -- although he does make a few animal sounds. Nor does he aim at easy targets in the pop culture universe, leaving Honey Boo Boo to others.
Here's a guy who just talks about what he perceives as the commonalities of being human. Louis C.K. shoots from the lip and keeps scoring. The beauty is the seeming ease with which he does this. And the knowledge of how hard it really is.
GRADE:
A
Email comments or questions to:
unclebarky@verizon.net