Super Bowl XLIII: great game, decent commercials, Bruce cuttin' loose
02/01/09 11:32 PM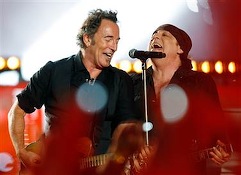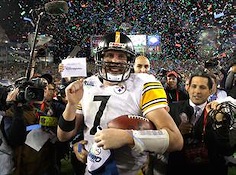 Happy together: Bruce & Stevie, Big Ben & game ball. Reuters photos
By ED BARK
A second straight great Super Bowl interrupted NBC's record $206 million in advertising revenue Sunday.
Pittsburgh's comeback 27-23 win over Arizona, which itself had rallied from a 13-point deficit, made for a much better game than many expected. The commercials had their moments, too, although some of the better ones were NBC Universal house ads promoting Jay Leno's impending switch to prime-time, Conan O'Brien's longevity in late night and
hulu.com
, where you can re-watch all of Super Bowl XLIII's ads all day and into the night.
Bruce Springsteen and the E Street Band also gave it a very game go in a 12-minute halftime show that seemed a little too self-consciously over-caffeinated from the very start.
"Is there anybody alive out there?!" he demanded -- twice -- before slamming through "Tenth Avenue Freeze-Out, Born to Run, Working on a Dream" and "Glory Days." Included were a knee-slide into a camera, some Pete Townsend-esque windmill action and a series of climactic, behind-the-back guitar wraparounds.
"The Boss" clearly came to play after finally succumbing to a venue that already has claimed most of rock's still ambulatory arena-fillers, including the Stones, U2, Prince and Paul McCartney. But for me, Jennifer Hudson packed the most musical power with a soaring rendition of the National Anthem. It was Hudson's first public performance since the October murders of her mother, brother and nephew.
On the advertising front, Jack in the Box deftly handed the ball off to
hangintherejack.com
after leaving its mascot very much the worse for wear after being hit by a bus. Below you'll hear directly from "Mr Box's surgeon."
On another not-so-fast food front, Denny's scored with an ad in which mobsters got caught in the clutches of a candy ass breakfast before viewers of all ages and professions were promised a free Grand Slam repast between 6 a.m. and 2 p.m. this Tuesday, Feb. 3rd.
All the World Series could come up with last fall was a free Taco Bell taco in honor of the first stolen base. The gaping gap between the two sports' showcase championships has never been more apparent. You are what you offer to eat.
Big-time celebrity presenters were in short supply during Super Bowl XLIII. But
cash4gold.com
traded on the pathetic spectacle of Ed McMahon and MC Hammer selling off their possessions.
NBC's O'Brien pitched Bud Light via a commercial within a commercial that his manager said would be shown only in Sweden. NBC used him to better effect in a spot touting his late night prowess. Said Tina Fey: "If your Conan lasts more than three hours, call a doctor."
After hours of due deliberation, here are my three favorite Super Bowl XLIII spots: