Obamas and Steve Kroft spark 60 Minutes to another ratings high
11/18/08 01:12 PM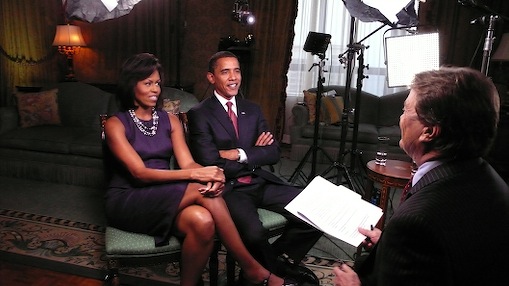 The Obamas with 60 Minutes correspondent Steve Kroft
By ED BARK
So what will
60 Minutes
correspondent Steve Kroft do for an encore? Well, the First Dog has yet to be selected, so maybe he can score another "furst" in the coming months.
Kroft's Sunday night exclusive with Barack and Michelle Obama drove
60 Minutes
to the top of the weekly national Nielsen charts for the second consecutive week. That hasn't happened since the Dec. 27, 1992 and Jan. 3, 1993 broadcasts, CBS says.
60 Minutes
also had more total viewers -- 25.1 million -- than any edition since Jan. 17, 1999. On the previous Sunday (Nov. 9th), Kroft's exclusive sit-down with the Obama campaign's four top strategists drew 18.5 million viewers. That also was enough to make
60 Minutes
No. 1 for the week by a slim margin over CBS'
CSI: Crime Scene Investigation
, which had 18.2 million viewers.
This time it was a landslide, with
60 Minutes
romping over NBC's runnerup
Sunday Night Football
game between the Dallas Cowboys and Washington Redskins (19.3 million viewers).
Cowboys-Redskins had the week's top performance among advertiser-craved 18-to-49-year-olds, though, with
60 Minutes
a very heady second.
All of the four major broadcast networks have lost viewers compared to a year ago at this time. But CBS by far has lost the least in Nielsen tabulations covering the official start of the fall season on Sept. 22nd through Sunday, Nov. 16th.
In that period, CBS has averaged a league-leading 12.4 million viewers, down 4 percent from a year ago. Runnerup ABC has 11.7 million (down 9 percent), followed by Fox's 9.5 million (down 15 percent) and NBC's 8.9 million (down 10 percent).
CBS and ABC are tied for the lead with 18-to-49-year-olds, but ABC is down 15 percent in this key demographic while CBS has slipped 8 percent.
Fox and NBC are tied for second place, with both running 14 percent behind last year's early pace. But Fox has yet to receive its annual midseason turbo-charge from
American Idol
, so it's still the favorite to repeat as the 18-to-49 champ. NBC has the Super Bowl this season, but otherwise will be losing its most dependable ratings-getter --
Sunday Night Football
-- in the season's second half.
CBS' Obama connection provides your friendly content provider with an opening to share some pretty incredible Bark family ties to a pair of major presidential game-changers. Here we go: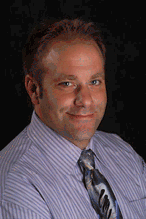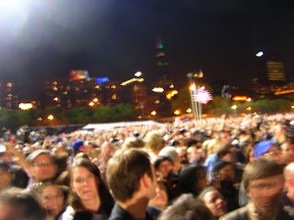 Nephew Mike Bark and my daughter, Liz (left, front), in Grant Park.
1.
My daughter, Liz, a 2000 graduate of Ursuline Academy in Dallas, is now living in Chicago and pursuing a career in theater. She was among the many thousands in Grant Park on election night, Nov. 4th, to see Barack Obama make his first speech as president-elect.
2.
Meanwhile, in a Minnesota hospital, Jacob Henry was being birthed by my youngest brother Greg's oldest daughter, Lindsay, who was married last October to Doug Sloan. He arrived at 11:06 p.m., during the heart of Obama's speech. And he's the first child born to any of the children of the four Bark brothers and one Bark sister -- Ed, Jim, Al, Greg and Susan.
3.
Michael Allen Bark, the first child of the four Bark brothers and sister, is now an elder statesman of 34. He was born on another highly eventful day, Aug, 8, 1974, to Al and Claire Bark. We all remember watching Richard Nixon resign the presidency while gathered in a Milwaukee hospital that night.
Mike now runs his
own upstanding business
in Milwaukee, WI. He and his wife, Becky, are expecting their first child in January. Inauguration Day, anybody? We'll see.
And in other ratings news . . .
Dallas-born ventriloquist
Jeff Dunham
set a Comedy Central ratings record Sunday with
Jeff Dunham's Very Special Christmas Special
.
It drew 6.6 million viewers, making it the most-watched program in the network's 17-year history, according to a Comedy Central release. So bow down,
Daily Show
.
Encores of
Very Special Christmas Special
are set for Tuesday, Nov. 18th at 9 and 11 p.m. (central), Sunday, Nov. 23rd (8 p.m.) and Friday, Nov. 28th (9 p.m.).