FX's Lights Out gives TV its first standout look at the boxing game
12/28/10 12:51 PM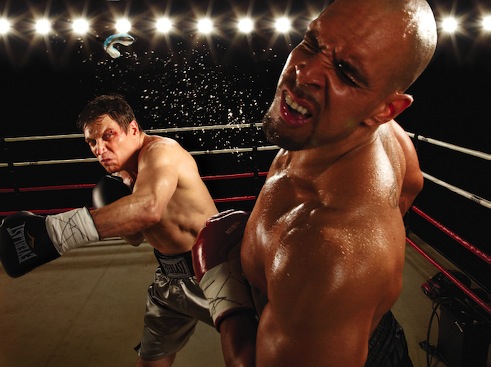 Patrick "Lights" Leary delivers one straight to the kisser. FX photo
Premiering:
Tuesday, January 11th at 9 p.m. (central) on FX
Starring:
Holt McCallany, Catherine McCormack, Pablo Schreiber, Stacy Keach, Meredith Hagner, Ryann Shane, Lily Pilblad, Billy Brown, Bill Irwin
Produced by:
Warren Leight, Justin Zackham, Phillip Noyce, Ross Fineman
By ED BARK
There's no "yo" and no "Adrienne" in FX's
Lights Out
. But the network certainly isn't about to discourage any renewed visions of Rocky Balboa in this new drama series about a retired former heavyweight champ who, in boxing parlance, "wuz robbed" in his last fight.
It's an invigorating, involving and occasionally wobbly look at life in and out of the ring, with Holt McCallany in rock-sturdy and oftentimes smashing form as Patrick "Lights" Leary. He clearly looks the part of an ex-pug, although the show's producers have acknowledged this indisputable fact: White, American-born heavyweight champs -- outside of the fictional Rocky -- have been non-existent since the long gone days of
Rocky Marciano
.
Their defense is that they chose the best and most convincing actor for the lead role. And McCallany definitely provides evidence of that. He's tough, appealing, vulnerable and still smarting from a controversial split-decision five years earlier against a black opponent known as Richard "Death Row" Reynolds (Billy Brown).
Reynolds, as was Carl Weathers' Apollo Creed in the early
Rocky
movies, will be more than a bit player in
Lights Out
's 13-episode first season. Still, it would have been bracingly against the grain -- while at the same time reflecting current-day realities -- to put an African-American at center stage rather than on the periphery. The "Great White Hope" angle will never run dry, it seems.
Lights Out
may be helped by the ongoing critical praise and solid box office receipts for
The Fighter
, which stars Mark Wahlberg as former real-life light welterweight champ "Irish" Micky Ward.
The Learys are Irish as well, with protagonist Patrick first seen flat on his back in a dressing room, his face bathed in blood while his wife, Theresa (Catherine McCormack), fights back tears. It's the aftermath of the title fight with "Death Row" Reynolds, which "Lights" seemingly had in the bag after the 11th round. But his cornermen, led by trainer/father, "Pops" Leary (Stacy Keach), urged him to hold back because of a nasty cut over his eye. A battered Reynolds thereby survived and was eventually judged the winner.
"I got robbed, Theresa," Lights tells her while she stitches up his cut.
"You could've died out there," she retorts. "I can't do this . . . I love you too much to watch you die. Either you stop -- or we stop."
So he stops. And five years later, Lights, Theresa and their three daughters continue to live in a well-appointed, New Jersey mini-mansion while she makes progress toward becoming a full-fledged doctor. He also owns a boxing gym in partnership with younger brother and business manager Johnny (Pablo Schreiber), whose loose grip on the purse strings turns out to be a sucker punch to the head.
"I'm broke, Dad," Lights tells Pops.
"How?"
"I don't really know."
There's more bad news. Lights, who's nearing his 40th birthday, is increasingly forgetful. Chalk it up to "pugilistic dementia," his doctor tells him. The diagnosis: His brains could be scrambled eggs sooner, later or not at all.
The ex-champ takes throwaway jobs as a celebrity bingo caller and spokesman for the "Carpet King." By Episode 3, he's hawking his own memorabilia via a QVC-like network, including the gloves he wore during the Reynolds fight.
None of this adds up to much coin. But there are bigger paydays if a strapped Lights agrees to be the "muscle" for a shady "businessman" named Hal Brennan (Bill Irwin). He reluctantly signs on, and has immediate regrets.
This all inevitably builds toward a rematch with Reynolds that will mean a multi-million dollar purse for Lights while at the same time sending his marriage reeling. Still, Lights is a good-hearted lug throughout, doting on daughters Ava, Daniella and Katherine (Meredith Hagner, Ryann Shane, Lily Pilblad) while at the same time taking guff from the oldest of them.
Lights Out
is in keeping with FX's male-centric motif while also standing out as the first weekly scripted drama series to take a hard look at the boxing world. The big-screen has taken a number of jabs at the sport, most notably with the
Rocky
movies,
Raging Bull
and currently,
The Fighter
. Keach also took a lauded turn in the ring as the aging boxer of 1972's
Fat City
, which preceded all of the above.
Now television finally has its own ring-bearer.
Lights Out
isn't always out and out stellar. It sometimes lapses into the abundant cliches of its genre. Pound for pound, though, you won't see many better dramas this season. Gloves on or off, it keeps scoring points.
GRADE:
A-minus