TNT's Legends at least will keep Sean Bean upright
08/11/14 02:41 PM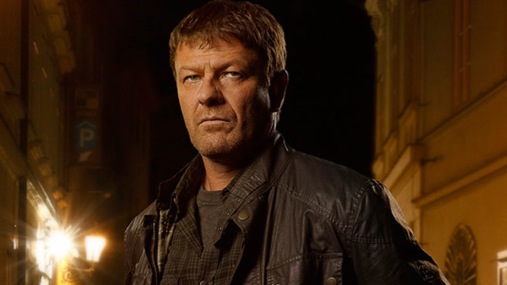 Sean Bean can be confident of cheating death for a while in Legends.
TNT photo
Premiering:
Wednesday, Aug. 13th at 8 p.m. (central) on TNT
Starring:
Sean Bean, Ali Larter, Steve Harris, Tina Majorino, Morris Chestnut, Amber Valletta, Mason Cook
Produced by:
Howard Gordon, Alexander Cary, Jonathan Levin, Brad Turner, David Wilcox
By ED BARK
@unclebarkycom on Twitter
Having lost his head in Season 1 of
Game of Thrones
, Sean Bean already has a gun to his head before the title credits roll in TNT's
Legends
.
The trigger is pulled and . . . click. Bean has no serious worries this time out after vivid demises in
Game of Thrones, The Lord of the Rings: The Twin Towers, Patriot Games
and the James Bond movie
GoldenEye
. TNT enjoys a little gallows humor, though, distributing "#DontKillSeanBean" t-shirts for last month's
Legends
session at the Television Critics Association "press tour."
The veteran British thespian is very much the marquee star of TNT's latest action drama. It's adapted from the same-named Robert Littell novel and transparently borrows from the likes of
The Bourne Identity
and
24
. Two of the series' executive producers, Howard Gordon and Brad Turner, have
24
in their pasts.
Bean plays undercover operative Martin Odum, who in fact might not really be Martin Odum. At least that's what he's told by an ill-fated hooded man who's been tailing him in the Wednesday, Aug. 13th series premiere. Furthermore, "Trust no one.
No One
!"
The term "Legend" is spy lingo for "a fabricated identity" in the FBI's Deep Cover Operations division. And Odum -- let's stick with that for now -- is known for getting very deep into his aliases. He's first seen as Lincoln Dittman, a stuttering, aggrieved recruit of the government-despising Citizens Army of Virginia. The group has plans to disrupt and demolish a big international economic summit.
But Odum, in the guise of Dittman, is considered too big a risk by fellow operative Crystal McGuire (
Heroes
alum Ali Larter), whose "history" with him of course includes a sleepover. Three of four shrinks have deduced that Odum is "unfit for duty," she argues to DCO director Nelson Gates (Steve Harris from
The Practice
). Yes, but the fourth deemed him the "most naturally gifted deep cover operative that we've got. Maybe the best that we've ever had."
So it's game, set, match to bossman Gates, meaning that Crystal will end up going undercover as a strip club lap-dancer in order to aid the operation. Some things never ever change in TV Land.
The other principal DCO team member is Maggie Harris (Tina Majorino), a Chloe-like computer whiz without the 'tude. Morris Chestnut joins the cast in Episode 2 as DCO agent Tony Rice, an interesting character with an unauthorized agenda. Odum's ex-wife, Sonya, and their wide-eyed pre-teen son, Aiden, are played by Amber Valletta and Mason Cook.
TNT made two episodes of
Legends
available for review. And it's clear that some notes from "The Suits" changed hands regarding the women characters' hairstyles. Crystal's blonde hair becomes fuller and appreciably longer in Episode 2. And Maggie gets a full-blown David Bowie 'do, with her coif poofed sky high after Episode 1's flat look. Director Gates remains bald, however.
After dealing with the bonkers Citizen Army of Virginia in Wednesday's premiere,
Legends
turns to the task of thwarting Russian sadists intent on building a mass casualty nerve gas bomb with help from a kidnapped defector whose wife and daughter are threatened with serious harm if he doesn't play ball. This particular storyline will spill over into at least one additional episode, with Odum slipping into the new guise of swaggering weapons broker Dante Auerbach.
Bean carries his full load with both a presence and a vulnerability that in part help to save
Legends
from itself. But the script tends to get very groan-worthy at times, as when Gates counsels Crystal and Odum, "This is a difficult time, I know. But I need you to stay focused."
Crystal also tells Odum, "Don't patronize me." Not once, which is bad enough. But in both episodes. R-r-r-r-ruff.
The TNT drama catalogue, unlike its cable rivals', continues to stay in the present and turn its back on the past. Meanwhile, Emmy glory and other high praise mostly have eluded the network since its first original series,
The Closer
.
Legends
is too pockmarked with standard issue dialogue and situations to merit any awards for the series as a whole. But Bean, who this time is assured of staying vertical, might have enough pop in his performance to break on through. His various identity crises -- on the job and off -- make him a nowhere man worth watching.
GRADE:
B-minus
Email comments or questions to:
unclebarky@verizon.net