CW's The Originals is a spinoff that gets the blood flowing
10/03/13 12:46 PM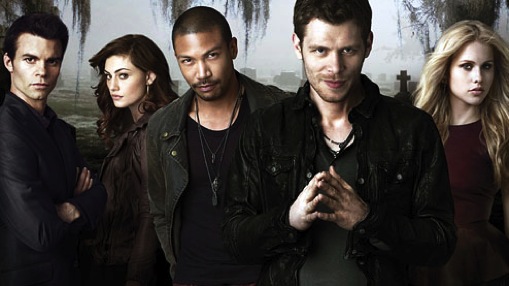 The vampires, witches and hybrids of The Originals. CW photo
Premiering:
Thursday, Oct. 3rd at 8 p.m. (central) before moving to regular Tuesday, 7 p.m. slot
Starring:
Joseph Morgan, Daniel Gillies, Claire Holt, Phoebe Tonkin, Charles Michael Davis, Daniella Pineda, Leah Pipes, Danielle Campbell
Produced by:
Julie Plec, Leslie Morgenstein, gina Girolamo
By ED BARK
@unclebarkycom on Twitter
Before delving into the not-so-particulars of
The Originals
, we bring you another comical advisory from a network publicity department.
"Please do not reveal any spoilers regarding who dies, who tries to kill who, who appears unexpectedly, the final scenes, etc.," says The CW. "If you're not sure if a particular plot point is a spoiler, please give us a call."
I'm going to assume it's OK to say that this CW spin-off of
The Vampire Diaries
has some blood in it. Fangs, too, plus lots of pale people and a Cain-Abel scenario dating back 1,000 years. That's when Elijah Mikaelson (Daniel Gillies) first became a vampire while his half-brother, Klaus (Joseph Morgan), had the misfortune to emerge as "the original vampire-werewolf hybrid." This means he's far surlier and harder to please than your average neck-chomper. So you'd better not cross him, so to speak.
The Originals
, set in present-day New Orleans after a scene-setting flashback to 300 years ago, is being launched after the Season 5 premiere of
The Vampire Diaries
. It will then move to its regular Tuesday, 7 p.m. (central) slot in partnership with CW's longest-running series,
Supernatural
(entering Season 9).
CW is now neck-deep in the otherworldly, with
Hart of Dixie, The Carrie Diaries
and
America's Next Top Model
its only remaining hours about reasonably normal, present-day humanoids.
Beauty and the Beast, Arrow
and two other newcomers,
The Tomorrow People
and
Reign
(set in medieval times) round out its Monday-through-Friday schedule.
The Originals
adds witches to its brew while reuniting Klaus and Elijah in a new New Orleans where vampire Marcel (Charles Michael Davis) is now the self-declared "King." Klaus, who blew town 100 years ago, is not cool with this. Nor is Elijah, although he's quite a bit more diplomatic.
The two of them meet again via a pretty nifty turn of phrase.
"What an entirely unwelcome surprise," says Klaus. "And what an entirely unsurprising welcome," Elijah shoots back.
Both of them must figure out to what to do with a sharp-tongued werewolf named Hayley (Phoebe Tonkin), who is -- fill in the blank -- by -- fill in the blank.
"Your dad was a dick," Hayley tells Elijah after he recounts some of their family history.
There are a lot of moving parts and agendas here, but
The Originals
does a pretty good job of stitching them all together by the end of its first hour. It's also pretty evident that Klaus will be a hard sell. He's less of a compromiser than the U.S. Congress, although it'd be nice if he'd tell the whole lot of 'em what he tells Elijah. Namely, "People quake with fear because I have the power to make them afraid." Then he might want to add, "So settle your differences by sundown or I'll take a bite out of slime, 10 necks per day, five from each party in random sequence."
Alas, Klaus already has his hands and mouth full in New Orleans. At some point, the vampire genre will run out of steam, but perhaps not with
The Originals
. It's not a bad spin-off so far. And I'm pretty sure The CW publicity department won't consider that a spoiler.
GRADE:
B-minus
Email comments or questions to:
unclebarky@verizon.net