Spartacus: War of the Damned ready for its last stabs at gory glory
01/23/13 10:44 AM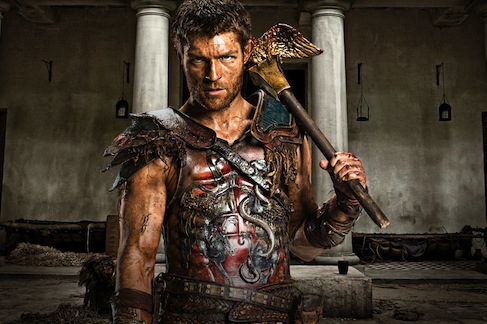 Liam McIntyre in battle dress for a final go as Spartacus. Starz photo
By ED BARK
@unclebarkycom
Intent on toppling the Roman empire with his "mongrel horde" -- as one foe puts it -- here comes Spartacus for his final blood bath.
The Starz network's most popular original series remains gratuitously gruesome to behold, but not as much crazed campy fun in its climactic thrusts.
Spartacus: War of the Damned
(Friday, Jan. 25th at 8 p.m. central)
goes about its business in a brutal, business-like way. And there are only so many ways you can kill a man, even though Spartacus' doubleheader beheading of two Roman officials earns some grudging style points.
The series has been through some wrenching off-screen trauma since bursting into view in January 2010 as
Spartacus: Blood and Sand
. Its original star, Andy Whitfield, died of cancer in September 2011. While anticipating his full recovery, Starz marked time with a six-episode prequel,
Spartacus: Gods of the Arena
.
Fellow Australian actor Liam McIntyre eventually was hired to succeed Whitfield as the star of last year's
Spartacus: Vengeance
. He resumes the role in the 10-episode
War of the Damned
, which Starz has announced will be the end game.
Only Manu Bennett as the gladiator Crixus remains from the charter
Blood and Sand
cast. Still sorely missed are John Hannah and Lucy Lawless as the scheming, preening Quintus Lentulus Batiatus and his wife, Lucretia. They're among the many, many dead along with another
Spartacus
stalwart, original gladiator trainer Doctore Oenomaus (Peter Mensah).
The video game-ish violence, and explicit sex and language remain intact, of course. And Starz is the first network in my memory to include an f-bomb in its print publicity materials. It's from the voluptuous warrior Saxa (Ellen Hollman), and won't be recycled here. Let's go instead with this self-assured vow. "I stand as any cock should. Hard and sure of purpose," a young, formative Julius Caesar (Todd Lasance) says within the pages of Starz's glossy, hardcover picture book.
Caesar, amoral and seriously in debt, is recruited by Spartacus' new arch enemy, Crassus (Simon Merrells), He seems a bit skimpily built for the task, but yearns to add battlefield street cred to his enormous wealth. Crassus' baby-faced son, Tiberius (Christian Antidormi), likewise thirsts to "stand awash in the blood of our enemies." These kids.
Friday's season opener begins amid a typically gruesome battle, with Spartacus a full-blown, howling killing machine in command of his loyal troops.
Crixus stands firmly beside him, as do Sexa and Gannicus (Dustin Clare). Following the carnage, Spartacus prepares for more. He pledges to "give further warnings to the fools in Rome seeking to grind us beneath heel." (Characters tend to drop the word "the" from their vocabularies, be they freedom-fighters or those who would enslave them. "My knife to bear upon beard," Caesar tells a topless slave girl early in Episode 2. And so on.)
Spartacus is barren of girlfriends in these first two hours. But Crixus is not. His main squeeze Naevia (Cynthia Addai-Robinson) turns him on by saying, "Kill many Romans and return to my arms with their blood hardened upon you." Yowsa.
Creator/writer/co-executive producer Steven S. DeKnight seeks to cloak all of this in deep social meaning. In a letter to TV writers, he says the series addresses "a simmering concern that was relevant, and I felt desperately needed to be dramatized: the increasing gulf between the haves and the have-nots. The very rich and the very poor. The Romans would represent the millionaires and billionaires, while Spartacus and his rebels would stand in for the economic slave class toiling for a crust of financial bread from their 'masters.' The later events of the Occupy Wall Street movement and the Arab Spring reflected what I was attempting to explore in our series."
Yeah, sure. I guess that could go for
Here Comes Honey Boo Boo
, too.
Spartacus
in fact is what it is -- a broadly drawn, visceral feast of blood, guts, lust and lower-rung language.
War of the Damned
doesn't spare any of it en route to its no doubt hellish conclusion. But the characters aren't as compelling as they once were, rendering the fight scenes even more voyeuristic. Spartacus lives only to inflict punishment in the memory of his now long-deceased wife, Sura.
"Only a city could hold us now," he says of his growing legions. "And we shall tear one from the flesh of Rome."
The spirit is willing. And the flesh just keeps on bleeding.
GRADE:
C+
unclebarky@verizon.net