"Leo" bares his chest, struts his 15th century stuff in Starz's Da Vinci's Demons
04/10/13 03:51 PM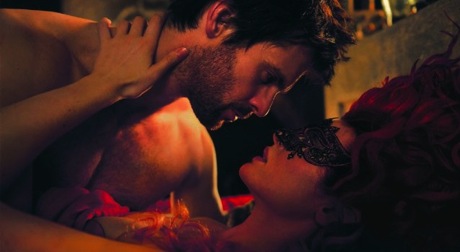 A fleshed-out "Leo" Da Vinci coupling with Lucrezia Donati. Starz photo
Premiering:
Friday, April 12th at 9 p.m. (central) on Starz
Starring:
Tom Riley, Laura Haddock, Elliot Cowan, Blake Ritson, Eros Vlahos, Blake Ritson, Lara Pulver, James Faulkner
Produced by:
David S. Goyer
By ED BARK
@unclebarkycom
Robin Hood had Little John, Batman had Robin and now Leonardo "Leo" Da Vinci has doughy, diminutive Nico.
The latter sidekick actually goes on to be an A-lister in his own right, although the Starz network is asking reviewers not to foretell his somewhat distant future. Not that
Da Vinci's Demons
is big on believability or historical accuracy. The eight-part series, premiering Friday, April 12th, is patently ridiculous on those fronts. But it's also an often energetically entertaining and handsomely mounted romp through 15th century Florence, Italy.
Tom Riley as Da Vinci is a handsome mount as well, whether on horseback or atop the manipulative Lucrezia Donati (Laura Haddock), who in a howler of a bedroom scene tells the famed Renaissance man, "You saw me, you drew me, you fell in love. It's as simple as that . . . Now (f-bomb) me again, Leonardo."
No need to be so formal. His friends call him "Leo," and he's prone to fits of temperament and leather outfits that invariably expose a goodly amount of our hero's muscular chest. Forget about those familiar portraits of an
old, fulsomely bearded Da Vinci
. This one is very much (male) modeled on Jonathan Rhys Meyers' portrayal of a slim, trim Henry VIII in the Showtime series
The Tudors
.
Starz, like Showtime and HBO, is not beholden to any advertiser constraints. So in just the first five minutes of Sunday's opener, we've already had male nudity, female nudity and an industrial strength expletive.
The male on display is none other than Hugh Bonneville, who stars as Earl of Grantham Robert Crawley in PBS'
Downton Abbey
. Don't get used to him as the Duke of Milan. He's barely had time to dispatch a young likewise nude male lover before encountering a quick and unexpected end to this walk-through.
Da Vinci's Demons
is created, written and directed by David S. Groyer, who co-wrote the big screen's
Dark Knight
trilogy and has sole credit for the penmanship on the upcoming
Man of Steel
. He seems intent on quickly proving that his Pope Sixtus IV (James Faulkner) is more diabolical and amoral than Jeremy Irons' Pope Alexander VI on Showtime's
The Borgias
, which returns for its third season on Sunday, April 14th.
Sixtus is first seen in a big indoor pool, holding a young nude man at knifepoint. He then emerges with privates dangling in full view before ordering his pool mate's throat slit. Not a nice man. And he's also the not-so-holy father of villainous Girolamo Riario (Blake Ritson), who arrives full force in Episode 2.
Da Vinci tends to be full of himself, although he prefers to call it confidence. Sidekick Nico (Eros Vlahos) is regularly used as a guinea pig for his latest invention. And early in Episode 1, Nico flies picturesquely high while strapped to a giant kite pulled along by Leo aboard a horse-drawn cart.
Odd-looking oracles drop in and out, informing the title character of mysteries he must uncover and challenges he'll face. Because, after all, "the knowledge you are destined to learn will upend the established order of things." One of these seers comically says he's staying at the local Inn of the Black Swan, maybe because the Ugly Ducking Lodge had no vacancies.
Da Vinci's Demons
is never too far from a silly or over-blown slice of dialogue. Still, it's not boring.
One of Leo's principal challenges is a despotic father who's enraged by his growing influence with the fairly nasty Lorenzo Medici (Elliot Cowan), for whom the young visionary wants to build state-of-the-art siege weapons.
"I see things as they are, not as they might be," says a shackled Leo, whose father responds with, "Beat him for another hour. Then toss him back onto the street with the rest of the garbage."
He emerges incredibly and remarkably unscathed to reunite with Nico and other pals. And in Episode 2, Leo also survives his father bellowing at him, "You're the bastard son of a servant girl I spilled my seed into." That's cold.
Da Vinci's Demons
halfway succeeds on the strength of its vigorous, devil-may-care approach, even if it's also almost thoroughly preposterous in terms of the central character's deductive powers and abilities. The overall intent, it seems, is to present Leonardo Da Vinci as a dashing, glib-tongued comic book action hero with an eye for the pretty ladies and they for him.
"The whole point of progress is over-reaching," he declares. Which this fable certainly does.
GRADE:
C+
Email comments or questions to:
unclebarky@verizon.net