What stays in Vegas is Quaid vs. Chiklis
09/20/12 01:34 PM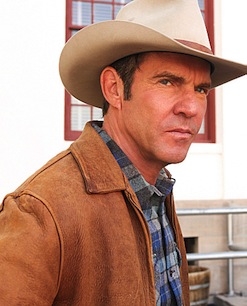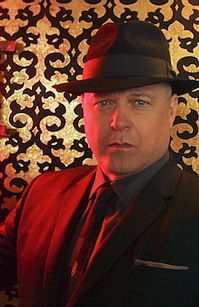 Dennis Quaid and Michael Chiklis square off in Vegas. CBS photo
Premiering:
Tuesday, Sept. 25th at 9 p.m. (central) on CBS
Starring:
Dennis Quaid, Michael Chiklis, Carrie-Anne Moss, Jason O'Mara, Taylor Handley, Sarah Jones
Produced by:
Greg Walker, Nicholas Pileggi, Cathy Konrad, Arthur Sarkissian, James Mangold
By ED BARK
@unclebarkycom
It turns out that cowboys vs. mobsters (on CBS'
Vegas
) is a much better fit than mobsters vs. MDs (on Fox's
The Mob Doctor
).
But it might as well be cowboys vs. aliens, judging from the killer look from tall-in-the-saddle Ralph Lamb (Dennis Quaid) after his herd is spooked by a low-flying plane toting a load of casino patrons in the year 1960.
This particular alien invasion is the flashpoint for an entertaining but at times over-cooked drama series pitting old school Galahads in Stetsons against usurping gangsters in dark suits and up-to-no-good fedoras. Principal among them is Chicagoland's Vincent Savino, a swaggering enforcer played by Michael Chiklis in a return to his hard-ass ways after an ill-fated spin on ABC's
No Ordinary Family
.
Quaid, playing a real-life character, gets ample opportunities to ride a horse, use his fists, fire a shotgun and affix a glare during Tuesday's premiere hour. Chiklis is less in play, although he does establish his bona fides by beating an underling into submission.
After a semi-cordial start, Lamb and Savino are marking their territories by episode's end.
"You're trespassing," Lamb is told after he strides into Savino's Savoy casino-hotel with a rifle at the ready.
"I am the law here, Mr. Savino," Lamb snarls back. "And I will decide who's breaking in."
Lamb's the ad hoc law because the incumbent sheriff has gone missing. And because a female casino worker has been found with her throat slit. And because the pro-expansion mayor used to be Lamb's commanding officer during his stint with the military police in World War II. And because Lamb has gotten himself into a fix with the law after beating up a few airport goons. And because the mayor can make that go away. And because, well, otherwise there wouldn't be a series.
Lamb's wife died during the war, leaving him with a hell-raising son named Dixon (Taylor Handley) to raise. Also working the family ranch is his sturdy brother, Jack (Jason O'Mara on the lam from Fox's canceled
Terra Nova
). The other series regular, Carrie-Anne Moss as assistant D.A. Katherine O'Connell, grew up on a spread right next to the Lambs'. She appears to still be sweet on him.
Savino is surrounded by cardboard henchmen so far. One of them has the premiere episode's goofiest line during a big party thrown by Mr. Big. "Everybody's here," he tells the boss. "Joey Skins. Fat Frankie from New York." Groan, Knuckles Calzone apparently couldn't make it.
Also included is an ill-fitting Wild Ones subplot in which a motorcycle gang rides roughshod through downtown Vegas. They break stuff and drag a slot machine through the street while all of Vegas suddenly seems to be reduced to a terrified Tiny Town. But there's a connection to the murder mystery, so what the hell. Unfortunately, this raises questions about what
Vegas
really wants to be -- an evocative exploration of clashing forces and changing times or just another CBS "procedural" crime drama in different outfits.
Quaid in his first weekly TV series is worth the price of free admission, though. You'll find that he chews gum for a reason -- and walks at the same time. And a line like this -- "I wouldn't know what to do with all that fun" -- sounds good 'n' plenty when coming from him. Added Bonus: watch him stand and deliver when a speeding car heads straight at him.
Vegas
hopefully will settle down and settle in after all of its introductory ups and downs. It has the makings of a damned fine weekly hour of good vs. evil, with Quaid against Chiklis as the crowd-pleasing main event.
GRADE:
B