FALL TV PREVIEW: New series -- Back to You (Fox)
09/18/07 09:10 PM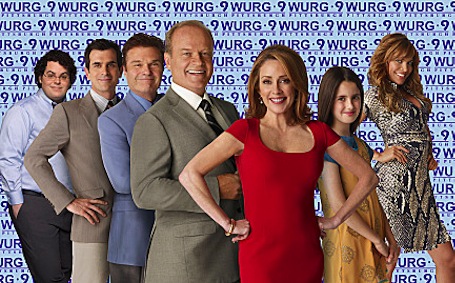 Premiering:
Wednesday, Sept. 19 at 7 p.m. (central) on Fox
Starring:
Kelsey Grammer, Patricia Heaton, Fred Willard, Ty Burrell, Josh Gad, Ayda Field, Laura Marano
Created by:
Steven Levitan, Christopher Lloyd
By ED BARK
Fictional? Yes. Oh so true? That, too.
One of
Back to You
's magical, truth-telling moments comes when beaten-down street reporter Gary Crezyzewski (Ty Burrell) heads out for yet another late night live shot. This time it's in front of a courthouse where nothing's happened since daylight. But, as Crezyzewski says sardonically, "It adds action and urgency for me to stand out in the cold in front of a dark, empty building."
Cut to just about any real-life nighttime local newscast on any given night to see Crezyzewskis up the wazooskis. This one just happens to work for Pittsburgh's fake WURG-TV in the season's by far funniest new comedy. Belly laughs ensue, not only during Wednesday's premiere but in an even better episode next week.
It greatly helps to have two stars who really know their way around a conventionally mounted, studio audience-goosed sitcom. Kelsey Grammer (
Frasier
) and Patricia Heaton (
Everybody Loves Raymond
) are pros with few peers. Add a crack-up Fred Willard and get ready for
Anchorman
with a firmer foundation.
Back to You
is broad in approach but built to last. If this one tanks, then thanks for the memories of days when comedies set prime-time's table. Last season, just one -- CBS'
Two and a Half Men
-- ranked among prime-time's 20 most-watched shows (at No. 17).
Grammer plays self-important Chuck Darling, whose profane on-air tirade sends him crawling back from L.A. after previous upwardly mobile stops in Minneapolis and Dallas. (Dallas? Apparently D-FW wasn't big enough for two Ted Baxters. But let's leave poor _______ alone.)
Darling's longtime co-anchor, Kelly Carr (Heaton), remains at WURG long after drunkenly falling into bed with Darling just before he left.
"This just in," he says at one point after making a suitably grand re-entrance.
"Your exact words that night if I recall," Carr snaps back.
The writing is crisp if usually broad. One-liners are snapped off with mostly precision marksmanship. Willard, as backslapping sports anchor Marsh McGinley, hardly needs to say anything. Sporting the orange/brown dye job of countless aging TV personalities, he's funny just by virtue of showing up.
There's also cleavage-flaunting weathercaster Montana Diaz Herrera (Ayda Field) and pudgy kid news director Ryan Church (Josh Gad), whose underarm sweat won't quit. And Carr has a 10-year-old daughter named Gracie (Laura Marano from Fox's
Are You Smarter Than a 5th Grader?
). Might she be the result of the Darling-Carr one-nighter? This just in: maybe yes, maybe no.
Next week's
Back to You
is built around Darling's continuing efforts to keep a gift goldfish alive. Also, McGinley tries to figure out how a magician made an orange materialize in a man's shorts while Carr says at a news meeting, "I think Montana should cover the pumpkin festival."
The great state of Montana initially misunderstands. Think about it.
Back to You
may not be as cooly "smart" as NBC's
The Office
or
30 Rock
. Still, it's a time-honored, first-rate throwback to the "traditional" form that also has served comedy very well throughout most of TV's history.
All In the Family, The Mary Tyler Moore Show, Cheers, The Cosby Show, Seinfeld
and many other classic sitcoms were filmed before live audiences and sweetened with laugh tracks when deemed necessary. In the end it's the material and the performances that give a comedy its luster.
Back to You
seems to have those essential ingredients in abundance. Or as Darling says, "What's an anchorman but a loud guy to keep people from flippin' the channel?"
Grade:
A-minus