Steinbrenner's death rekindles interest in ESPN's 8-part The Bronx Is Burning -- for $3 at Big Lots!
07/13/10 03:25 PM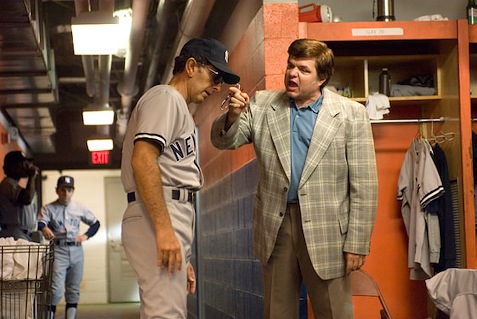 John Turturro as Billy Martin and Oliver Platt as George Steinbrenner in the 2007 ESPN miniseries The Bronx Is Burning.
By ED BARK
George Steinbrenner's death at age 80 Tuesday brings to mind the terrific miniseries that captured the volatile baseball mogul and his New York Yankees in their prime warring years.
ESPN's 8-part
The Bronx Is Burning
, which premiered three Julys ago, depicts the volatile triumvirate of Steinbrenner (played by Oliver Platt), Yankees manager Billy Martin (John Turturro) and slugger Reggie Jackson (Daniel Sunjata). Its focal point is the 1977 season, when the "Son of Sam" murders and a very combative mayoral race also were making daily headlines in New York City.
From this view,
Bronx Is Burning
ranks at or near the very top of the best baseball dramas ever made. And here's the good part. The entire miniseries is being virtually given away at Big Lots stores across the country. For the low, low price of $3, you get all eight hours plus a bonus disc that includes interviews with the real-life Steinbrenner and Jackson among others.
And that's not all. The packet I recently bought also included two other ESPN DVDS --
March Madness: The Greatest Moments of the NCAA Tournament
and
Sportscenter Year in Review -- 2006
, which includes both the pulsating Texas Longhorns' Rose Bowl victory over Southern Cal and the stomach-churning Miami Heat comeback against the Dallas Mavericks in that year's NBA Finals.
Bronx Is Burning
is the gem, though. And there's no better time to rush out there and get it -- for $3 bucks!!! -- before copies run out. Just head for the DVD bin or kiosk -- and start digging.
For now, here's the official teaser: