It's "Bingle" all the way in new collection of Crosby Christmas specials
12/02/10 10:25 AM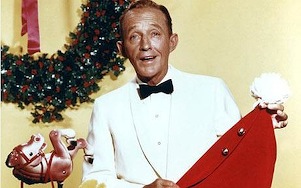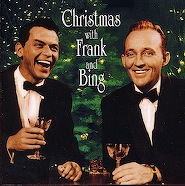 By ED BARK
Just five weeks before his Oct. 14, 1977 death, a crooning, cardigan-sweatered ghost of TV Christmas specials past performed a well-worn carol with an androgynous, cutting-edge rock star who was 44 years his junior.
Bing Crosby and David Bowie doing "The Little Drummer Boy" still seems slightly more incongruous than Santa Claus performing "O Holy Night" with Twisted Sister. Or Perry Como combining forces with Ozzy Osbourne on "Ave Maria."
But they somehow got through it, and the end result is a small but obviously essential part of the new
Bing Crosby: Volume Two -- The Christmas Specials
. The two-disc set, which is somewhat misnamed, retails for $29.98 but can easily be found at discounted prices.
All in all, is it worth giving or receiving it? Well, first of all, it's fairly important to have actually heard of Bing Crosby. So that might deal out about half the population at this point. Otherwise I'd give this collection a marginal yes, but not because of the Bing-Bowie interlude on an otherwise almost unbearable
Bing Crosby's Merrie Olde Christmas
(which originally aired 47 days after his death on Nov. 30, 1977).
The real treat here is the half-hour
Happy Holidays with Bing and Frank
, first telecast on Dec. 20, 1957. This was Sinatra's show, but Bing was his only guest. And according to an accompanying mini-booklet, their collaboration was shown in black-and-white but also filmed in color for a planned theatrical release. That never happened, but the rich color version was unearthed decades later and is part of this collection.
Frank starts it off by taking a stab at trimming a tinsel-choked Christmas tree, dropping an ornament in the process. He also sings "Mistletoe and Holly" before welcoming Bing to his made-for-TV bachelor pad for a "little toddy for the body" and exchange of gifts.
The banter is fairly minimal, though. Frank and Bing mostly sing, both with carolers and in duets and solos. Crosby became very proprietary with his show-closing holiday anthem, "White Christmas." So it's always him alone at first, with others then allowed to join in. Frank gets his cue via Bing's "Well, don't just stand there." They're terrific together before Frank serves up another drink. Then the two of them sit down for dinner, with a white-jacketed waiter wheeling in a golden brown turkey as the final credits roll. It's pure show biz hokum, but both legends are still at the tops of their games during this convivial and very watchable feast of songs and trimmings.
Also included is a quartet of one-hour Crosby Christmas specials, which in those days had actual running times of over 50 minutes. Subtract 10 minutes from that total in today's commercial-infested times.
Crosby's first official holiday outing hit prime-time on Dec. 11, 1961, in black-and-white from England. But only its original air date is Christmas-y. In fact there are no seasonal songs at all until Bing's climactic "White Christmas." His guests otherwise are a collection of British personalities, plus a "surprise" appearance by Bob Hope as Bingle's "Aunt Matilda."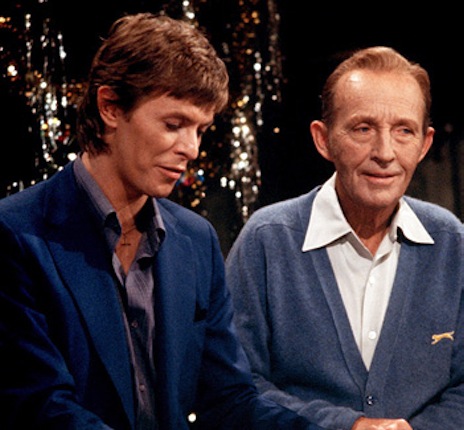 One of the Brits, Ron Moody, also shows up on Crosby's final
Merrie Olde Christmas
, a positively creaky hour plagued by too little music and way too much lame exposition and comedy.
Crosby was a gaunt 74 at that point, and for several years had included second wife Kathryn Grant and their kids, Harry, Nathaniel and Mary Frances (who went on to shoot J.R. Ewing on
Dallas
) on his annual Christmas special guest list. Twiggy chimes in, too, at one point playing Tiny Tim. And Bowie also has a self-standing and primitive-looking music video in which he sings his then newly recorded "Heroes."
Bowie does not participate in the big end-of-the show Christmas medley. Perhaps he'd had quite enough at that point. Bing then walks off to sing "White Christmas" by his lonesome -- for what turned out to be the last time. So it's quite poignant in that respect -- and you might want to fast-forward to get there. This would spare you the joke about the "creamed pheasant, country style" cooking on the stove.
"And you serve it stewed?" Kathryn asks the veddy English cook, played in drag by veteran British character actor Stanley Baxter.
"Oh, you got to," she/he replies. "It tastes dreadful if you're stone cold sober."
Only one of the included four specials, 1971's
Bing Crosby and the Sounds of Christmas
, has a full wall-to-wall holiday motif. Besides his wife and kids, Bing welcomes Robert Goulet, opera star Mary Costa (who's quite good) and The Mitchell Singing Boys choir.
Goulet is a classic over-singer, but pretty much keeps a lid on it here. The thoroughly leisurely pace allows a seeming eternity for a musical interpretation of O. Henry's "The Cop and the Anthem" story. Bing is down-and-out in a designer bum's outfit, longing to spend a night in jail on a bitter cold Christmas Eve. Goulet plays several parts, and the overall result is kinda sorta affecting.
Meanwhile, the Crosby kids play a little intendedly discordant holiday music on pots, pans and glasses while Dad grimaces and impersonates Jack Benny's famed chin-in-hand deadpan. Later, Harry plays acoustic guitar while Bing sings "The Christmas Song." He gets an affectionate head pat at song's end before Bing pretends that Harry's hair is full of greasy kid's stuff.
The fourth special,
The Big Crosby Show for Clairol
, originally aired on Christmas Eve, 1962, with guests Mary Martin and Andre Previn. It's his first full-color outing but oddly omits Christmas music until the closing segment.
Martin, mother of Larry "J.R." Hagman, otherwise gets more than ample time to display her considerable talents. So if you've heard of her --- and like her -- this is quite a showcase. There's also a bizarre "Doin' the Bing" production number in which Crosby and a gaggle of dancers cavort while seated in light orange swivel chairs. Perhaps Bing was smokin' something other than tobacco in that trademark pipe of his.
One more thing. Crosby should be credited with being somewhat ahead of his time in terms of making Christmas an inclusive experience. The Christmas medley portion on the Clairol hour features an appearance by the United Nations Children's Choir, a multi-ethnic ensemble brought in to help illustrate a Crosby-Martin song about how the Christ child is perceived in many different colors worldwide.
"White Christmas" again serves as Crosby's inimitable closer. This collection has six different renditions of a song that knows but one color. And more than 33 years after its crooner's death, there are still no good reasons to accept any substitutes.
GRADE:
B-minus