An independent woman and a crack shot, too: new DVD collection revisits trailblazing Annie Oakley TV series
10/21/14 01:16 PM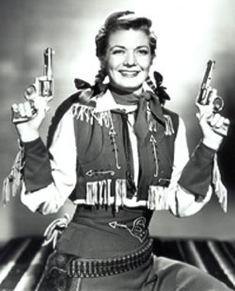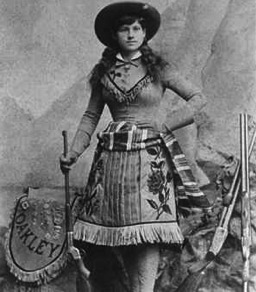 Gail Davis as TV's Annie Oakley and the real deal.
By ED BARK
@unclebarkycom on Twitter
Return with us now to those thrilling days of Little Barky's pre-pubescence, where Gail Davis as
Annie Oakley
was must-see TV for reasons that had nothing to do with the idea of gender empowerment.
Your future friendly content provider watched for one over-riding reason -- a crush. The same could be said for the many hours spent viewing Annette on
The Mickey Mouse Club
and even
Sheena, Queen of the Jungle
, whose horrid production values were overshadowed by star Irish McCalla's curvature.
All these years later, though, it's demonstrably true what they're now saying about
Annie Oakley
. Davis, a University of Texas at Austin grad and protege of Gene Autry, starred in "one of the first television shows to successfully portray a woman as independent, with courage, dignity and honor."
Westerns began riding high back in the 1950s, with men calling the shots and women mostly content to watch them hit the dusty trail before returning to a home-cooked meal. Not so with
Annie Oakley
. In the very first episode, subtitled "Annie Gets Her Man," she grew weary of shooting the gun out of the hand of a short-tempered twentysomething punk played by Dwayne (
Dobie Gillis
) Hickman's older brother, Darryl.
"Now you be a good boy or Annie'll spank," she told him. At that precise moment, she earned her spurs.
Made by Autry's Flying A Productions, the half-hour series originally ran in syndication from 1954 to '57 before ABC later aired reruns on weekend mornings. A total of 81 half-hour episodes were filmed. And this week
Annie Oakley: The Complete Series
is newly available on DVD via
vcientertainment.com
.
"He felt that a little girl should have a heroine," Davis says of Autry in an audio interview included in the package.
The 11-disc collection also has a 34-minute documentary on Davis; a collection of commercials for products she sold as Annie; and the original unsold
Annie Oakley
pilot, which starred Billy Gray (the future "Bud" of
Father Knows Best
) as her energetic little brother, Tagg. Jimmy Hawkins eventually got that role and played it for the entire series. Brad Johnson, as towering deputy Lofty Craig, was the other principal regular character. He may have been sweet on Annie, but seldom showed it.
Each episode began with an announcer declaring, "Bullseye!
Annie Oakley
hits the entertainment bullseye every week with her hard ridin' (see her catch a runaway stage coach), straight shootin' (Annie stood atop her galloping horse, Target, and fired a shot through the center of a 9 of Spades) and suspense" (demonstrated by Annie sneaking through a half-open window).
Although she got to show off her storied marksmanship, the scrapped original pilot for
Annie Oakley
portrayed her as appreciably more prim and deferential. She wore ribbons in her hair and girly dresses part of the time while deferring to her Uncle Luke, sheriff of smallish Diablo, Arizona.
"Lofty, take Annie back into town. She's not safe running around alone. I'll follow the trail of those murderers," Uncle Luke ordered. Annie silently acquiesced.
In the re-made opening episode, Uncle Luke was out of town, as he would be in virtually every episode. This left the bossing and most of the sleuthing to Annie. Clayton Moore, who went on to star as
The Lone Ranger
, is fleetingly seen in Episode 1 as an unmasked, second tier bad guy with a couple of speaking lines.
Annie remained sweet-tempered throughout the series, nurturing Tagg as his big sis even after a growth spurt made Hawkins slightly taller than her by the show's final year.
The plots were never brain surgery -- or even a cyst removal. Late in the last of three seasons, an episode titled "Santa Claus Wears A Gun" introduced viewers to Snowy Kringle, a white-bearded old sharpshooter in town with his "Big Carnival Show." He ended up being framed for robbery before Annie and Lofty eventually snuffed out the real villain. Annie more than did her part by shooting the padlock off a box from a long distance and later executing a nifty head-over-heels flip of a varmint who very briefly got the drop on her.
Autry, one of the first to sniff gold in weekly TV westerns, made certain that
Annie Oakley
generated a steady stream of merchandise ranging from comic books to lunch boxes to a red, white and blue belt and holster with twin six guns.
Davis and Hawkins, in character as Annie and Tagg, also relentlessly pitched products. A collection of commercials on a bonus disc shows they specialized in talking up the nutritional and tasty merits of Wonder Bread and Hostess Cupcakes, Twinkies and Sno-Balls.
In these cases, the woman of the house reverted to stereotype. Even
Annie Oakley
wasn't about to change that equation, with Davis telling the show's impressionable young viewers, "Why don't you ask your mom to pick up a package next time she shops?" Or, "Ask mom to buy a loaf next time she goes shopping."
The real, sterner-face Annie Oakley, born Phoebe Ann Mosey, died in 1926 at age 66. Gail Davis, born Betty Jeanne Grayson, died at age 71 in 1997. Near the end, in 1994, she finally received the Golden Boot Award honoring those who have made special contributions to the Western movie and TV industry.
Autry, a charter winner in 1983, is shown alongside her at the ceremony on the
Annie Oakley
bonus disc.
The award since has been discontinued while the
Annie Oakley
TV series rides again for those who remember it back when. In retrospect, it's much more a pathfinder than a footnote in the history of how television depicted its women characters.
Email comments or questions to:
unclebarky@verizon.net