Fox Reality Channel's Househusbands of Hollywood gender-bends while copycatting
08/13/09 11:14 AM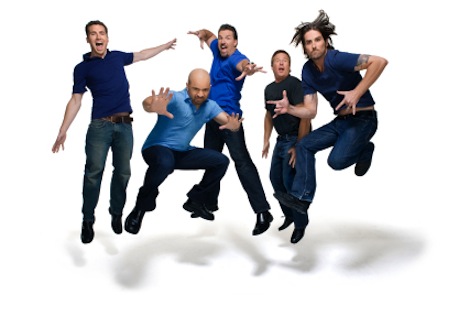 Take a flying leap with Fox Reality's Househusbands of Hollywood.
Premiering:
Saturday, Aug. 15th at 8 p.m. (central) on Fox Reality Channel
Starring:
Billy Ashley, Danny Barclay, Darryl M. Bell, Charlie Mattera, Grant Reynolds and their bread-winning wives
Produced by:
Marilyn Wilson, Lisa Bernstein, Scooter Pietsch and Charlie Mattera
By ED BARK
Imitation is the sincerest form of not having any better ideas.
So the still fledgling Fox Reality Channel might as well take a shot with
Househusbands of Hollywood
, which turns out to be a surprisingly watchable and well-produced tagalong to Bravo's
Real Housewives
franchise.
The 10-episode series, co-starring five stay-at-home dependents, launches on
Saturday, Aug. 15th at 8 p.m. (central).
Ryan O'Neal also will be dropping in. He's best friends with Charlie Mattera, an actor/screenwriter/ex-con who also happens to be one of
Househusands
' co-executive producers. Nice racket.
Only one of the "high-powered" wives has a national name. Not that former "Cosby kid" Tempestt Bledsoe has made many marks of late. Still, she's off to shoot an unidentified movie while "longtime partner" Darryl M. Bell (the show's only non-husband) carps on cue about having to take his rotting leftovers to the garbage or Tempestt to the airport three hours before her flight to a film set.
"Our relationship is like cockroaches. It's lasted," he says. Now there's a Hallmark Card sentiment.
Not all of these guys are slugs, though. Ex-Marine Corps sniper Grant Reynolds so far is the most appealing. He cares for two-year-old daughter, Ruby, while wife Jillian Reynolds toils at three Fox jobs, principally co-hosting
Good Day LA
for the network's owned-and-operated station.
Reynolds and Ruby have a bond that throaty mommy can't match. So when she comes home, the kid is likely to cry more often than not when Jillian tries to kiss or hold her.
Another of the househusbands, Billy Ashley, played with the Los Angeles Dodgers and briefly, the Boston Red Sox, in the 1990s before he says a neck injury ended his career. Mediocrity played a role, too. The Dodgers released him after he hit .233 for them in six seasons as a part-time player.
Ashley's wife is Lisa Ashley, a makeup artist who also is marketing a line of teen skin care products. Hubby's role is to care for their increasingly strong-willed 9- and 11-year-old daughters while playing a nominal "managerial role" in her cosmetics company. So it's gotta hurt when one of the daughters tells him, "You don't work."
"I don't work? Since when?" he retorts.
"Since ever," she says.
There's also henpecked Danny Barclay, who quit med school to pursue his dream of becoming an actor. Wife Katherine, a "high-powered" attorney, sends him daily to-do lists and also makes him take his "kegerator" (a beer storage facility) out of the kitchen and into the garage, where he constructs a piss-poor "man cave" in retaliation.
The aforementioned Charlie Mattera notes that he served eight-and-a-half years in prison for robbing banks. Naturally then, his best pal is O'Neal, who wears a Fox-ian
Bones
t-shirt during one of their workouts together.
Charlie otherwise is married to a psychologist named Gail, who won't be appearing on-camera in order to main anonymity for her clients. Instead she issues orders over the phone, making sure he's done all his chores.
The Matteras also have a baby son who pretty much is dependent on him, not her. His baptism is coming soon, and Charlie figures this might be a good time to tell Gail's parents about his criminal past. He consults a priest who agrees to sit in when Charlie decides to come clean to them.
Househusbands
veers back and forth among this quintet before all of the males gather at Danny's man cave near the end of Saturday's opener. This no doubt is a contrived get-together, and it's doubtful that these guys even knew each other before the series went into production. Reality seldom gets in the way of any reality show, so no big deal any more.
Teases for future episodes promise plenty of conflict. But at least these guys aren't conspicuous consumers going against the grain of continuing tough times. Bravo's real housewives mostly blow their husbands' dough as though it were bubbles. Danny's idea of a big night is chips and pretzels in his garage-bound, roundly ridiculed man cave.
Fox Reality Channel at last may have a winner here, even if it's also a craven copycat. And if so, look for a spinoff or two. Or 10. Every city of any size has more than enough unemployed males to make these worlds go 'round and 'round.
GRADE:
B-minus