Hey, Paula: Fox's X Factor will reunite her with Simon
05/09/11 05:47 AM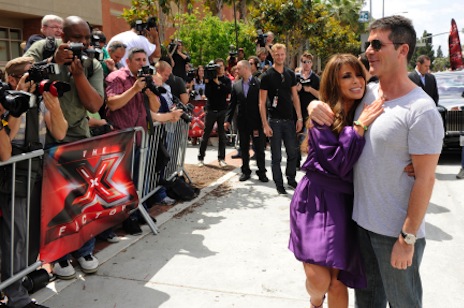 Simon Cowell, Paula Abdul at recent L.A. taping of X Factor Fox photo
By ED BARK
Two of
American Idol
's three original judges will be together again on Fox's biggest bet for this fall.
Paula Abdul's rumored addition to Simon Cowell's
The X Factor
became official late Sunday afternoon, when the network named her as the last key piece of its splashy new talent competition.
Cowell, the show's executive producer and lead judge, cooed his approval in a publicity release. "This show would never have been the same without Paula and I can't believe I am saying this," Cowell duly said. "I have missed her a lot, and I am thrilled she's on the show."
Abdul, who helmed CBS' since canceled
Live to Dance
competition earlier this season, said she's "excited beyond words" to "bring my love for cultivating talent and performance to such a wildly anticipated show. I'm also delighted and grateful to be sitting next to Simon again, but you might want to check back with me in a week or two."
During their seven years on Fox's
Idol
, the two of them regularly sparred with one another, sometimes seemingly for real. Post-Paula, who left after a contract dispute, the still reigning No. 1 prime-time show made do with Ellen DeGeneres, Kara DioGuardi, Cowell and charter judge Randy Jackson.
Idol
's ongoing Season 10, the first without Cowell since his heavily publicized departure for
X Factor
, has been humming along in the ratings with Jackson and well-received new judges Steven Tyler and Jennifer Lopez.
On
X Factor
, Abdul and Cowell will share opinions with previously announced judges Cheryl Cole and Antonio "L.A." Reid, respectively a British pop star and music mogul. The show also announced its two hosts over the weekend, with Season 10
Dancing with the Stars
champ and Pussycat Doll Nicole Scherzinger and former model Steve Jones set to preside.
X Factor
is guaranteed a place on Fox's fall schedule, and appears likely to move into
Idol
's Wednesday and Thursday slots when the network officially announces its new lineup on Monday, May 16th. It's also possible that
X Factor
could inherit
Idol
's old Tuesday-Wednesday regimen.
As previously noted, the
next auditions for X Factor
will be on Thursday, May 26th at the Dallas Convention Center. The winner -- with solo singers and groups 12 years of age and older eligible, will receive a $5 million recording contract. Both
X Factor
and
Idol
were hits in the United Kingdom before being adapted for American television.
Idol
long has had Coca-Cola as one of its official sponsors. On
X Factor
, it'll be "No Coke, Pepsi." Readers with enough mileage on them to remember the early years of
Saturday Night Live
will get both the reference and the tagline. Or you can
go here
for further details.