Oscars fall shy of Grammys but beat last year's total
02/27/12 06:39 PM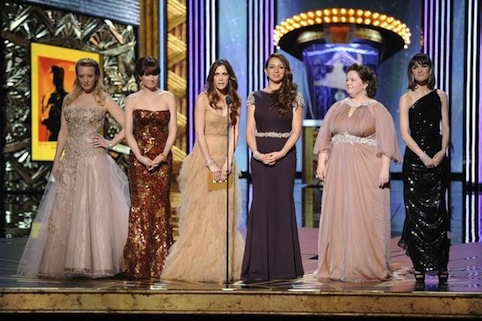 Presenting the cast of Bridesmaids as presenters. ABC photo
By ED BARK
ABC's Sunday night Oscar-cast emerged as a qualified success nationally, "surging" past last year's ceremony, in the words of a cleverly subjective network publicity release.
The Billy Crystal-hosted affair averaged 39.3 million viewers, up from the 2011 total of 37.9 million.
"The 2012 Oscars stand as ABC's most-watched telecast in 2 years -- since March 3/7/10," ABC said, neglecting to mention that this was the date of the Steve Martin-Alec Baldwin Oscars, which had an appreciably higher 41.7 million viewers.
ABC also left it unsaid that its latest Oscar telecast fell short of the audience for the Feb. 12th Grammy Awards, which averaged 39.9 million viewers. It's only the second time that the Academy Awards have been outdrawn by the Grammys in the same calendar year.
In 1984, the Grammys surged past the Oscars in large part due to Michael Jackson's dominant showing, in which his
Thriller
album won eight trophies. There were unusual circumstances this time as well -- the death of Whitney Houston on Grammy eve.
This month's Grammys prevailed by a wider margin among advertiser-courted 18-to-49-year-olds, drawing 18.080 million viewers in this age range compared to the Sunday Oscar haul of 15.003 million.