Pacino takes the HBO field again with a bravura performance in Paterno
04/04/18 02:35 PM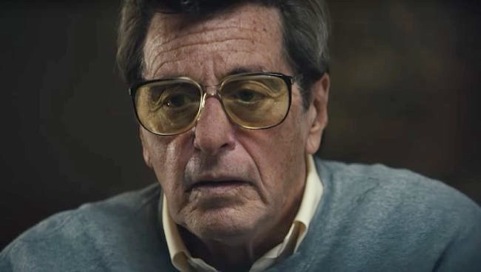 Al Pacino sure-handedly tackles the title role in Paterno. HBO photo
By ED BARK
@unclebarkycom on Twitter
Having dispensed with cutthroat lawyer Roy Cohn, death-dealing Dr. Jack Kevorkian and convicted murderer Phil Spector, HBO's most famous repertory player is back with another real-life portrayal -- and also with the TV performance of the year thus far.
Al Pacino is gruff, confused, in denial but increasingly haunted as the title character in
Paterno
(
Saturday, April 7th, 7 p.m. central on HBO
). Directed by Barry Levinson, the film spotlights Joe Paterno's dark final days as Penn State's legendary football maestro. Less than two weeks after becoming the winningest Division 1 coach in college football history, Paterno was fired in November 2011 for his alleged impassivity in a scandal involving former Penn State defensive coordinator Jerry Sandusky, who eventually was convicted on 45 counts of sexually molesting young boys.
How much the then 84-year-old Paterno knew -- and how long he knew it -- is still debatable and controversial. But within two months of his ouster, he was dead of lung cancer, leaving behind five children and a widow who still proclaim his innocence.
Paterno
sets this stage with an opening scene of "JoePa" shuffling down a starkly white hospital corridor in search of a restroom -- "I got turned around" -- before he's strapped into a cylinder for an MRI exam. From there he has a stricken look, with the film offering repeated brief glimpses of Paterno in this state of anxiety between its reconstructions of the events that quickly overtook him in his 46th and final season at Penn State.
A review screener provided for critics otherwise has an obvious editing error in the early going.
Penn State's 10-7 home victory over Illinois, which gave Paterno the all-time record of 409 wins, has a scoreboard shot showing the Nittany Lions trailing 7-3 near the end of the game. But the editors are getting ahead of themselves, because the game in fact is still late in the first half when the Penn State quarterback fumbles in scoring territory. This leads to a scoreless tie at halftime -- which the scoreboard also shows. Penn State then rallies in the final minutes from that prematurely shown 7-3 deficit. There's still ample time for HBO to fix this gaffe before
Paterno
's premiere. It would be unfortunate if such a strong film begins with a fumble. And believe me, sports fans will notice.
Paterno has scant time to enjoy his record-setting accomplishment. There's a bye week before Penn State's pivotal game against Nebraska, giving the coach two weeks to prepare his troops. But just six days after the win over Illinois, the university is rocked by the Sandusky allegations while Paterno initially can't be bothered.
"Hey, I'm trying to work here!" he bellows at one of his sons.
It's more of the same when he's later asked, "Dad, did you know anything else about Jerry?"
"You're badgering me!" the old man retorts. "I don't like it! I've got a game to prepare for!"
The investigative push has been spurred by young
Patriot-News
reporter Sara Ganim (Riley Keough), who eventually won a Pulitzer Prize for her initially lonely efforts. But now the noose is finally tightening, with Paterno's devoted wife, Sue (Kathy Baker), becoming physically ill upon reading some of the graphic allegations against Sandusky.
This is a tough story to capsulize and dramatize, but
Paterno
is mostly up to the challenge during those times when Pacino isn't on camera. Sandusky, played by Jim Johnson, has no dialogue and is seen only in flashbacks. In Paterno's mind, he increasingly seems to be smirking.
Pacino, who won Emmys as Cohn and Kevorkian, and a nomination as Spector, is a cinch to again be in the awards hunt. As a considerably younger man, he last played a football coach in the 1999 feature film
Any Given Sunday
. Charitably speaking, his fictional Tony D'Amato oftentimes went over the top. But Pacino is a marvel as Paterno, portraying him as a guy who seemingly doesn't know what hit him while many students on campus rally behind him.
Belligerent at first, reconciled in the end, Pacino's Paterno does not come off as an arch villain. But the film clearly portrays him as complicit when he could have been pro-active in stopping Sandusky. On the day of the big Nebraska game, which Penn State lost, Paterno is portrayed as lost within himself, wandering through his home in a daze after walking away from the TV telecast. In these scenes, Pacino communicates volumes without ever saying a word. His Paterno is a broken man, torn from within and without.
Then comes the climactic hospital "Diagnosis Day" while at the same time reporter Ganim receives a phone call from another man who says he was once molested by Sandusky. He claims to have talked to Paterno about it -- way back in 1976.
Sandusky's victims otherwise are condensed on camera to a single young man with a speaking part. Aaron Fisher (Benjamin Cook), who put Ganim's investigation in motion, is convinced that nothing will happen to Sandusky. While the heat on Paterno intensifies, Fisher is chased down by two suspecting track team teammates who taunt him as a "faggot."
In contrast, Paterno is lionized by chanting students who gather in front of his home after Penn State's board of trustees announces his firing. For the first and only time, he directly addresses them. Tend to your studies, he tells them. "We're gonna go on from here, OK?" And then almost as an afterthought, "Pray a little bit for those victims, OK?"
Pacino has had many fine hours as a big screen actor. But as an elder statesman, his best work has all been for HBO. He'll be 78 later this month, but is still tapping his reservoir. The portrayal of Paterno is right up there with Pacino's very best work. Kudos to HBO for keeping him center stage, which is where he still belongs.
GRADE:
A-minus
Email comments or questions to:
unclebarky@verizon.net