Babs back in prime-time spotlight with back-to-back specials
12/01/10 05:26 PM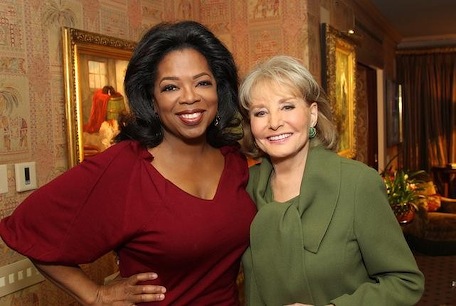 TV's reigning First Ladies: Babs and Oprah. ABC photo
By ED BARK
Barbara Walters and ABC's prime-time domain aren't quite done with one another.
She's given up her yearly pre-Oscar specials, but hasn't yet relinquished her clout when it comes to big-time hobnobbing. So here comes ABC's "One Night, One Big Event" -- namely back-to-back Dec. 9th Babs specials in which she first spends an hour with Oprah Winfrey and then presents her 18th "10 Most Fascinating People" of the year extravaganza.
A Barbara Walters Special: Oprah, the Next Chapter
will be the first of innumerable salutes to the daytime TV queen. ABC promises a revealing interview, an "exclusive preview" of Winfrey's new OWN cable network (which launches in January) and "the most memorable moments" from Winfrey's groundbreaking talk show, which is ending its 25-year run next year. In other words, Tom Cruise will be seen jumping up and down on her couch again.
Then comes those fassssssssss-inating people, with ABC and Walters as usual keeping No. 1 a secret. Otherwise making the cut are Betty White, Kate Middleton, LeBron James, Justin Bieber, Sarah Palin, Jennifer Lopez, Sandra Bullock and the cast of
Jersey Shore
. OK, that's only eight, so maybe they're still firming things up. Or perhaps Snooki and "The Situation" count for two, even if their collective IQs may not amount to much more than an igloo's room temperature.
ABC notes that Palin is the first and only person to be fascinating for three consecutive years. Among other things, she tells Walters, "There's also rumors that Trig isn't my son. There's also rumors that Track went to Iraq to avoid jail. There is a lot of BS out there. I don't want to just believe that it comes with the territory, when you put yourself forward, in the name of public service, that you have to take that kind of garbage that's out there."
Please stop putting yourself out there, then.
***
ABC also has announced a premiere date for Dana Delany's
Body of Proof
series, which originally had been given a Friday night berth on the network's fall schedule. Better late than never, although a March 29th premiere date is a long time in coming. Delany plays a self-centered neurosurgeon who becomes a female Quincy after suffering serious injuries in a car accident. Perhaps ABC views the show itself as a train wreck?
***
ABC's new winter blunderland version of
Wipeout
likewise has a launch date. It's on Thursday, Jan. 6th in the 7 p.m. (central) slot once occupied by the very short-lived and made-in-Austin
My Generation
.
The network warns viewers to "expect an avalanche of laughs as (contestants) take on a spinning ski lift, try to outrun polar bears and avoid hockey pucks to the head -- all in a completely new winter Wipeout Zone and amid a snowy blizzard."
Given the confounding popularity of the summertime version, it definitely has more than a snowball's chance in hell of working.