A Memorial Day salute in HBO's John McCain: For Whom the Bell Tolls
05/25/18 02:38 PM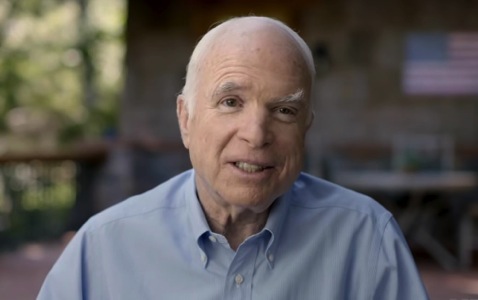 Lionizing a lion in winter in John McCain: For Whom the Bell Tolls.
HBO photo
By ED BARK
@unclebarkycom on Twitter
Fittingly premiering on Memorial Day, HBO's
John McCain: For Whom the Bell Tolls
affords him an opportunity to, in a sad sense, see his own obituary.
The respect and admiration for the cancer-afflicted POW turned Arizona senator is non-partisan and clearly more than
pro forma
during this 1 hour, 45 minute film (
May 28th at 7 p.m. central
).
McCain himself seems to be in firm control of his emotions during an interview filmed last August on his 80th birthday at his Sedona, AZ home shortly after he had been diagnosed with brain cancer. Others are not, including former Vice President Joe Biden. Extolling McCain's valor under adversity, Biden pauses and is near tears before saying, "He's a good friend."
A formidable list of friends and onetime foes contribute fresh interviews for the Peter Kunhardt-directed film. Besides Biden, the roll call includes Barack Obama, Bill and Hillary Clinton, George W. Bush, Henry Kissinger, Joe Lieberman, Lindsey Graham and John Kerry. McCain's first wife, Carol, his current wife, Cindy, several children from both marriages and Ted Kennedy's widow, Vicki, also participate.
The notable no-show is Sarah Palin, McCain's controversial running mate in his 2008 presidential bid. McCain now says he should have trusted his instincts and gone with Lieberman, but his advisors warned him of a "bloodbath" at the Republican National Convention if he tried to run with a former Democrat turned Independent. Palin is seen only in archival footage, with McCain saying that selecting her "was another mistake that I made" among several he acknowledges.
McCain antagonist Donald Trump is neither mentioned nor shown, which is perfectly fine. He's otherwise available nearly 24/7 on the three cable news networks.
The film's title comes from the famed 1940 Ernest Hemingway novel, which also was made into a movie starring Gary Cooper and Ingrid Bergman. The main protagonist, Robert Jordan, selflessly dies for a perceived greater cause during the Spanish Civil War. "And by the way, I re-read Hemingway," McCain says near film's end. "And Robert Jordan is
still
my hero."
From the very start, a duly reflective McCain says, "I have lived an honorable life, and I am proud of my life." So if he's in fact near the end, McCain is determined to "look back with gratitude. You will never talk to anyone that is as fortunate as John McCain."
Along the way, though, he has regrets. Not only about choosing Palin, but of eventually succumbing to a "war crimes confession" when he thought death was imminent from the oft-brutal treatment he received during a five-and-a-half year imprisonment in what became known derisively as the Hanoi Hilton.
"And I will be ashamed and embarrassed about that for my whole life," McCain says.
He's also bracingly contrite about his enabling role in the Charles H. Keating Jr. savings and loan scandal (forever a "black mark") and his politically expedient decision to support flying the Confederate flag over the South Carolina State Capitol ("as a symbol of heritage") during his down-and-dirty 2000 presidential primary campaign against George W. Bush. McCain's subsequent full and public apology soon after he dropped out of the race remains a remarkable example of undiluted political candor.
After filming ended on the HBO documentary, McCain offered another major
mea culpa
in his new book
The Restless Wave: Good Times, Just Causes, Great Fights and Other Appreciations
. He now says he erred in very actively supporting the U.S. invasion of Iraq.
All in all, this is a catalog of very considerable proportions. But unlike a certain sitting President, McCain is willing to admit his faults and mistakes. "I've been tested on a number of occasions," he says in the film. "I haven't always done the right thing."
Columnist David Brooks of
The New York Times
says McCain is one of the few high-level politicians with an "authentic" inner voice. "He has never been able to lie to himself very well."
An enduring latter day image for many is McCain's trip to Washington last July against his doctors' and family's wishes. His face bruised and very much still healing from recent surgery, he cast the "No" vote that torpedoed Republicans' efforts to repeal "Obamacare" in full. Footage from that night still resonates, as does plentiful archival film from his POW years.
McCain recalls that when he refused preferential treatment because his father was a "big admiral" in the Navy, a North Vietnamese interrogator assured him, "Things will be very bad for you now, McCain.' "
"And the fun began," McCain adds drily, referring to the ensuing ramped-up torture.
His first marriage crumbled after his return to U.S. soil. McCain doesn't talk about this, and perhaps wasn't asked. But first wife Carol says he was "looking for a way to be young again" by having an affair with the much younger and future Mrs. McCain. "And that was the end of that . . . I was pretty much blindsided, and it broke my heart."
Still, when reporters looked to her to say "negative things" about her ex-husband during the 2008 presidential campaign, Carol says she'd never do that to him and is sad that he's not likely to be around much longer.
Obama, who seems to genuinely admire his former opponent, says that "we weren't really running against John McCain. We were running for a new direction for the country."
McCain repeatedly worked "across the aisle" in efforts to get things done in Washington. As the film shows, he formed alliances with the likes of Ted Kennedy, John Kerry, Hillary Clinton and Joe Biden among others. And when Obama defeated him, McCain called for unity and support after earlier upbraiding a woman at a campaign rally who had branded the Democratic nominee "an Arab."
"He could not have been more gracious," Obama says.
McCain's sometimes cranky demeanor also goes with the territory. Longtime friend Lindsey Graham says bluntly, "He can be an asshole one minute and your dearest friend the next." But through it all, Graham says, there's never a doubt about McCain's loyalty and love.
Some might find
For Whom the Bell Tolls
to be too easy on, if not downright deferential, to McCain. But this last testament in many ways also underscores the respect and admiration he has won from those he's battled fiercely. The so-called "Art of the Deal" is associated with another Republican, but it's McCain who recurrently embodied it.
"John McCain successfully fought in Congress for these and other causes," says a printed epilogue.
It turns out to be quite a list.
GRADE:
A-minus
Email comments or questions to:
unclebarky@verizon.net