New era for Emmys, with a hit 'n' miss backstage webcast angling for attention while host Jimmy Fallon flattens out after fast start
08/30/10 01:32 AM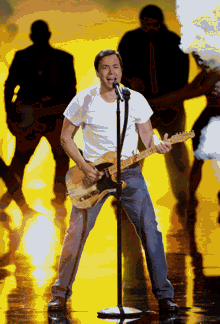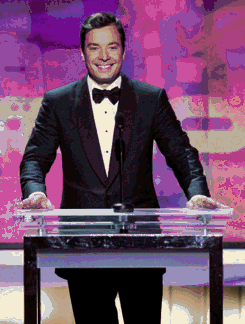 Host Jimmy Fallon gamely got in and out of his tux. NBC photos
By ED BARK
Jimmy Fallon proved to be an OK -- but not A-OK -- host of Sunday night's 62nd annual Emmys ceremony, which pitted the traditional NBC telecast against a companion live backstage webcast on nbc.com and other outlets.
Neither presentation held up for the entire night. Nor did the Big Four broadcast networks, which this time were beaten in the overhaul hardware haul not only by HBO but by AMC.
ABC's three Emmys all went to
Modern Family
, including a statue for best comedy series that ended a three-year run by NBC's
30 Rock
. AMC's
Mad Men
at the same time extended its best drama series winning streak to three years while Bryan Cranston likewise made it three best actor Emmys in a row for his lead role in the cable network's
Breaking Bad
.
Cranston's co-star, Aaron Paul, took the best supporting actor Emmy trophy while
Mad Men
added a best writing award. That gave AMC a heady total of four Emmys while HBO waited until the three-hour ceremony was two-thirds over before reeling off eight straight wins in the movies and miniseries division. That included five awards for the night's most-honored program,
Temple Grandin
.
All told, cable networks won 17 of the 26 statues and figured in the night's two biggest upsets. Kyra Sedgwick broke through for the first time to win a best actress Emmy for TNT's
The Closer
while the heavily favored Julianna Margulies of CBS'
The Good Wife
had to settle for presenting the Bob Hope Humanitarian Award to George Clooney, her former
ER
co-star.
CBS'
The Amazing Race
, winner of the best reality-competition series Emmy since its inception in 2003, had its seven-year winning streak snapped by Bravo's
Top Chef
.
Edie Falco won for her lead performance in Showtime's
Nurse Jackie
, which was entered as a comedy series but really isn't. Nor is
Glee
for that matter, although it also competed with
Modern Family
in the funny business categories.
Falco termed her win "the most ridiculous thing that's ever happened" in the history of acting awards. "I am not funny."
Glee
's openly gay Jane Lynch, the hardly surprising winner of best supporting actress in a comedy series, thanked both "my lord and creator Ryan Murphy" (the show's producer) and her real-life wife.
In the night's slam dunk, bet-the-house-and-the-firstborn certainty, HBO's
The Pacific
beat its lone opposition, PBS'
Return to Cranford
, as TV's best miniseries. It was
Pacific's
lone Emmy Sunday. But seven statues at the August 21st Creative Arts ceremony gave it eight overall, enough to edge
Temple Grandin
(seven) as the most lauded program.
HBO also topped all networks with 25 total Emmys; ABC had 18 to finish second.
NBC barely avoided a shutout Sunday night, winning a lone Emmy for its presentation of the 2010 Winter Olympics opening ceremony from Vancouver. But the Peacock probably was just as happy to dodge any Emmys for Conan O'Brien's work as the banished host of NBC's
Tonight Show
. A bearded O'Brien was in attendance, but the award for best variety, music or comedy program once again went to Comedy Central's
The Daily Show
, whose host, Jon Stewart, was a no-show.
The show began with Fallon's perhaps predictable, but nonetheless very entertaining sendup of a
Glee
production number that included both cast members and recruited celebrities such as Tina Fey, Jon Hamm, Jorge Garcia, the inevitable Betty White and the regrettable Kate Gosselin. The elongated sketch began on film and ended live on stage, with Fallon gamely tearing through Bruce Springsteen's "Born to Run."
Other bits sagged in comparison, particularly the host's occasional use of solicited Twitter introductions of some presenters. Fey absorbed an "I'd hit that" tweet while ABC's
Castle
co-star, Nathan Fillion, withstood "this dude is straight off the meat rack, yo."
Fallon's guitar-strumming introductions of various Emmy categories, with help from some of the seated nominees, also fell more than a little flat. He fared a bit better with a lengthier "musical tribute to three shows we lost this year" -- ABC's
Lost
, Fox's
24
and NBC's
Law & Order
. Later, though, Fallon stooped to spout "these next presenters really suck" before the principal three stars of HBO's
True Blood
took the stage.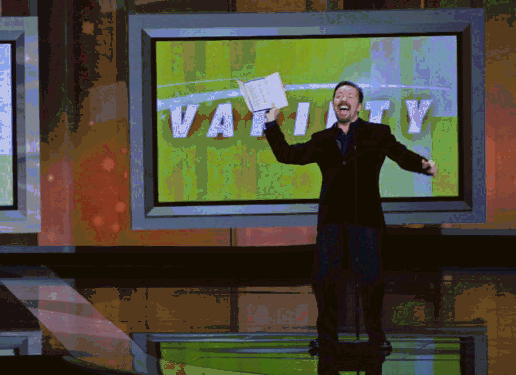 Presenter Ricky Gervais exults in a directing win for Bucky Gunts.
The night's acceptance speeches for the most part won't make any all-time Emmy highlight reel. It at least was an oddity, though, when best actor winner Al Pacino (for the HBO movie
You Don't Know Jack
) lauded Jack "Dr. Death" Kevorkian, who was in attendance.
"Thank you, Jack. You're all right, Jack," Pacino declared, enthusiastically shaking his right fist in support of the controversial MD. Kevorkian briefly stood to bask in a warm reception.
Ricky Gervais, who will return to host NBC's Golden Globes telecast next year, emerged as the Emmys' MVP (Most Valuable Presenter) after first promising to save "all the really offensive stuff" for the Hollywood Foreign Press Association's annual gala. "They're all drunk anyway," he reasoned before wondering why a guy couldn't get a beer -- even backstage -- at the Emmys.
Gervais then dropped Mel Gibson's name before quickly adding, "No, c'mon. I'm not gonna have a go at him. He's been through a lot. Not as much as the Jews -- to be fair."
That line easily got the night's biggest laugh before Gervais noticed that one of the best director nominees for a variety, music or comedy special was named Bucky Gunts.
"I hope it's Bucky Gunts" who wins, he said. "Because I didn't know you could say that on television. Let's face it. We're all Bucky Gunts here."
He then opened the envelope before gleefully exclaiming, "Bucky Gunts! Yeah!" Gunts, the lone NBC Emmy winner, then launched into a straight-ahead acceptance speech.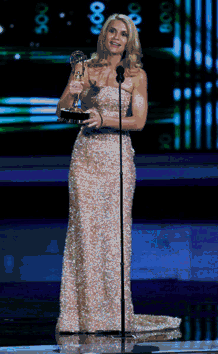 Actress Claire Danes and producer Steven Levitan toted home Emmys for Temple Grandin and Modern Family.
Finally, a few words on nbc.com's "Backstage" webcast, which utilized a "Thank You Cam, Green Room Cam, Makeup Room Cam, Producers Table Cam, Winners Walk Cam" and "Jimmy Cam" during the course of TV's big night.
The latter was trained on host Fallon, who occasionally could actually be both heard and seen. Early in the proceedings he rehearsed his introduction of presenter Matthew Perry before returning to the stage and repeating it for the TV broadcast. Not exactly scintillating, but if you like to see how the sausage is made . . .
The Green Room Cam muted the conversations of those stars waiting to take the stage. There were some interesting visuals, though, including Pacino cracking up at something Clooney said during their extended conversation. Webcast watchers also could witness presenter Tom Selleck milling about while discoursing with the likes of Ted Danson, Laurence Fishburne and, very briefly, January Jones of
Mad Men
.
Emmy's TV telecast utilized a seven-second delay in case something was deemed bleep-able. But the backstage webcast aired in real time. On a number of occasions, this meant that vigilant web listeners could learn who won the Emmy seven seconds before the TV audience did. Given the rapid-fire acceleration in communications, that someday will be considered an eternity. In fact, in some quarters it already is.
The webcast endured beyond the precisely on time 10 p.m. end of the TV ceremony. Fallon closed out NBC's telecast by popping a champagne bottle and exclaiming "Tonight, after-party at Betty White's house!"
A minute or so later on the webcast, he could be seen backstage taking a swig of the bubbly before some of the jubilant cast members of
Mad Men
messed around at the "Thank You Cam."
All the while, a companion "Backstage" tweet screen continued to roll by at nearly the speed of closing credits on today's conventional TV telecasts.
Mad Men
's leading man, Jon Hamm, tried to keep it real.
"I'm bad with live things," he said while ducking away from the web cam's eye.
You can find a complete list of the night's 26 winners by
going here
.