NBC's About a Boy is one to grow on
02/19/14 02:05 PM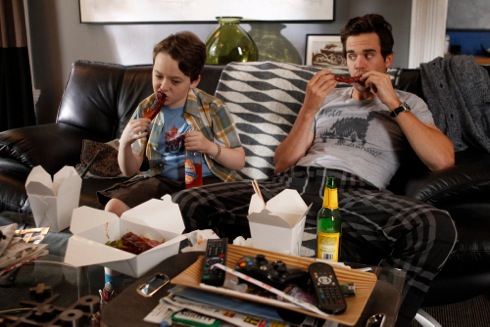 Benjamin Stockham and David Walton are the meat of About a Boy.
NBC photo
Premiering:
Saturday, Feb. 22nd at approximately 10:07 p.m. (central) on NBC after prime-time Olympics coverage. Then moves to regular Tuesday, 8 p.m. slot on Feb. 25th.
Starring:
David Walton, Benjamin Stockham, Minnie Driver, Al Madrigal, Annie Mumolo
Produced by:
Jason Katims, Tim Bevan, Eric Fellner, Liza Chasin, Robert De Niro, Jane Rosenthal
By ED BARK
@unclebarkycom on Twitter
NBC could really use a hit sitcom. Or even one that finishes second-best in its time slot. Or third if beggars can't be choosers.
The Peacock has tried and failed this season with two big names from its comedy past -- Michael J. Fox and Sean Hayes. Add last fall's quick cancellation of
Welcome to the Family
and the ongoing very smallish ratings for both
Community
and
Parks and Recreation
. It all used to seem so effortless, too, back in the days when NBC churned out one smasheroo after another:
The Cosby Show, Family Ties, Cheers, Night Court, The Golden Girls, Seinfeld, Friends, Frasier, Will & Grace
, etc.
One has to keep trying, though. And
About A Boy
, adapted from the Nick Hornby book and 2002 movie starring Hugh Grant, may offer at least a 50-50 chance of ending the drought. Incubated with heavy promotion during NBC's Olympics coverage, it gets a commercial-free sneak preview after Saturday's prime-time Winter Games package before nestling into a regular Tuesday, 8 p.m. (central) slot following the network's biggest non-sports hit,
The Voice
. If you can't make it there, perhaps you can't make it anywhere.
About a Boy
is buoyed by its two male principals, played by David Walton and Benjamin Stockham. Both are on the rebound from NBC's flotilla of recent sitcom losers, though. Walton starred in the critically praised but viewer rejected
Bent
while Stockham had a supporting role in the critically panned and viewer rejected
1600 Penn
.
Walton returns to the prime-time fray as Will Freeman, a footloose, financially independent single dude whose long hit single set him up for life. Stockham is 11-year-old Marcus, an irrepressible but stunted kid with a weepy, needy, divorced vegan mom (Minnie Driver as Fiona). The series' overall maestro, executive producer/writer Jason Katims, has previously excelled with NBC's
Friday Night Lights
and the Peacock's ongoing
Parenthood
.
Will and Marcus are fated to meet and bond when Fiona moves in next door. He's been deprived of many a kid's comfort foods. But after fleeing from school bullies and winding up on Will's doorstep, he's soon happily eating messy ribs with his new commitment-phobic pal. Will's best friend otherwise is Andy (Al Madrigal from
The Daily Show
, whose somewhat sad sack life is almost solely devoted to parenting three small kids in tandem with his blunt-spoken wife, Laurie (Annie Mumolo).
NBC sent the first three episodes for review. Will of course learns a life's lesson in all of them. And Episode 2, primarily set at a bawdy charity pool party, ends up being more cloying than amusing. But Saturday night's premiere adequately baits the hook before Episode 3 provides very good reason to keep watching. It's the most amusing and endearing of the trio, even if Marcus is mostly out of the picture when Will volunteers to babysit Andy's and Laurie's kids after bungling their invitation to become the youngest one's godfather.
The Will/Marcus byplay is key, though. And the kid definitely knows how to work a line. After playing along as a prop in Will's pursuit of a comely single mom (guest star Leslie Bibb) who thinks he's the father of a cancer-afflicted son, Lucas leans in to whisper, "I own you" after first declaring, "I would say if it weren't for my father, I'd be dead right now."
Driver's character is much slower to achieve traction. But by Episode 3, she's winning points with lines like, "My son, Marcus, was a late pooper." Hearing her say this in a British accent serves to double the fun.
In its lesser moments,
About a Boy
can be overly sweet and completely predictable -- but not nearly enough to ruin things. Solid writing and even sharper delivery (all without an intrusive laugh track) make this one of the season's upper tier freshman comedies. A decent-sized, appreciative audience -- not a cult following -- is exactly what it deserves on a network that sorely needs at least a modest half-hour hit. C'mon viewers, go for it. There are promising signs that
About a Boy
will grow on you and only get better.
GRADE:
B+
Email comments or questions to:
unclebarky@verizon.net