FX's American Horror Story: Asylum is no more than scary bad
10/16/12 09:43 AM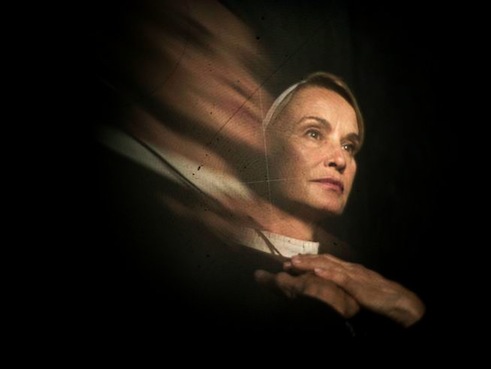 Jessica Lange returns to AHS franchise as super-twisted Sister Jude.
FX photo
Premiering:
Wednesday, Oct. 17th at 9 p.m. (central) on FX
Starring:
Jessica Lange, Evan Peters, Zachary Quinto, James Cromwell, Sarah Paulson, Joseph Fiennes, Chloe Sevingy, Clea Duvall, Lily Rabe, Adam Levine, Lizzie Brochere
Produced by:
Ryan Murphy, Brad Falchuk, Dante Di Loreto, Tim Minear
By ED BARK
@unclebarkycom
Depravity, thy newest name is
American Horror Story: Asylum
.
And this time there are no saving graces.
Season 1 of
AHS
at least had a thin veneer of reality and one or two moral compasses at work amid its excesses and brutality. It also had the steadying hand of Connie Britton.
Judging from the first two very off-putting episodes available for review,
Asylum
looks like all excess all the time. As they did with the once borderline great series
Nip/Tuck
, co-creators/executive producers Ryan Murphy and Brad Falchuk have proved incapable of resisting their worst impulses.
Nip/Tuck
deteriorated into a gratuitous, absurd mess.
Asylum
goes several steps beyond in its seeming determination to be nothing more than a very sick and twisted gore-fest laying waste to one of the easier punching bags on earth -- the Catholic Church.
FX, home network to deservedly praised series ranging from
Justified
to
Louie
, continues to pride itself on taking risks and kicking ass.
Asylum
looks to be a very bad misstep into little more than sticky, smelly dung. The best thing about it, as with the first
AHS
, is the decidedly unique opening credits sequence, a collection of disturbing images and Radiohead-esque sound spurts. After that -- ugh.
Jessica Lange, who won an Emmy as warped Constance in the first
AHS
, returns as the new character Sister Jude, a Satanic nun running a home for the insane called Briarcliff Manor.
Asylum
is mostly set in 1964, which might as well be the Dark Ages in terms of the brutalization endorsed within these walls.
Inmates include a (wrongly?) accused serial killer known as "Bloody Face" (returnee Evan Peters in a different role) and murderous sex addict Shelley (Chloe Sevigny from
Big Love
). In next week's Episode 2, Shelley gets to say, "Hey, Sister, I have a cucumber in my room. Not because I was hungry." Hey, kids, never mind her. Keep eating your vegetables.
Shelley doesn't get her mouth washed out with lye, probably only because Sister Jude herself fantasizes stripping down to a slinky red nightie for the pleasure of a seemingly hands-on monsignor played by Joseph Fiennes. He hired her to run this place, and hopes to someday go all the way with her (to Rome, etc).
Asylum
's first two hours also provide a sequence in which the thoroughly sadistic Briarcliff doctor, Arthur Arden (James Cromwell), has a paid escort over to his house for dinner and other pleasures. She won't drink his top shelf cabernet but will get into a nun's outfit for him. Then comes a line that may well live in screenplay infamy but also belongs in a parody: "Now. Slowly." says Dr. Arden. "Show me your mossy bank."
Wednesday's premiere hour also begins with a sex-capade, but set in the present day. Leo (Adam Levine) and his new bride are determined to give their mossy banks a workout in America's 12 most haunted houses. Unfortunately they've chosen Briarcliff as one of them, meaning that Levine (the Maroon 5 frontman and judge on NBC's
The Voice
) seemingly will spend most of
Asylum
in a bad state of disrepair during recurring flash forwards.
Producers Murphy and Falchuk also have included lesbian reporter Lana "Banana" Winters (Sarah Paulson), who preposterously finds a way to sneak into Briarcliff in search of an expose. Let's just say this doesn't quite work as planned.
Through it all, Lange's Sister Jude sneers and hisses at a variety of patients and co-workers. Once upon a time she was the young actress who fetchingly screamed from King Kong's palm. Now Lange is all
Sturm und Drang
-- and happy witness to electro-shock therapy treatments and exorcisms among other horror shows.
"Mental illness is the fashionable explanation for sin," she declares.
Asylum
, which throws in a few bare bottoms and "a dirty little slut with a poisonous tongue" exchange for good measure, is neither for the faint of heart nor the stout of mind. Some of its imagery is arresting. But this is mostly a sorry, unfortunate and even contemptuous enterprise.
The first
AHS
rose above some of its twisted storytelling.
Asylum
simply keeps sinking -- from one depth to another.
GRADE:
D
unclebarky@verizon.net