Fox trots out two big splashes and a trio of new comedies for fall
05/16/11 08:54 AM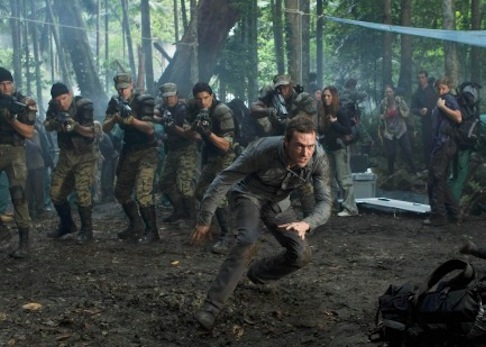 There'll be ample action in the new Terra Nova. Fox photo
By ED BARK
Simon Cowell and Steven Spielberg will propel Fox's new fall lineup on three of seven nights, with two prominent women stars and a cartoon also getting berths.
The X Factor
, with Cowell as both executive producer and head judge, is designed to pick up where
Idol
leaves off. It will occupy the same Wednesday and Thursday spots while also featuring two of
Idol
's principal players from the majority of its 10 seasons, Cowell and the recently named fourth judge, Paul Abdul.
The Spielberg-produced
Terra Nova
, originally earmarked for a May sneak preview in a post-
Idol
time slot, will be paired on Monday nights with
House
. Touted as the most expensive scripted drama in Fox's 25-year history, it's a time travel from 2149 to prehistoric earth as part of a "daring strategy to save the human race." The most readily recognizable star is Stephen Lang, who played the very bad-nasty Col. Miles Quaritch in
Avatar
but now is the "charismatic and heroic first pioneer and leader of the new settlement."
Fox's cancellations include most of its mid- and late-season series (
The Chicago Code, Breaking In, Traffic Light
) as well as
Human Target
and
Lie to Me
. Already long gone are last fall's new trio of
Lone Star, The Good Guys
and
Running Wilde
, leaving
Raising Hope
and
Bob's Burgers
as the sole survivors of this season's freshman class.
The No. 1 network among advertiser-craved 18-to-49-year-olds (for a record seven consecutive seasons) also has all but axed
America's Most Wanted
, which has been part of its prime-time schedule for the last 22 seasons. Fox mostly will show repeats of various series in
AMW
's Saturday night slot, with a quartet of four new two-hour
AMW
specials airing quarterly.
Fox entertainment president Kevin Reilly told TV writers in a Monday morning teleconference that "we have not made money on the show in quite a while," but still "wanted to keep the franchise alive."
AMW
's host and creator, John Walsh, is shopping the series to other networks. "I would not be surprised to see the show pop up somewhere else," Reilly said.
Here are the three other new fall series for Fox, plus two incoming dramas and a comedy that already have been given midseason nights and times:
New Girl
(comedy) -- Zooey Deschanel, whom Reilly said is "poised to become a household name" after making a bit of a mark in feature films, stars as "offbeat and adorable" Jess Day. She moves in with three guys after a traumatic breakup with a guy. They're all basically immature while Jess remains "dorky and awkward," but resolutely "comfortable in her own skin."
I Hate My Teenage Daughter
(comedy) -- Former
My Name Is Earl
co-star Jaime Pressly returns to the sitcom realm as one of two single moms raising problematic, coming-of-age girls. Katie Finneran of the little-seen but critically revered
Wonderfalls
is the other major mom.
Allen Gregory
(comedy) -- The latest entry in Fox's longstanding Sunday night "Animation Domination" lineup focuses on "one of the most pretentious seven-year-olds of our time." Jonah Hill (
Superbad
) voices the title character, who envisions his little self as "a young man who is intelligent, sophisticated, worldly, artistic and romantic."
Napoleon Dynamite
(comedy) -- Slated to supplant
Allen Gregory
in midseason, this is an animated adaptation of the hit movie, with all of the film's stars, including Jon Heder as ND, returning to voice their cartoon selves.
Alcatraz
(drama) -- It's scheduled to join the Monday lineup in midseason, replacing the 13-episode
Terra Nova
. J.J. Abrams, maestro of
Lost
and Fox's returning
Fringe
, is the executive producer of this "chilling new thriller" that melds life within the country's most famous water-bound prison with a bounteous supply of dark secrets from its past. Stars include vets Sam Neill and Robert Forster plus former
Lost
mainstay Jorge Garcia.
The Finder
(drama) -- Due on Thursdays in midseason, it's the saga of an Iraq war veteran (Geoff Stults as Walter Sherman) who emerges from a coma with brain damage that somehow has given him a "unique gift to help others recover what they've lost."
Fox also has a new drama series in development that would star former
24
hero Kiefer Sutherland as a widowed single dad "haunted by an inability to connect to his mute, severely autistic" 10-year-old son. But the kid has extraordinary powers to "see things that no one else can," which challenges Sutherland's character, Martin Bohm, to connect the dots and take action. It's from
Heroes
creator Tim Kring, with production slated to start in June after Sutherland finishes starring in Broadway's
That Championship Season
.
By the way, a
24
feature film is still in the planning stages, Fox entertainment chairman Peter Rice said during the teleconference. But it's not yet definite. "Everyone would very much like to make a
24
movie, and they're working on a script," he said.
Fox also announced that
American Idol
will launch its 11th season with a "special premiere event" following pro football's scheduled Jan. 22nd NFC championship game. All of
Idol
major on-camera players, except for Jennifer Lopez, have multi-year deals with Fox and definitely will return next season, Rice said. Lopez signed a one-year pact, and the network is optimistic that she'll re-up, he said.
On another musical front,
Glee
's traditional six-week midseason break will enable Fox to try a blend of four comedies on Tuesday nights. Current plans call for
Raising Hope, New Girl
and
I Hate My Teenager Daughter
to be joined by a fourth sitcom currently in development. The contenders, for the moment at least, are
Family Album
(starring Mike O'Malley and Rachel Harris) and
Little In Common
(with Rob Corddry).
Here is Fox's new fall lineup, with planned midseason replacements also noted. All times are central.
MONDAY
7 to 8 p.m. -- Terra Nova
8 to 9 p.m. House
(Alcatraz replaces Terra Nova in midseason while also switching times with House, which move to 7 p.m.)
TUESDAY
7 to 8 p.m. -- Glee
8 to 8:30 p.m. -- New Girl
8:30 to 9 p.m. -- Raising Hope
(A still-to-be-determined four-show comedy block will emerge during Glee's midseason break.)
WEDNESDAY
7 to 8:30 p.m. -- The X Factor performance show
8:30 to 9 p.m. -- I Hate My Teenage Daughter
(American Idol takes over for X Factor in midseason.)
THURSDAY
7 to 8 p.m. -- The X Factor results show
8 to 9 p.m. -- Bones
(Idol supplants X Factor in midseason while The Finder replaces Bones while star Emily Deschanel is on maternity leave.)
FRIDAY
7 to 8 p.m. -- Kitchen Nightmares
8 to 9 p.m. -- Fringe
SATURDAY
7 to 7:30 p.m. -- COPS
7:30 to 8 p.m. -- COPS
8 to 9 p.m. -- various series repeats/quarterly America's Most Wanted specials
SUNDAY
6 to 6:30 p.m. -- The OT (NFL post-game show)
6:30 to 7 p.m. -- The Cleveland Show
7 to 7:30 p.m. -- The Simpsons
7:30 to 8 p.m. -- Allen Gregory
8 to 8:30 p.m. -- Family Guy
8:30 to 9 p.m. -- American Dad
("Animation Domination" repeats take over The OT's spot in midseason, when Napoleon Dynamite replaces Allen Gregory and Bob's Burgers takes American Dad's slot.)