NBC's Heartbeat needs to adjust its meds
03/17/16 01:59 PM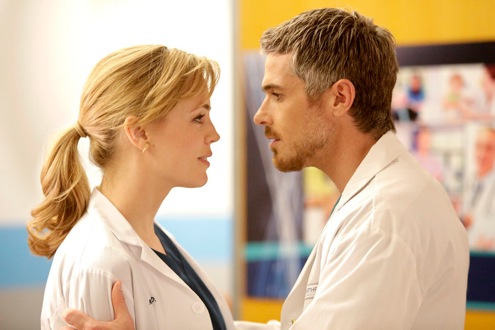 Melissa George, Dave Annable take a daily dose of each other in new medical drama Heartbeat, originally called Heartbreaker. NBC photo
Premiering:
Tuesday, March 22nd at 8 p.m. (central) on NBC with a sneak-preview episode before moving to regular Wednesday, 7 p.m. slot
Starring:
Melissa George, Dave Annable, Don Harry, Shelley Conn, D.L. Hughley, Jamie Kennedy, Maya Erskine, Joshua Leonard, JLouis Mills
Produced by:
Jill Gordon, Amy Brenneman, Brad Silberling
By ED BARK
@unclebarkycom on Twitter
Medical dramas have had a mini-resurgence this season with decent ratings for newcomers
Code Black
(CBS) and
Chicago Med
(NBC).
The Peacock's
Heartbeat
could use a chill pill, though. Its principal smock-wearer, heart surgeon Alexandra Panttiere (Melissa George), is an over-bearing loose cannon with an aversion to authority, a mega-sex drive, mad skills in the operating room and scant time for her two sons from a previous marriage.
"I want your ass, Shane," she says, pulling an old flame doctor close to her during a flashback hot spot in the second of three episodes sent for review. No need to take two aspirin.
Alexandra also is the new chief innovations officer at L.A.-based St. Matthew's Hospital, which makes for frequent clashes over procedure with administrator Millicent Patel (Shelley Conn). This kind of dynamic is hardly a medical bulletin. From
Ben Casey
to
House
, every headstrong doc who always knows best needs a naysaying boss who's invariably proven wrong.
Another thing about
Heartbeat
, initially titled
Heartbreaker
. Man, the facial hair is of almost biblical proportions. Every single featured male character has either a beard, a plus-sized goatee or, in the case of Dr. Jesse Shane (Don Hany), designer stubble to varying degrees. One almost expects one of them to be carrying stone tablets.
This is evident from the premiere episode's very first scene, in which Alexandra (based on the real-life Dr. Kathy Magliato) encounters a brusque, big-bearded foreigner who has taken her plane seat and won't give it up. Dressed for a speaking engagement and eager for some down time, she fails to dislodge him but a few minutes later saves his life. The big oaf in turn spatters blood all over her dress, leading to an eventual sight gag that really isn't quite worth its labored buildup.
Alexandra otherwise is currently involved with Dr. Pierce Harrison (Dave Annable), a seemingly very well-adjusted dreamboat. "Aren't I a good thing?" she asks him at the hospital, where they regularly sneak off to get conjugal. "All the sex you want and you don't even have to put a ring on it."
But Pierce wouldn't mind tying the knot, and not just when suturing patients. Complicating matters is the sudden return of Dr. Jesse, a former mentor and sack mate who abruptly left St. Matthews for Cleveland a dozen years ago, as we learn in flashbacks. Has Alexandra ever really gotten over him -- or he over her?
Meanwhile, Alexandra's jovial, malleable ex-husband Max (Joshua Leonard), is a former fairly accomplished rock musician who's now available on a moment's notice to take care of the kids. The moment's notices tend to be frequent. Alexandra hugs her sons on cue but is better at snuggling up to her work.
The heavily populated cast also includes two more hair faces, both played by guys who have been better known for their comedy. D.L. Hughley is hospital psychiatrist Dr. Hackett and Jamie Kennedy is irreverent Dr. Callahan, whose first line is "You want some fries with that shake?" as Alexandra sashays down a hospital corridor.
We're not quite through. Maya Erskine breaks from this pack as nurse Ji-Sung Myrong, whose sardonic asides are consistently amusing. There's also a hospital staffer named Forrester (JLouis Mills), who has a damaged eye -- and facial hair.
Oh yeah, the patients.
Heartbeat
's best case to date is in Wednesday's Episode 2, when conjoined twins Beth and Emily (Justina Machado) face a life-threatening medical emergency. They literally experience separation anxiety when told that they can only survive by living apart. It's a pretty affecting hour.
A third episode finds Alexandra striving to re-wire a young man named Sam who has talked backwards ever since coming out of a coma after a childhood car accident. A brain aneurysm now threatens his life while Sam's grouchy British granny makes Dowager Countess Violet Crawley of
Downton Abbey
seem almost like Mary Poppins.
All of this serves to give
Heartbeat
a throbbing pulse, although an irregular one. It bounces off the walls of St. Matthew's, with its rush-about protagonist flirting, sobbing, threatening, cajoling and commiserating, all the while trying to find the true meaning of something or other. Sedative, please. STAT.
GRADE:
C+
Email comments or questions to:
unclebarky@verizon.net