Music maestros: PBS hits high notes with Taylor/King in Troubadours and Harry Connick, Jr. on the Broadway stage
03/02/11 08:15 AM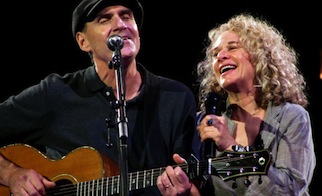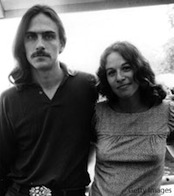 Now and then: James Taylor and Carole King PBS photos
By ED BARK
Maybe you'd like a little night music -- other than the weekly Wednesday dose of
American Idol
.
PBS offers three hours worth with two disparate specials under the longstanding umbrella titles of
American Masters
and
Great Performances
.
Troubadours: Carole King/James Taylor & the Rise of the Singer-Songwriter
(
Wednesday, 8 p.m. central on KERA/13 locally
) is hummable, strum-able and wistfully evocative.
Harry Connick, Jr. in Concert on Broadway
(
following at 9:30 p.m.
) is a straight-ahead dose of the retro crooner's repertoire.
Troubadours
, whose title also represents Doug Weston's famed Troubadour proving ground on Santa Monica Blvd., has a magical air about it for those of us who inhaled during the 1970s. Its principals, Taylor and King, are seen in the flowers of their youths and in the throes of their affectionate reunions in a 2007 Troubadour performance and on tour together last year.
They were never an intimate couple, nor did they consider being one, King reflects. But they did make beautiful music, both together and individually. And one of the strengths of this 90-minute film is footage from their dawnings as signature singers of the '70s.
Taylor is seen at the 1969 Newport Folk Festival, performing "Fire and Rain" for the first time before a large audience. "And it goes like this," he says, eventually receiving polite applause for what would become his anthem.
King's early years with her husband and co-composer Gerry Goffin are also reprised. Home movies from their 1960 wedding day and their early collaborations are a prelude to their 1968 divorce. Together they wrote standards such as "Will You Love Me Tomorrow" and "Take Good Care of My Baby." On her own, and with two young daughters in her care, King wrote and performed the classic 1971 album "Tapestry."
King and Taylor both prefer to play rather than talk about their music, letting the songs speak their volumes. But they're cozily comfortable together, a mutual admiration society from the very start and now in autumn years reunion mode. While revisiting the Troubadour, she asks him about kicking his well-documented drug addictions.
"I cleaned up in 1983 at the age of 35," he says, noting how fortunate he is to be among a small percentage of survivors. "It was one of the occupational hazards of being night folk."
King says she was never "night folk," instead returning home to her daughters during the height of her fame. Her solo debut at the Troubadour was in 1970, the year after Taylor first performed there. He heavily imbibed at the adjacent bar and otherwise. She seldom made those scenes.
Troubadours
also includes new interviews with the likes of Jackson Browne ("Running on Empty" sounds better than ever in these surroundings), David Crosby, Elton John, Kris Kristofferson, Steve Martin, Cheech & Chong and a number of producers and musicians from those times.
Others of their vintage, most notably Joni Mitchell, are not participants. But she's always been ill at ease on camera. And it's almost enough to see and hear the early Mitchell after Kristofferson says, "Oh, Joni Mitchell. I thought she was Shakespeare reincarnated."
Some music critics didn't think much of the blissed-out California scene of the 1970s. Robert Christgau, who spent 37 years as music editor of
The Village Voice
, remains a naysayer. "Casual, cool arrogance," he says of the music and musicians showcased in
Troubadours
.
Guitarist Danny "Kootch" Kortchmar, also a friend of Taylor's since boyhood, bluntly fires back. Critics had "more clout" back then, he says. But now, "nobody remembers Lester Bangs (of
Rolling Stone
magazine). But everybody remembers James Taylor. The music always wins. Always."
The Troubadour club lately has gotten hot again, but without its flamboyant impresario. Weston died in 1999, leaving behind a reputation as a starmaker who took no small pleasure in acknowledging himself as such. Many of the artists he first showcased were contractually bound to perform at the Troubadour again and again.
"They Hate It But They Play It," according to a
Los Angeles Times
headline.
It's now all the stuff of a sentimental journey, with the film perhaps laying it on just a bit too thick at times. But once upon a time, in the early 1970s, music sales accounted for $2 billion a year in revenues, easily outstripping movie grosses. In that context, The Troubadour reigned as the starmaker of its day. Now
American Idol
hopes against hope that its latest winner will actually make at least a little money in today's depressed economy for music of any sort.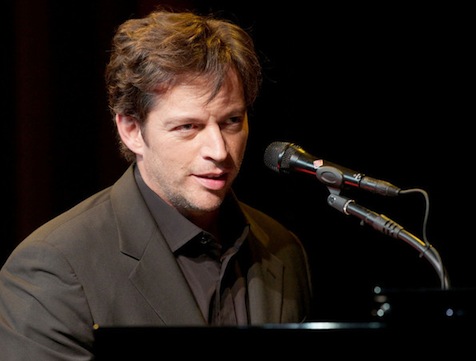 Wild about Harry?
Myself not so much, particularly during his moony crooning of languorous love songs during the first half of
Harry Connick, Jr. in Concert on Broadway
.
But things really pick up on the backstretch, with Connick and his big band (led by trombonist Lucien Barbarin) fully indulging themselves in the upbeat music of their native New Orleans.
By this time Connick has shucked his tie and white shirt to become a man in black. Whether at the piano or up on his toes dancing, he's fully up to the task of bring both the show and his audience alive.
Tenor saxophonist
Jerry Weldon
temporarily steals the festivities with his scat singing on the "St. James Infirmary Blues." Connick Jr. graciously lets him have his big moment, and Weldon is more than up to it and up for it.
Some of Connick's best moments are on "Hear Me in the Harmony," a song he wrote in honor of his principal mentor, the late jazz pianist
James Booker
. It's a terrific composition, with Connick's vocals and piano playing both heartfelt and piercingly poignant.
In the concert's final moments, the star kicks his Steinway piano bench away and tickles the keyboards on a rousing "Mardi Gras in New Orleans." His side-by-side dancing with Barbarin is likewise invigorating. So if you're nodding off during the concert's first half, well, that's perfectly understandable. In the end, though, it won't be possible.
GRADES
Troubadours: Carole King/James Taylor & the Rise of the Singer-Songwriter
-- A
Harry Connick Jr. in Concert on Broadway
-- B for starters, A down the stretch
PROGRAMMING NOTE:
As a prelude to all of this, KERA13 is reprising
In Performance at the White House: The Motown Sound
at 7 p.m. in D-FW. So that's four hours of continuous musical entertainment for those who want more, more, more.