CBS, Fox take No. 1 spots at finish line of 2009-'10 TV season
06/02/10 12:07 PM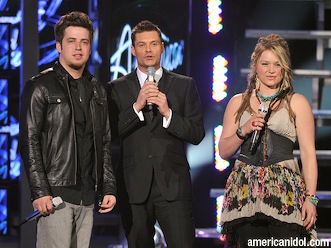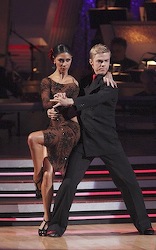 Fox's Idol and ABC's Dancing dueled for top spot. Fox/ABC photos
By ED BARK
Official bragging rights for the 2009-'10 prime-time TV season again go to CBS and Fox.
Paced by its two
NCIS
series and the new hit
Undercover Boss
, CBS won nationally in total viewers for the seventh time in the last eight seasons.
Despite sinking ratings for juggernaut
American Idol
, Fox again dominated among advertiser-coveted 18-to-49-year-olds. It was the network's sixth consecutive win in this demographic, something no network had previously pulled off.
Among the Big Four broadcast networks -- and little CW -- only ABC dipped from year to year in both of these audience measurements. CBS, Fox and CW all registered slight increases while NBC was up in total viewers but down a bit with 18-to-49-year-olds.
The second half of the season put
Idol
in jeopardy of losing its crown as the country's most-watched prime-time series. Its would-be usurper was the season's second edition of ABC's
Dancing with the Stars
, whose cast included pouty Kate Gosselin, purry Pamela Anderson, unpredictable Chad Ochocinco and former moonwalker Buzz Aldrin, who danced like the Tin Man while gamely smiling and saluting.
Dancing
's Monday night performance show outdrew
Idol
's Tuesday night sing-offs in six of the last eight weeks. But
Idol
's not-so-grand finale, in which listless Lee DeWyze emerged victorious, still managed to whip
Dancing
's denouement, in which Pussycat Doll Nicole Scherzinger prevailed.
For the season as a whole, ABC's 9th and 10th editions of
Dancing
ended up averaging fewer total viewers than
Idol
's Season 9 activities. And it wasn't even close among 18-to-49-year-olds, where
Idol
again ruled the prime-time universe while the performance and results editions of
Dancing
sagged to 11th and 40th place.
According to Nielsen Media Research, here are the season's Top 20 series in total viewers:
1. American Idol (Fox, Tuesday performance) -- 24.8 million
2. American Idol (Fox, Wednesday results) -- 23.5 million
3. Dancing with the Stars (ABC, Monday performance) -- 19.8 million
4. Sunday Night Football (NBC) -- 19.4 million
5. NCIS (CBS) -- 18.8 million
6. Undercover Boss (CBS) -- 17.7 million
7. The Mentalist (CBS) --- 16.8 million
8. NCIS: Los Angeles (CBS) -- 15.8 million
9. CSI: Crime Scene Investigation (CBS) -- 15.7 million
10. Dancing with the Stars (ABC, Tuesday results) -- 15.3 million
11. Two and a Half Men (CBS) -- 14.7 million
12. The Big Bang Theory (CBS) -- 14.3 million
13. Desperate Housewives (ABC) -- 14.1 million
14. Grey's Anatomy (ABC) and Survivor: Heroes vs. Villains (CBS) -- 13.8 million
16. Criminal Minds (CBS) -- 13.7 million
17. Survivor: Samoa (CBS) -- 13.5 million
18. 60 Minutes (CBS) -- 13.3 million
19. The Good Wife (CBS) -- 12.9 million
20. House (Fox) -- 12.8 million
Here are the season's Top 20 series among 18-to-49-year-olds
1. American Idol (Fox, Tuesday performance) -- 12.1 million
2. American Idol (Fox, Wednesday results) -- 11.0 million
3. Sunday Night Football (NBC) -- 9.8 million
4. Undercover Boss (CBS) -- 8.1 million
5. The Big Bang Theory (CBS) -- 7.1 million
6. Grey's Anatomy (ABC) -- 7.0 million
7. Lost (ABC) -- 6.9 million
8. House (Fox) -- 6.6 million
9. Two and a Half Men (CBS) and Desperate Housewives (ABC) -- 6.4 million
11. Survivor: Heroes vs. Villains (CBS), The Office (NBC) and Dancing with the Stars (ABC, Monday performance) -- 5.9 million
14. The Bachelor (ABC), Glee (Fox) and Survivor: Samoa (CBS) -- 5.7 million
17. The Biggest Loser 8 (NBC) and V (ABC) -- 5.5 million
19. NCIS (CBS) -- 5.4 million
20. Family Guy (Fox) -- 5.3 million