HBO's Hemingway & Gellhorn meanders before gathering strength
05/25/12 09:18 AM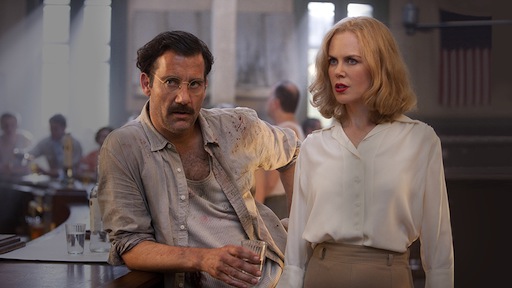 Owen and Kidman in Hemingway's usual habitat -- a bar. HBO photo
By ED BARK
@unclebarkycom
Pretty as a picture, but sometimes too much of a still life, HBO's
Hemingway & Gellhorn
is a lengthy ode to star-powered, old time filmmaking.
The vainglorious Ernest Hemingway is known to just about anyone who's ever picked up a book. Martha Gellhorn, his third wife and a first-rate war correspondent in her own right, has become a comparative unknown. They're played by Clive Owen and Nicole Kidman in a movie that stretches for more than two-and-a-half hours and could use a little trim. It premieres on
Memorial Day at 8 p.m. (central).
Directed by Philip Kaufman (
The Right Stuff
),
Hemingway & Gellhorn
turns out to be much more her film than his. And Kidman's performance resonates throughout, whether she's being captured in close-up as a narrative oldster or giving Hemingway all he can handle as a plucky adventurer in decidedly form-fitting pants.
Owen doesn't quite register as Hemingway, although he gives it a gallant try. Something's missing, though. Kidman commands her scenes while Owen manages to get through them. Overall, his Hemingway lacks presence while her Gellhorn is very much a leading lady.
They first meet in 1936 at Sloppy Joe's bar in Key West, FL, with Hemingway fresh from landing a marlin and Gellhorn intrigued by his devil-may-care manliness.
"A lot of rum in that rum," she notes after downing a shot.
"In this joint, they don't drink to get drunk. They drink to stay drunk," he assures her.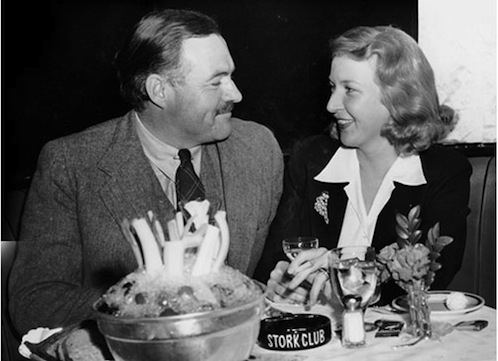 The real Hemingway and Gellhorn happily getting pie-eyed.
It takes a while for their relationship to jell. Hemingway, married to the stern Pauline (Molly Parker), joins his group of hard-drinking pals to make a film documenting the bravery of freedom fighters during the Spanish Civil War. Arriving separately as a budding war correspondent with writer's block, Gellhorn soon throws in with them. Hemingway helps her along, sometimes gruffly.
Also in Spain is the clenched up John Dos Passos (David Strathairn), an idealist/novelist whom Hemingway delights in ribbing and ridiculing. All of this plays out at a sometimes gratingly slow pace in a variety of shades ranging from black-and-white to sepia-toned to full-blown color.
An unbilled Robert Duvall, playing a blowhard Russian general, also drops in to spar in a bar with the well-oiled Hemingway, who proposes a game of Russian Roulette. But the inevitable at last kicks in, with Hemingway and Gellhorn in the throes of passion while their hotel is under siege from fascist forces. The climactic stages of their lovemaking occur while they're coated in plaster from a direct hit on their room. It probably didn't happen quite that way.
Back on the home front, Pauline is furious and Hemingway initially seems a bit cowed. "She will not be your muse! She will leave you a broken man!" Pauline rages.
Gellhorn and Hemingway are meant to be, though, despite her "horror of marriage." She becomes wife No. 3 while retaining her zest for covering combat.
"Martie, Papa doesn't want you to go," he says after they've settled down in Cuba.
"Don't 'Papa me,' " she says, nicely this time.
Hemingway wants a mama, too. And he's prone to becoming a drunken, jealous boor whenever Gellhorn asserts her independence. This is a man's world, after all. Except when it's not. And
Hemingway & Gellhorn
gets stronger down the stretch after its sluggish first half.
"We were good in war," a cigarette-dragging older Gellhorn says of their combustible five-year marriage. "And when there was no war, we made our own."
Hemingway committed suicide in 1961 after marrying a caretaker wife, Mary Welsh Hemingway, who literally spoon-fed him down the stretch.
Gellhorn outlived him by 37 years before also committing suicide. The film ends poignantly -- not in death but with its crusty, indomitable heroine insisting on taking on yet another assignment abroad.
"I'm not dead yet, ya (f-bomb)," she reasons.
Kidman is a certain Emmy nominee and probable winner for this role while Owen might well be invited along for the ride. But she's the one who steels and steals this picture.
Hemingway & Gellhorn
certainly could be crisper, particularly during its long sojourn in war-torn Spain. But HBO again deserves credit for getting this intelligent material on-screen without regard to whether the "right" audience will embrace it.
In the broadcast and basic cable universe, that's invariably the advertiser-prized 18-to-49-year-old demographic. On commercial-free HBO, your extra monthly subscriber money pays dividends no matter what your age. Despite some shortcomings,
Hemingway & Gellhorn
rates as time and money well-spent.
GRADE:
B+