NBC cancels Earl, reprieves Chuck, delays 30 Rock, pushes Friday Night Lights to summer in Phase 2 rollout of new season (updated)
05/19/09 10:32 AM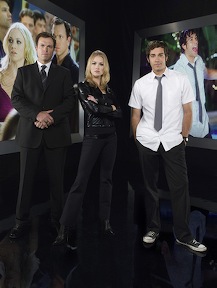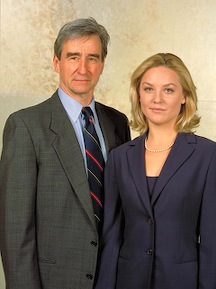 By ED BARK
Chuck
and
Law & Order
have been reprieved, but
My Name Is Earl
and
Life
are goners, NBC officially announced Tuesday.
Medium
also is missing in action, but there are reports that CBS might rescue the series.
The network also provided specific nights and times for its fall and midseason schedule after
unveiling six new series
earlier this month as part of a two-ply rollout strategy. For the first time in its history, NBC will have more unscripted than scripted programming this fall.
Chuck
is set to return on Mondays in January in partnership with Subway, which will have "significant integration into the show," NBC says. Maybe Chuck can be a hero by saving a hero sandwich? The possibilities are endless.
Law & Order
will get a fall startup, on Fridays, for its 20th season. That will tie it with
Gunsmoke
as the longest running prime-time drama series ever. Under the current plan,
30 Rock
won't return until after a "multi-week" run of
Saturday Night Live Weekend Update Thursday
.
Also, made-in-Austin
Friday Night Lights
for now is waylaid until summer 2010 rather than midseason. But its DirecTV run is scheduled to start in the fall under the second year of that joint agreement.
NBC is touting a "shared time period strategy" that will enable it to show "all-new content" year-around. That's in large part because its prime-time window has been significantly reduced on weeknights with the Monday-Friday 9 p.m. (central) presence of
The Jay Leno Show
. The Peacock also will have the Winter Olympics from Feb. 12-28.
Here's NBC's night-by-night fall schedule, with all times central. (
Note: Leno will be at 9 p.m each weeknight, so we're not going to keep typing that in).MONDAY
7 p.m. --
Heroes
8 p.m. --
Trauma
TUESDAY
7 to 9 p.m. --
The Biggest Loser
WEDNESDAY
7 p.m. --
Parenthood
8 p.m. --
Law & Order: Special Victims Unit
THURSDAY
7 p.m. --
SNL Weekend Update Thursday
7:30 p.m. --
Parks and Recreation
8 p.m. --
The Office
8:30 p.m. --
Community
FRIDAY
7 p.m. --
Law & Order
8 p.m. --
Southland
SATURDAY
7 p.m. --
Dateline NBC
8 p.m. --
Trauma
repeat
9 p.m. --
Law & Order: SVU
repeat
SUNDAY
6 p.m. --
Football Night in America
7:20 p.m. --
NBC Sunday Night Football
Here's NBC's night-by-night midseason schedule:
MONDAY
7 p.m. --
Chuck
8 p.m. --
Day One
TUESDAY
7 p.m. --
The Biggest Loser
8:30 p.m. --
100 Questions
WEDNESDAY
7 p.m. --
Mercy
8 p.m. --
Law & Order: SVU
THURSDAY
7 p.m. --
Community
7:30 p.m. --
Parks and Recreation
8 p.m. --
The Office
8:30 p.m. --
30 Rock
FRIDAY
7 p.m. --
Law & Order
7:30 p.m. --
Southland
SATURDAY
7 p.m. --
Dateline NBC
8 p.m. --
Southland
repeat
9 p.m. --
Law & Order: SVU
repeat
SUNDAY
6 p.m. --
Dateline NBC
7 p.m. --
The Marriage Ref
8 p.m. --
The Celebrity Apprentice