Crystal and Gad are mixed nuts in FX's The Comedians
04/09/15 08:10 AM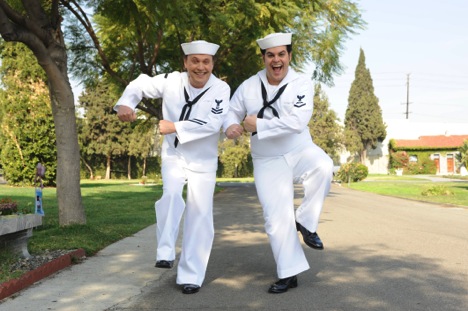 Otherwise it's seldom smooth sailing for Billy Crystal and Josh Gad.
FX photo
Premiering:
Thursday, April 9th at 9 p.m. (central) on FX
Starring:
Billy Crystal, Josh Gad, Stephnie Weir, Matt Oberg, Megan Ferguson
Produced by:
Ben Wexler, Matt Nix, Larry Charles
By ED BARK
@unclebarkycom on Twitter
Laurel & Hardy. Hope & Crosby. Abbott & Costello. Martin & Lewis. The Smothers Brothers. Even Farley & Spade.
Big-time shtick-wielding male comedy teams used to roam the earth as if they were the norm. Now they're almost an aberration. Which makes FX's
The Comedians
a throwback vehicle for a relatively ancient mariner who still digs that old-school religion.
Billy Crystal is reluctantly paired with Josh Gad in what's meant to be a talk-to-the-camera mocu/documentary about the making of
The Billy & Josh Show
for the real-life FX network. Both play themselves more or less, as does Matt LeBlanc in Showtime's ongoing
Episodes
. The results are mixed, based on watching six of the whopping nine episodes sent for review. But there's no lack of energy on the part of either the 67-year-old Crystal or the 34-year-old Gad, who's best known for his starring role in Broadway's
The Book of Mormon
. He also voiced Olaf in
Frozen
. So in the realm of "What have you done for me lately?" Gad's got the pole position even if Crystal has the household name.
Thursday's premiere quickly sets the premise. Billy and Josh are in boy scout uniforms, playing out the end of a sketch taped before a live studio audience. Billy's uniform is soiled and blood-spattered while Josh's is spotless. Then come the backstage histrionics, with Billy heatedly protesting a line that crosses his line. "I'm a cannibal, not a pedophile!" he exclaims. Larry Charles, the real-life co-producer, writer and director of
The Comedians
, pops in put out the fire but instead is fired by Crystal before viewers are transported to "Three Months Earlier."
Crystal initially had signed to do a one-man comedy series. But he's told by FX exec Denis Grant (perfectly played by Denis O'Hare) that the pilot episode has "too much you." To remedy that, how about adding Gad? Nope. No chance. OK then, no show. So Crystal grudgingly goes along with the program and immediately finds that he meshes as well with Gad as Donald Trump does with Rosie O'Donnell.
One of the funnier ongoing bits in
The Comedians
has nothing to do with how the two of them manage to co-exist. In the first episode, Gad makes two references to
1600 Penn
, the real-life 2013 NBC sitcom flop in which he played misfit "First Son" Skip Gilchrist. Did Gad chew scenery? Boy, did he ever. But in
The Comedians
, he remains very proud of
1600 Penn
and has a giant poster from the show in his dressing room. Hah!!! -- every time it's glimpsed.
The Comedians'
week-to-week supporting cast is smallish compared to the likes of
30 Rock
. Kristen Laybourne (Stephnie Weir) is the head producer, Mitch Reed (Matt Oberg) is the head writer and Esme McCauley (Megan Ferguson) is the bored, attitude-copping production assistant whom no show would actually hire in the first place.
Dana Delany recurs as Crystal's wife, Julie, while the almost inevitable Steven Weber makes a decidedly showy appearance in Episodes 1 and 2 as the newly hired director of
The Billy & Josh Show
.
Gad initially balks at having no input in any of the behind-the-scenes makeup. Crystal slaps him down with the premiere episode's best line: "We will hire one of your friends when you make friends with some geniuses."
Episode 2 is built around Crystal watching a Los Angeles Clippers playoff game at home with pals Will Sasso, Sugar Ray Leonard and Joe Torre. The unwelcome Gad of course knows nothing about hoops and screws up their game-time rituals. Leonard gets the knockout line here: "Billy, control your boy!"
The episodes include mini-sketch send-ups of
Orange is the New Black
, the Crucifixion ("Thank God it's Friday, huh?") and Anthony Bourdain's
Parts Unknown
, which has three instances of actually funny projectile vomiting. But FX execs also are getting indigestion over how well -- or poorly -- the show is coming together.
Episode 6, subtitled "Orange You the New Black Guy?", begins with real-life film critic
Elvis Mitchell
interviewing Crystal and Gad on the set while growing increasingly uncomfortable about the show's lack of any black staffers. So a black writer is hired and glad-handed by the two stars until they read his first sketch about a Klansman with Tourette's Syndrome. It's deemed hysterically funny but unusable because of its repeated use of the n-word.
The episode labors to make its racial points, but at least gives it a game try. In recent real life, the runaway midseason success of Fox's
Empire
has created a bull market for "diversity." People of color are in high demand while people like Crystal and Gad perhaps are fortunate to have gotten in under the wire. For now at least.
Compared to FX's five-star
Louie
, with which it's paired on Thursdays,
The Comedians
is a decently prepared entree with just enough bursts of flavor. Crystal may not be in his prime any more, but nor is he in steep decline. Gad is a willing acolyte and comedic foil, allowing Crystal to play with him in virtually any way he wants. Through it all, enough basic Hollywood phoniness shines through to make this a reasonable facsimile of how the sausage is really made.
GRADE:
B
Email comments or questions to:
unclebarky@verizon.net