FX's Damages returns in killer form
01/07/09 01:55 PM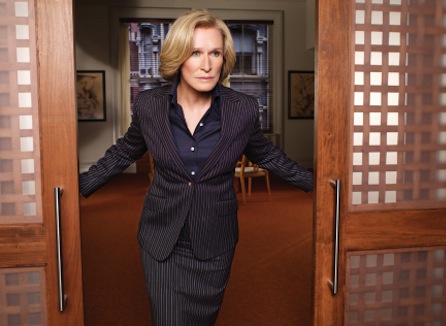 Glenn Close as Patty Hewes won last year's Best Actress Emmy.
By ED BARK
Intelligent, evolving, week-to-week puzzlers are prize commodities in today's TV market. But as with
Lost
, it's easy to get lost if you're a virgin viewer of FX's
Damages
.
Even those who devoured its first season might find themselves a bit disoriented as Season 2 begins
Wednesday night (9 p.m. central
) with two bangs from a pistol held by avenging young attorney Ellen Parsons (Rose Byrne). Who's on the receiving end -- and why?
Damages
briefly baits this hook before time-traveling to "6 Months Earlier." It's a carryover device from Season 1, which enticingly jockeyed back and forth before mostly unraveling the mystery behind the murder of Parsons' fiance.
Patience is required, as is careful attention. Based on viewing the new season's first three episodes,
Damages
again is both coherent and challenging. Missing one of its new round of 13 episodes won't work in your favor. If you're in, stay in. The rewards are more than sufficient.
Parsons' nemesis again is Manhattan litigator Patty Hewes (Glenn Close), with whom she served as an apprentice partner last season. She's still with the firm, but also plotting to bring Hewes' down as part of an FBI undercover operation. Why? Because she firmly believes that her boss tried to have her killed.
Last season left crooked Enron-ish billionaire Arthur Frobisher (Ted Danson) seemingly dead at the hands of a disgruntled former employee robbed of his pension benefits. But Frobisher lives on in a hospital sick bed, with Danson sporting a snow white beard for his character's second coming. Even so, he's pretty peripheral in the early going. Instead the big new character of note is Daniel Purcell (William Hurt), a half-cocked chemist who has half a mind to strike back at a corrupt energy company.
Purcell also has a previous relationship with Hewes, both personal and professional. Hurt and Close likewise have partnered before -- in 1983's
The Big Chill
. Their reunion in
Damages
is triggered by a murder in Episode 2. Being more specific would be giving too much away. Let's just say that Hurt is really good here, particularly in an Episode 3 scene where he's interrogated by a very skilled, soft-spoken detective while Hewes keeps her guard up.
Also joining the cast is Timothy Olyphant (straight shootin' Seth Bullock from
Deadwood
) as a grieving widower attending counseling sessions with Parsons. Of course he's mysterious, too, with Episode 2 providing a brief look at his darker side.
Damages
takes a little while to firm its grip. And it winds back as many as 17 years in doing so. But most of the meat is in its six-month trip back to the present, where Parsons tells her unseen prey, "I lied, too," before pumping those two pistol shots.
Your continued attention is strongly recommended.
GRADE:
A