Salvation: This time it's an asteroid attack in CBS' latest earth-shaking summertime "event"
07/12/17 04:15 PM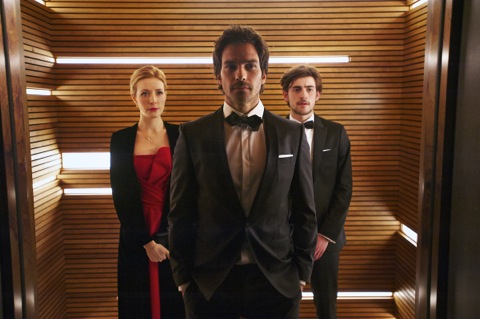 Hoping to save the world from an asteroid in Salvation. CBS photo
Premiering:
Wednesday, July 12th at 8 p.m. (central) on CBS
Starring:
Jennifer Finnegan, Santiago Cabrera, Charlie Rowe, Ian Anthony Dale, Jacqueline Byers, Rachel Drance, Shazi Raja
Produced by:
Liz Kruger, Greg Shapiro, Alex Kurtzman, Heather Kadin, Stuart Gillard, Peter Lenkov
By ED BARK
@unclebarkycom on Twitter
Summertime disaster-thons are still CBS' game, even though
Extant
and the ongoing
Zoo
have been ratings wipeouts compared to the network's first anxiety attack,
Under the Dome
.
Now comes
Salvation
, with poor old put-upon Earth facing an "extinction level event" in the words of drop-dead handsome deputy secretary of defense Harris Edwards (Ian Anthony Dale). This requires certain members of the human race to race against time or be decimated in six months by the scheduled arrival of a giant asteroid. All but a handful of earthlings are still none the wiser, for fear of widespread panic.
Duplicity runs deep while the script tends to get thick-headed in the first two hours made available for review. A majority of the hooks, lines and stinkers come from renowned "tech pioneer" Darius Tanz (Santiago Cabrera), who's first clued to this imminent apocalypse by brainy/cute MIT student Liam Cole (Charlie Rowe).
Tanz mostly warms up in Wednesday's premiere episode before cutting loose next week.
"Laws were made to be broken," so "we need to think bigger than the government -- and move a helluva lot faster," he declares.
Then again, "If Superman caught the villain on page two, what fun would that be?" Tanz tells an impatient Liam. But in the end, "Nothing's worth doing unless you're willing to lose everything."
TV vet Jennifer Finnegan plays the other principal character, divorced, resolute, Pentagon employee Grace Barrows. She's secretly coupling with Edwards, who's also her boss, while increasingly fretting about whether she can really trust him. Perhaps it would be wiser in the end to throw in with Tanz and what she initially dismisses as his "insane, narcissistic suicide mission."
Salvation
, which has a Season One order of 13 episodes, has some potential to be perhaps moderately involving. The initial two hours move along at a fairly crisp pace, complete with skulking and several close calls but next to nothing spent on special effects.
Under the Dome, Extant
and
Zoo
all have depended in part on their visual eye candy. But don't expect any big wows here. The only money on the screen is talk of the $2 billion "for starters" that Tanz says he'll need to have even a remote shot at saving the world.
In Episode 2, a certain Dallas billionaire's name is dropped in this respect, with Tanz warning a potential financier, "I'm meeting Mark Cuban tomorrow, and you know he doesn't like to share the wealth." He'd probably like a royalty from CBS, though.
Depending on the ratings, all of this could get to be quite a string-along, as was
Under the Dome
during its journey from being a major Season One hit to a largely ridiculed ratings flop during its climactic third season. An opening crowd of 13.5 million viewers dwindled to 4.2 million for the 39th and final episode.
The guess here is that
Salvation
will end up being one and done, with viewers proceeding at their peril if CBS pulls the plug without either putting that asteroid in its place or letting it go ahead and whack Earth.
GRADE:
C+
Email comments or questions to:
unclebarky@verizon.net