ABC's Wicked City gets up-close with a Sunset Strip serial killer in the land of 1982
10/22/15 01:22 PM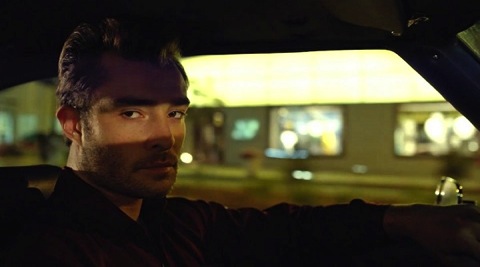 Ed Westwick plays centerpiece serial killer in Wicked City. ABC photo
Premiering:
Tuesday, Oct. 27th at 9 p.m. (central) on ABC
Starring:
Ed Westwick, Jeremy Sisto, Erika Christensen, Gabriel Luna, Taissa Farmiga, Karolina Wydra, Evan Ross, Jaime Ray Newman
Produced by:
Steven Baigelman, Amy B. Harris, Todd Lieberman, David Hoberman, Laurie Zaks, Jon Cassar
By ED BARK
@unclebarkycom on Twitter
A swirl of activity has enveloped
Wicked City
, initially titled
L.A. Crime
and originally tabbed by ABC as a midseason series.
But it received a late October berth when the original Tuesday night fall occupant,
Quantico
, got re-routed to Sundays after ABC decided it didn't want to proceed as intended on that night with
Of Kings and Prophets
.
Wicked City
also has undergone some major casting changes, with Jeremy Sisto supplanting Adam Rothenberg as one of the two lead cops while the character's wife is now being played by Jaime Ray Newman instead of Holley Fain. The supporting role of a gonzo photographer also has a new face -- Evan Ross instead of Darrell Britt-Gibson.
Other than that it's largely same-old, same-old in terms of the overlying storyline. A serial killer is on the loose, his principal victims are young women and the two detectives trying to track him down are a veteran and a newcomer who clash from the opening bell.
The setting is L.A.'s Sunset Strip, circa 1982. It's a time when stoned, drunk and/or coked-out youth pack the Whiskey a Go Go to hear and writhe to the music of their favorite rock performers. In Tuesday's premiere episode, it's Billy Idol and the band Mickey Ratt (whose name actually had been shortened to Ratt by that time). Still, it's a better little joke to keep the full moniker as a way of twitting Disney-owned ABC. Stand-ins are used in both cases, with long shots of a
faux
Idol doing "Rebel Yell" and "White Wedding" while killer Kent Grainger (Ed Westwick) prowls for impressionable prey and uses the tagline, "Kill me. I like giving back."
The cops make recurring references to the Hillside Strangler, who terrorized L.A. by killing 10 young women in just four months time between late 1977 and early 1978. Two cousins working in tandem eventually were caught and convicted.
In
Wicked City
, Grainger seeks to time his killings to radio station dedications he's phoned in. For some reason -- namely money -- Foreigner has allowed use of its hit single "Feels Like the First Time" as a car radio soundtrack for the multiple stabbing death of a woman initially seduced at the Whiskey. She's later found beheaded with her blood drained after a radio deejay is heard saying rather cheerily, "Another day, another corpse in the murder capital of the country."
Sisto plays homicide and robbery division detective Jack Roth, who's married with a teenage daughter but has a squeeze on the side. Former vice cop Paco Contreras (Gabriel Luna) is new to the department and suspected of being a snitch. Roth's former partner recently blew his brains out, so Paco is his replacement. "I don't trust you," Roth barks. "You better get used to it," Paco retorts. "I'm not goin' anywhere." Yawn.
Wicked City
doesn't quite glamorize its central serial killer. Still, he's devilishly handsome and has a soft spot for kids. Therefore he spares would-be victim Betty Beaumont (Erika Christensen from
Parenthood
) after learning at the last second that she's the mother of two young children. She's also a nurse with a thirst for life on the wild side. And as video and print publicity materials have made clear, Betty's destined to become Grainger's partner in crime, his Bonnie if you will.
There's also an aspiring young journalist named Karen McClaren (Taissa Farmiga), who's in Grainger's sights before belatedly wising up and siding with the police. She otherwise runs with Diver Hawkes (Evan Ross), the aforementioned shooter (camera division) who also owns
L.A. Notorious
magazine.
ABC envisions this as a 10-hour limited series, with each season (if in fact there are more) introducing a new case. In this case -- at least in Episode 1 -- the violence is very uncomfortable to think about but not graphically portrayed. Even so, it's still the usual story of women being victimized and mutilated.
Wicked City
otherwise is no great shakes in the script department, with Sisto's Roth spitting out too many lines from a well-worn playbook. Such as, "You don't like my style man? Feel free to walk out the door any time."
My inclination is to take that advice to the next level by simply tuning out. On the other hand,
Wicked City
does have some pulling power and also a solid selection of period tunes. The idea of telling a story in one season's time also has considerable appeal. ABC already has done this with
American Crime
and
Secrets and Lies
, both of which still start anew in their upcoming second seasons.
In the one-and-done realm,
Wicked City
doesn't look to be nearly as good as
American Crime
but potentially is a cut above
Secrets and Lies
. Just don't even think about making the central, brutal serial killer a tortured, tragic soul worthy of any empathy. Because if that starts happening, I'm out.
GRADE:
C+
Email comments or questions to:
unclebarky@verizon.net