Atlanta is FX's first comedy of a different color
09/01/16 02:05 PM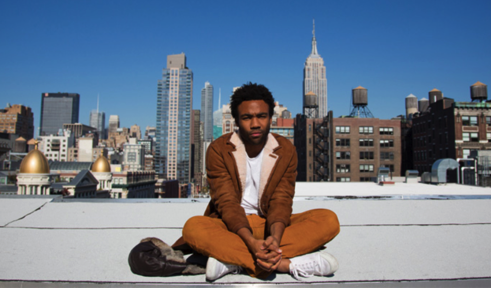 Donald Glover is creator/star/everything of Atlanta. FX photo
Premiering:
Tuesday, Sept. 6th at 9 p.m. (central) with back-to-back episodes on FX
Starring:
Donald Glover, Tyree Henry, Lakeith Stanfield, Zazie Beetz, Isiah Whitlock. Jr., Myra Lucretia Taylor
Produced by:
Donald Glover
By ED BARK
@unclebarkycom on Twitter
Until this year, FX's comedies and dramas had been almost exclusively about disaffected, alienated white people, most of them male.
That's suddenly changed in a hurry. The network that basically birthed itself with
The Shield
and
Nip/Tuck
first made a big impression on the drama front last winter with
The People V. O. J. Simpson: Crime Story
, which went on to receive 22 Emmy nominations.
Atlanta
, which premieres on Tuesday, Sept. 6th with back-to-back episodes, is billed as a comedy series from a former co-star of NBC's
Community
. But as its creator, executive producer, star and principal writer, Donald Glover's singular take on young, hard-pressed, pot-puffing African-Americans doesn't seem intent on being all that funny.
It opens with a shooting outside a convenience store, with the particulars still unresolved by the end of the first four half-hours made available for review. Episode 3, subtitled "Go For Broke," includes another black-on-black shooting -- this time for keeps.
Atlanta
, with its frequent use of the n-word and depictions of seemingly dead-end lives, might be accused of reinforcing stereotypes were it helmed by a white producer.
Glover, who's also a recording artist under the stage name of Childish Gambino, is writing from what he knows, though. And
Atlanta
, which will have a 10-episode first season, is very distinctively his baby through and through.
He plays Earn Marks, who has a crap job at the airport and a baby daughter by a woman named Van (Zazie Beetz), with whom he lives when she lets him. Earn's cousin, Alfred Miles (Brian Tyree Henry), is hoping to break through as a rapper and Earn wants to be his manager. Their vehicle just might be a song called "Paper Boi," which gets a sudden dose of airplay and turns the swaggering Alfred into a celebrity -- within the "community" at least.
The third wheel is Darius (Lakeith Stanfield), a self-proclaimed visionary who mumbles a lot but knows how to turned a pawned watch into much bigger money -- if only you'll let his deals marinate properly. But Earn always needs money now. And his parents, Riley and Gloria (Isiah Whitlock, Jr., Myra Lucretia Taylor), have grown weary of his act.
"You gonna invite me in?" Earn asks his dad in Tuesday's opening episode.
"No, I can't afford it," Riley retorts. And this time he means it. "I just keep losin'," Earn later laments.
He really does seem to mean well. Glover invests Earn with considerable appeal. He's not a loser -- at least not yet. He's just a guy who needs a break, and that transcends skin color.
It can be a challenge for white TV critics to review
Atlanta
as a reflection of a very here and very now "black experience." Cavalier use of the n-word, no matter who's saying it, continues to bother me. Is it really a word that African-Americans can justifiably use with impunity within their community?
"I don't like Indian dudes who say 'nigger,' " a black character tells Alfred in Episode 4. He has a valid point, I guess. In Episode 2, a black cashier at a wings and ribs joint encourages Alfred to stick to old school rap. "Nowadays," he gripes, "you got these singing ass niggers." The delivery of this line is funny in itself. But would it work at all if "blacks" were inserted? I have to say it wouldn't.
The teeming television landscape is enhanced and emboldened by series such as
Atlanta
, which obviously will resonate more with some audiences than others. It's not for everyone, but neither is a much tamer "traditional" comedy series such as ABC's
The Middle
. The FX palette needed some color, and
Atlanta
should be a sign of things to come, not just a token.
Donald Glover deserves this chance to make his mark as a throughly hands-on
auteur
who's reminiscent of another FX mainstay -- Louis C.K. They write and act out what their lives have taught them. And the differences are both striking and instructive.
GRADE:
B+
Email comments or questions to:
unclebarky@verizon.net