The CW reloads for next season after again shooting blanks
05/17/12 08:42 AM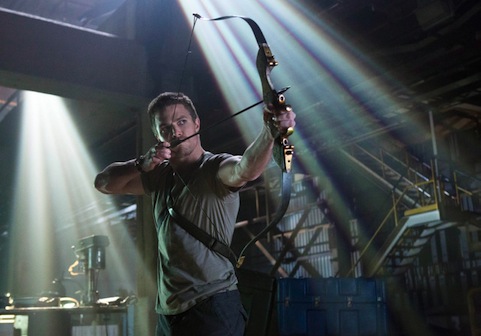 Will viewers be quivering over the comic book adventures of Arrow?
CW photo
By ED BARK
@unclebarkycom
Last and also least, the super-struggling CW network announced its new season plans Thursday.
Three new dramas are set for fall, with another two coming in midseason. One of them is
The Carrie Diaries
, documenting the coming-of-age adventures of the future
Sex and the City
denizen. In January, it's scheduled to replace replace
Gossip Girl
on Monday nights after that series ends what CW publicity materials call its six-season run of "OMFG drama."
It marks the first time a broadcast network has used the shorthand version of "Oh My (F-bomb) God" in a new season announcement -- or any announcement. WTF?
CW, which hemorrhaged viewers across the board this season, is now averaging less than one-half the audience for Univision in both total viewers and advertiser-prized 18-to-49-year-olds. The network is returning just one of its freshman series --
Hart of Dixie
-- while canceling
Ringer, The Secret Circle, L.A. Complex
and
H8R
. Its long-running
One Tree Hill
also was felled.
"This is poised to be a transformative season for The CW," says entertainment president Mark Pedowitz.
Here are CW's three new fall series, all of them dramas:
Arrow
-- Transformed by a shipwreck that left him missing and presumed dead for five years, billionaire playboy Oliver Queen (Stephen Amell) returns to his home base of Starling City to live large by day and shoot arrows by night as a crime-fighting vigilante. He also hopes to regain the love of his ex-girlfriend, Laurel Lance (Katie Cassidy). Adapted from the DC comics and graphic novels.
Emily Owens, M.D.
-- The soapy adventures of a first-year intern whose ups and downs at Denver Memorial Hospital seem like high school all over again. Particularly because her school days nemesis is also on the scene, with both vying for the affections of a hunky med school crush named Will Rider. Mamie Gummer, daughter of Meryl Streep, plays the title role.
Beauty and the Beast
-- Young homicide detective Catherine Chandler (Kristin Kreuk) remains haunted by the murder of her mother and the saving of her own life by a mysterious "someone -- or something." Turns out he's a handsome doctor named
Vincent Keller (Jay Ryan), who's tour in Afghanistan has transformed him into a beast when enraged. Ergo, a "complex relationship" is born. Not to be confused with the rejected ABC pilot
Beauty and the Beast
, which had a different actor as the co-lead and also included Oscar-winner F. Murray Abraham. And of course, CBS had its own
Beauty and the Beast
from 1987-'90 with Linda Hamilton and Ron Perlman, now starring in FX's
Sons of Anarchy
.
Here is CW's night-by-night fall schedule (the network does not program on Saturdays and Sundays).
Monday
90210
Gossip Girl
Tuesday
Hart of Dixie
Emily Owens, M.D.
Wednesday
Arrow
Supernatural
Thursday
The Vampire Diaries
Beauty and the Beast
Friday
America's Next Top Model
Nikita
These are CW's two midseason series, also both dramas.
The Carrie Diaries
-- We rewind to 1984, with Carrie Bradshaw a vexed 16-year-old whose mom has just died and whose dad is overwhelmed by having to raise two teenage daughters on his own. They're all still in suburban Connecticut when wide-eyed Carrie is offered a chance to intern at a Manhattan law firm. Not only that, she soon meets the style editor at
Interview
magazine. It's clubbin' time, fashionistas. Anna Sophia Robb stars.
Cult
-- An investigative journalist's brother mysteriously disappears, and it just so happens that he truly believed in the power of a hit TV show to harm him. That show is
Cult
, and it's up to no good. Because, uh-oh, "the gruesome plot twists on television are much more than fantasy for some very unfortunate people." Scary Robert Knepper from
Prison Break
plays fictitious (or is he?) cult leader Billy Grimm.