The Super Bowl is still ratings rocket fuel for any network that has it (Ask CBS)
02/07/13 09:54 AM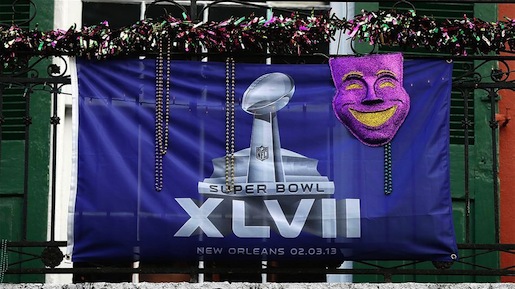 By ED BARK
@unclebarkycom
on twitter
Although the overall audience dropped a bit from the previous two, a little thing like the Super Bowl can work wonders for a network's season-to-date prime-time ratings picture.
The latest beneficiary is CBS, which now is the No. 1 network in all three major audience food groups following its telecast of Super Bowl XLVII.
For the week ending Feb. 3rd, CBS averaged a bloated 28 million viewers thanks to Supie's 108.4 million on Sunday night. The next closest network, Fox, averaged 6.2 million.
CBS already had led its three major adversaries by a wide margin in this ratings measurement through the first 18 weeks of the 2012-13 TV season. But now the gap is a five-star blowout, with CBS averaging 12.6 million viewers compared to runner-up NBC's 8.1 million. ABC (7.8 million) and Fox (6.9 million) round out the field.
The biggest Super Bowl plus was its haul of advertiser-prized 18-to-49-year-olds, a demographic that CBS continues to find elusive. But the latest ratings week found CBS averaging 11.3 million viewers in this key demographic, compared to runner-up Fox's 2.8 million.
Super Bowl inflation allowed CBS to move from a very close second in the season-to-date Nielsens to a fairly dominant first. The network now is averaging 4 million viewers in the 18-to-49 age range, knocking a slumping NBC (3.5 million) into second place for the first time this season. Fox, the perennial leader among 18-to-49-year-olds, is no better than third at the moment with an average of 3.2 million while ABC ranks last with 2.8 million.
NBC likely will recover a bit when its potent Monday night lineup of
The Voice
and
Revolution
returns in late March. But without
Sunday Night Football
and with no other current hits on its schedule, the Peacock probably will end up in third place behind Fox at the close of this season. CBS looks like a lock for first place, and may have won even without the past week's Super Bowl high.
CBS also is firmly entrenched in the top spot among 25-to-54-year-old viewers. It was comfortably ahead anyway, but now has a Super Bowl-fueled 4.9 million to 3.9 million lead over second place NBC. Fox and ABC are tied for third with an average of 3.3 million viewers apiece.
ABC is the only Big Four broadcast network without a Super Bowl every three years. It saw to that by coughing up
Monday Night Football
to sister cable network ESPN after the 2005 season.
Most viewers don't care which network wins the annual prime-time ratings races. But networks see it as a big promotional plus, and CBS hasn't been at all shy about touting itself as America's favorite prime-time destination.
Now CBS is No. 1 across the board, and very likely to stay there for the rest of this season. At the other end of the teeter totter, a struggling ABC possibly could end up last in both the 18-to-49 and 25-to-54 measurements.
The Oscar ceremony is coming soon, and ABC again has it. But the Oscars are no Super Bowl in the grand ratings scheme of things. Not even close.
unclebarky@verizon.net