TV Land's Jennifer Falls initially fails its talented cast
06/03/14 09:20 AM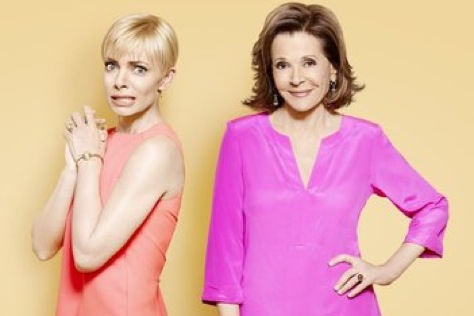 Jaime Pressly and Jessica Walter of Jennifer Falls. TV Land photo
Premiering:
Wednesday, June 4th at 9:30 p.m. (central) on TV Land
Starring:
Jaime Pressly, Jessica Walter, Ethan Suplee, Dylan Gelula, Nora Kirkpatrick, Missi Pyle
Produced by:
Matthew Carlson, Larry W. Jones, Michael Hanel, Mindy Schultheis, Keith Cox
By ED BARK
@unclebarkycom on Twitter
TV Land's first "single cam" sitcom without a laugh track also is bolstered by two former stars of
My Name Is Earl
and a pair of mainstays from
Arrested Development
(one in a guest star role).
Now here's the "but." But despite these attributes, a standard issue premise can't overcome the even flatter writing in Wednesday's premiere episode of
Jennifer Falls
.
Jaime Pressly, who came alive so vividly on
Earl
as the title character's snappish ex-wife wife, Joy Turner, returns to prime-time as $250,000 a year executive Jennifer Doyle, who's fired because of "anger issues." Just six months later Jennifer and her teen daughter, Gretchen (Dylan Gelula), are destitute and reluctantly moving back in with good ol' judgmental mom (Jessica Walter as Maggie Doyle).
Her somewhat plodding brother, Wayne (Ethan Suplee in an IQ upgrade from Earl's dense brother, Randy), owns a sports-themed bar and is married to persnickety, micro-managing Stephanie (Nora Kirkpatrick). So what's Jennifer to do but take a come-down job as a waitress in a tight-fitting referee outfit? Oh well, at least she gets a chance to re-connect with her onetime best friend, Dina Simac (Missi Pyle), who now plays softball for the L.A. Lesbians.
All of this is set up when Jennifer is summoned by her previous boss, Don (Walter's
AD
husband, Jeffrey Tambor). In yet another of his soft, ineffectual turns, Tambor has an underling by his side when he timidly dumps Jennifer. She then let's loose: "All the assistants are creeped out by your rape-y back rubs. You are weak, lazy, hog all the credit, take none of the blame and your breath smells like ass!"
That's pretty much the caliber of the writing.
Pressly wears her hair Peter Pan short for this new role. She also talks directly to the camera on occasion. Perhaps it would be wise for her to tell viewers something like, "This show is a work in progress and we really haven't found our way yet. It'll get better. We promise. Otherwise you'll all get a free Grand Slam breakfast at Denny's."
The fault is not with the core cast. Walter in particular can make any slice of dialogue come to life more than it's entitled. There's little zing for starters, though, with the one-liners inching up a steep hill before sliding back down. Maybe things will get better in time. For now everyone's working without a net -- namely a studio audience and laugh track "sweeteners" where needed. And
Jennifer Falls
would be very needy indeed.
GRADE:
C
Email comments or questions to:
unclebarky@verizon.net