CMT sugars the off-season with Dallas Cowboys Cheerleaders: Brides
05/31/12 03:08 PM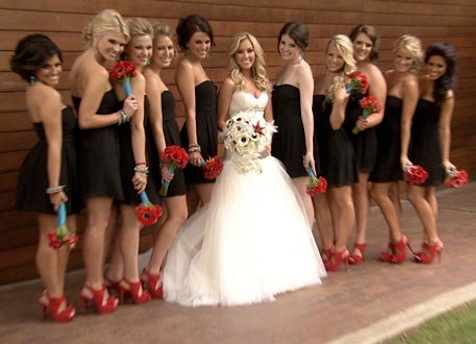 Dallas Cowboys Cheerleader Cassie Trammell and her bridesmaids.
CMT photo
By ED BARK
@unclebarkycom
CMT and the Dallas Cowboys Cheerleaders have been reality series partners since the first
Making the Team
go-around in 2006.
Season 6 ended late last year. So what to do in the interim? Marry a few of 'em off in
Dallas Cowboys Cheerleaders: Brides
, a one-hour special premiering on
Saturday, June 2nd at 7 p.m. (central)
on CMT.
The featured I doer is four-year DCC veteran Cassie Trammell, who also happens to be the daughter of longtime DCC choreographer Judy Trammell. Hers is the only wedding shown on the special. But viewers can see some of the preparations for the nuptials of former cheerleader Trisha Trevino and current cheerleader Sunni Cranfill.
Perhaps only at a wedding of this sort does the preacher proclaim, "I now pronounce you man and cheerleader. You may kiss your bride." This occurs at the climactic April 14, 2012 Dallas Arboretum melding of Cassie and Collin Loftin.
These are not the kinds of people who buy their wedding cakes at Sam's Club or their gowns at Sam Moon's. Instead, DCC director Kelli McGonagill Finglass, who's also one of this special's executive producers, escorts Sunni to Stanley Korshak for the purpose of purchasing a "reception dress." She does this in place of Sunni's mom, who's said to live "farther away" and couldn't make it.
"We're two old hens who have been through a zillion weddings," Finglass earlier tells her assembled cheerleaders, referring also to Judy Trammell. Everyone has a good giggle.
Later in the show, Trisha shops for her wedding dress at Terry Costa while the Trammells hire a "wedding cake consultant" to help them pick just the right one during a tasting excursion. Both Collin and Cassie eat a little too much, prompting her to say, "I feel like I'm gonna hurl."
It's about as dramatic as things get, although Judy earlier proclaims a "panic moment" when one of the bridesmaids gets her zipper stuck while trying on a dress. After all, it's just three weeks before Cassie's wedding. But Judy resolves the issue with her patented "mom touch."
There are no bridezilla moments here. Nor is there a Jerry Jones in sight.
Dallas Cowboys Cheerleaders: Brides
is fluffy, cotton candy entertainment from start to near-finish, when Collin deftly removes Cassie's blue Cowboys Star garter with his teeth before the happy couple are driven off in what looks like a Rolls Royce.
Most people don't have the means to get married like this. And most potential viewers probably would rather be treated to a behind-the-scenes look at the wedding between Cowboys quarterback Tony Romo and former TV sports reporter/beauty queen Candice Crawford.
But those rights fees likely would be a little too rich for the CMT budget. Even if he would have married a Cowboys Cheerleader instead.
GRADE:
C for confection-y.