USA's "near future" Colony gives Earth yet another bad time of it
01/13/16 03:40 PM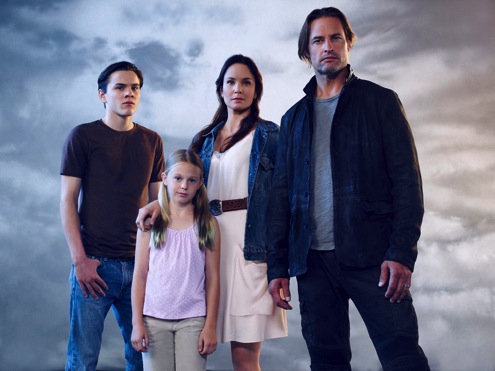 Josh Holloway (right) heads the cast of Colony. USA photo
Premiering:
Thursday, Jan. 14th at 9 p.m. (central) on USA network
Starring:
Josh Holloway, Sarah Wayne Callies, Peter Jacobson, Alex Neustaedter, Isabella-Crovetti-Cramp, Kathy Baker, Carl Weathers
Produced by:
Carlton Cuse, Ryan Condal
By ED BARK
@unclebarkycom on Twitter
Earth never comes out ahead in the future. At least not in television dramas.
Whether left to its own devices or invaded from outer space, the only known planet to spawn humans is continually up against it whenever time marches on. USA's decidedly un-Utopoian
Colony
, set in the "near future" and premiering on Thursday, Jan. 14th, co-stars two TV denizens who already have name brand sci-fi series under their belts.
Josh Holloway is reunited with his old
Lost
co-executive producer, Carlton Cuse, while Sarah Wayne Callies emerges from several seasons on
The Walking Dead
. They play husband and wife Will and Katie Bowman in this tale of an occupied-under-duress Los Angeles. "The Arrival," from somewhere far above, left Earthlings under strict marching orders from armed and co-opted Homeland Security Agency troopers.
Will and Katie, whose 12-year-old middle son, Charlie, went missing after all this happened nearly a year ago, have been understandably pining for him ever since. Will, a former FBI agent and Army Ranger, attempts to sneak off and find Charlie. But an untimely explosion jettisons his stowaway efforts and lands him in jail. Two choices: either infiltrate The Resistance and apprehend its leader (known as Geronimo) or have his entire family incarcerated in "The Factory." Guess what a very vexed Will decides to do?
Proxy Governor Alan Snyder, a weaselly sort played nicely by Peter Jacobson (
House
), extends another carrot after Will tells him, "You want our help. We want our son back."
"Good things come to the loyal," he replies after first allowing Will to return home and then cooking a bounteous breakfast for the family that even includes bacon. OK, they're in. Or at least he is. But unbeknownst to him, wife Katie also continues with her subterfuge.
The other two Bowman kids, oldest son Bram and pre-teen daughter, Gracie, are appealingly played by newcomers Alex Neustaedter and Isabella Crovetti-Cramp. Many viewers otherwise will recognize two TV vets. Kathy Baker (
Picket Fences
and the Jesse Stone movies) plays Will's new boss and Carl Weathers of
Rocky
fame is his appointed running mate.
Weathers even gets to throw out a boxing riff. "This dude is hittin' way out of his weight class," he tells Will in Episode 2.
The first three episodes -- Season One has 10 -- peel away further layers of intrigue while of course leaving much yet to be revealed. The premise is nothing new under the sun, which still exists. But it's decently executed with enough periodic action and revelations to perhaps lure a decent-sized fan base.
Holloway's Will Bowman is capable of a quip or two, but isn't nearly the sardonic machine that James "Sawyer" Ford was during six seasons of
Lost
. Callies emotes solidly and so far doesn't have to run scared from any zombies.
The USA network, which began moving away from breezy serio-comic dramas with the much-lauded
Mr. Robot
, is of a like mind with
Colony
. But this one otherwise doesn't look like an out-of-the-box award-winner. Instead we have something borrowed but something sturdy in a genre where Earth will always wait in vain for anything close to sunshine and lollipops. Are we better off than we were before? Well, of course not.
GRADE:
B
Email comments or questions to:
unclebarky@verizon.net