Downton Abbey is ready to run its final laps
01/03/16 10:18 AM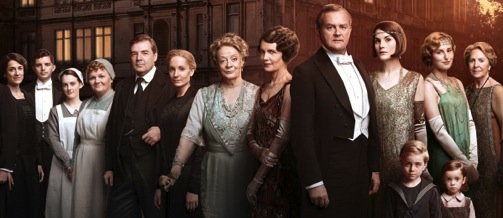 Let's have at it then. Last call for Downton Abbey. PBS photo
By ED BARK
@unclebarkycom on Twitter
Dear
Abbey
:
First and foremost, you have given splendid service, providing PBS with a badly needed big Moby of a show since first gracing these shores in January 2011.
Your well-mannered, class-conscious, upstairs/downstairs saga has been brimming with births, deaths, marriages, betrayals, stiff collars, ornate gowns, snappy repartee and an overriding sense of old-fashioned propriety. It's been a blast, if you'll forgive a term that little Marigold, George or Sybil might hear or even use someday.
Now the time has come for
Downton Abbey
's sixth and final season, which breathed its last on Christmas Day in the United Kingdom and premieres on Sunday, Jan. 3rd in the United States (
8 p.m. central on KERA13 in Dallas-Fort Worth
).
PBS as usual sent all but the last episode for review. So there have been eight hours to feast on, all with the proviso that divulging too many specifics would be bad form indeed.
So let's say for starters that events move along predictably but no less satisfyingly. Even the rather shockingly graphic end to Episode 5 is duly foreshadowed. And oh my, in Episode 8, a longstanding character is on the receiving end of some of the bluntest language ever used in
Downton
. Some who have watched this series from the start may be irresistibly moved to stand and applaud. Others might remain inclined to reserve judgment. Because the character under verbal assault is still not without saving graces and deep-set wounds.
Also look for more marriages, ample heartbreak and the transition-inducing march of time under the baton of creator/writer Julian Fellowes. Women, particularly the long underfoot and unlucky in love Edith Crawley (Laura Carmichael), are beginning to assert themselves in ways that even Earl of Grantham Robert Crawley (Hugh Bonneville) is beginning to understand.
The very idea of a lavishly appointed, servant-dependent Yorkshire Country Estate likewise is buckling under the weight of financial pressures and class resentments. After all, who
lives
that way anymore? This is all crystallized when Downton Abbey becomes a one-day museum piece/tourist attraction in the interests of raising money for charity. It's like being a "fat lady in a circus," Edith carps. But everyone grudgingly goes along with it, even the ever-flinty and proper Mr. Carson (Jim Carter), the head butler whose butter has been softening in other ways.
"If I could stop history in its tracks, maybe I would," Robert tells Mr. Carson in Sunday's opening hour. "But I can't."
Not that 1925 England (the series began in 1912) is a runaway train of sweeping changes. In Hour 1 the engaged Mrs. Hughes (Phyllis Logan) worries that she's lost her physical attractiveness and will fall short of satisfying Mr. Carson on that front. Unable to discuss such things directly, she enlists feisty head cook Mrs. Patmore (Lesley Nicol) to intercede on her behalf. Their discourse on "marital duties," without anything getting more specific than that, is charming and touching in its own antiquated way.
Also, imagine this. In Episode 8, a lone equivalent of that period's scandal-chasing
paparazzi
inquires, "Ladies, may I have a picture?" Receiving an emphatic, "No, you may not," he simply ceases and desists. In today's world, dozens of 'em would blaze away without any niceties.
Each and every one of these first eight episodes ends in very fine form. Episode 3 in particular has quite a nice surprise. Episode 6 finds footman/valet Thomas Barrow (Robert James-Collier) finally giving in to his emotions. He has been an unconscionable conniver in the past, but now courts sympathy while under constant orders from Mr. Carson to find other employment.
Maggie Smith's deliciously tart Violet Crawley, the Dowager Countess of Grantham, remains in possession of both her faculties and her zingers. But they aren't quite as plentiful as in some past seasons, even though she's feeling increasingly marginalized during her fight to keep the local hospital from the tentacles of a government merger that supposedly would greatly upgrade the quality of care. "I am sick and tired of logic," Violet grouses.
Episode 8 ends with an idyllic shot of a pivotal character who looks outwardly blissful but is inwardly unfulfilled. Otherwise, "it seems that all our ships are coming into port," Robert hopefully tells his loyal wife, Cora (Elizabeth McGovern).
All that remains after that beautifully composed scene is the yet unseen grand finale on March 6th (scheduled two weeks after the penultimate episode). Judging from the first eight hours, it truly will be grand.
Downton Abbey
looks for all the world as though it's steaming steadily toward happy or at least contented endings for one and all. So be it -- and so it should be. At this point, drowning anyone in abject misery would seem to be a severe breach of etiquette.
GRADE:
A
Email comments or questions to:
unclebarky@verizon.net