The CW announces new fall lineup
05/17/07 02:18 PM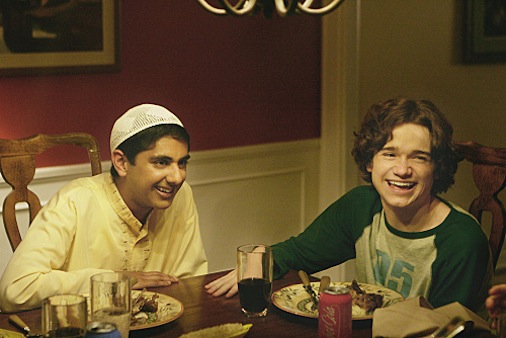 Aliens in America pairs a Pakistani Muslim with a Wisconsinite.
By ED BARK
The CW, still a lil' dude in the broadcast network firmament, will add more new series than either NBC or CBS this fall.
Its six-pack includes a teen version of
The Odd Couple
and a drama starring a slacker who learns that his parents sold his soul to the devil. Nice.
Scrapped are fave rave
Veronica Mars
, which never developed more than a miniscule following,
All of Us, Reba, Gilmore Girls
and
7th Heaven
. Also,
One Tree Hill
will be replanted sometime in midseason, with its characters transported four years into the future as college grads. Now that's the way to get a degree.
Here are CW's six new fall series:
***
Aliens in America
(comedy) -- Sixteen-year-old Justin Tolchuk (Dan Byrd) of Medora, Wisconsin is an outsider with a low cool quotient. His parents hope to help him out by importing a strapping male exchange student -- a "brilliant Nordic teen" if you will. Instead comes Raja Musharaff (Adhir Kalyan), a teen Pakistani Muslim. Hello "unlikely friendship."
***
Gossip Girl
(drama) -- A secret identity blogger known as Gossip Girl dishes all the poop on a snooty Manhattan prep school. No one you've likely ever heard of is in the cast, including Leighton Meester as Blair. Adapted from the young adult novels by Cecily von Ziegesar.
***
Reaper
(drama) -- A 21-year-old dead-ender named Sam (Bret Harrison) learns the "ungodly reason" why he's so lazy. Mom and pop sold his soul to the devil and didn't even tell him. Now Beezlebub is back in town in the form of Ray Wise from
Twin Peaks
. He enlists Sam as his personal bounty hunter, making him hunt down evil souls who've escaped from hell.
***
Life Is Wild
(drama) -- A Manhattan family is uprooted by a veterinarian dad who wants to spend a year in South Africa in a broken down lodge called The Blue Antelope. Newcomer actors again abound, including Calvin Goldspink.
***
Online Nation
(reality) -- CW scours the Internet in search of "the best, the hottest, the unique and sometimes, the flat-out bizarre." Hey, it's all here waiting for 'em at unclebarky.com!
***
CW Now
(reality) -- Eighteen-to-34-year-olds are the target audience for this compendium of -- yawn -- "everything that's hip, hot and happening right now."
CW also is planning a midseason reality series called
Farmer Wants a Wife
. Ten big-city women will be taken to a farm stead, a la
Green Acres
. Then he'll decide which of them he wants to churn butter with for the rest of his life.
Here's CW's complete fall 2007 lineup (all times central):
MONDAY
7 p.m. --
Everybody Hates Chris
7:30 p.m. --
Aliens in America
8 p.m. --
Girlfriends
8:30 p.m. --
The Game
TUESDAY
7 p.m. --
Beauty and the Geek
8 p.m. --
Reaper
WEDNESDAY
7 p.m. --
America's Next Top Model
8 p.m. --
Gossip Girl
THURSDAY
7 p.m. --
Smallville
8 p.m. --
Supernatural
FRIDAY
7 p.m. --
Friday Night Smackdown!
SATURDAY
Nothing
SUNDAY
6 p.m. --
CW Now
6:30 p.m. --
Online Nation
7 p.m. --
Life is Wild
8 p.m. --
America's Next Top Model
(encore)