Fox's Grandfathered offers John Stamos a new wrinkle
09/28/15 01:12 PM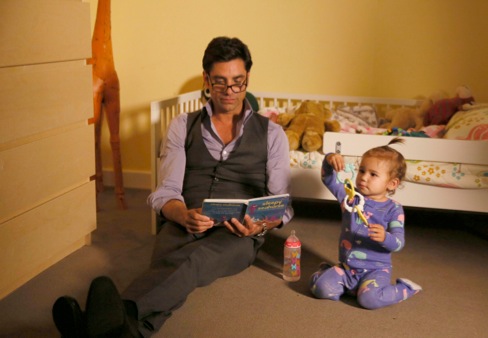 John Stamos agreeably softens up in Grandfathered. Fox photo
Premiering:
Tuesday, Sept. 29th at 7 p.m. (central) on Fox
Starring:
John Stamos, Josh Peck, Paget Brewster, Christina Milian, Kelly Jenrette, Ravi Patel, the Golfieri twins
Produced by: Daniel Chun, Chris Koch
By ED BARK
@unclebarkycom on Twitter
Aging playboy Jimmy Martino is a self-idolizing, phony flatterer who runs an upscale Hollywood restaurant and polices any gray hairs as though they were weeds in a Tournament of Roses Parade float.
In the person of the still criminally handsome John Stamos, he's first seen admiring himself in a mirror before zeroing in on an offending follicle. "There you are, little gray bastard." Begone.
The star of Fox's
Grandfathered
can't even bring himself to say the word after getting back-to-back jolts in Tuesday's premiere episode. First he learns he has a son in the person of an amiable, unemployed geek named Gerald (Josh Peck). Then he's presented with Josh's baby daughter, Edie (the Golfieri twins). "You're a grandfather?" a restaurant staffer asks. Jimmy slaps him in the face.
Gerald's mother is one of Jimmy's many ex-girlfriends, this one named Sara (Paget Brewster). Edie's mom is Vanessa (Christina Milian), with whom Gerald slept just once in the wonderful world of rampant TV fertility. He still has a crush on her, and dad Jimmy is called on to help him convince Vanessa that they can be more than just friends. Granddad Jimmy also gets to babysit while the two go out on a date.
It all makes for a nice enough start to a comedy that already appears to have a pretty happy ending in the bank after just the first episode. Jimmy has a bit of a panicked look on his face in the final frame. But his grandfatherly learning curve already seems perhaps a little too short and sweet.
There's a nifty moment en route. Before being hit with these bombshells, Jimmy accentuates his penthouse creature comforts by verbally commanding "Play classical" over breakfast. But no. "Cancel. Play happy pop." The Beach Boys' "Wouldn't It Be Nice?" then kicks in before Jimmy's self-absorbed world is quickly under new construction.
Sara has a thing or two to say when Jimmy comes calling and wonders why he was told nothing. She expects little to change, but warns, "If you hurt my son or his daughter, I will choke you to death with your own overly moisturized hands." Way to rub it in.
Grandfathered
also sprinkles in cameos from Deion Sanders, Don Rickles, Lil Wayne and Stamos' old
Full House
co-star, Bob Saget. All are dining at Jimmy's restaurant, which lately has been losing ground in the celeb pecking order to the so far unseen but regularly mentioned Bistro 6.
Stamos, 52 in real life and playing 50 in
Grandfathered
, seems OK with this role-playing in a comedy that's also OK. As "Uncle Jesse," he helped to launch the Olsen twins to superstar status. As Grandpa Jimmy, he's in a show that probably can't hope to have that kind of impact or staying power. But it's a living and Stamos' killer looks are still good for at least the short run.
GRADE:
B-minus
Email comments or questions to:
unclebarky@verizon.net