While NBC blows it, sister network USA gives viewers another cool breeze
10/22/09 02:36 PM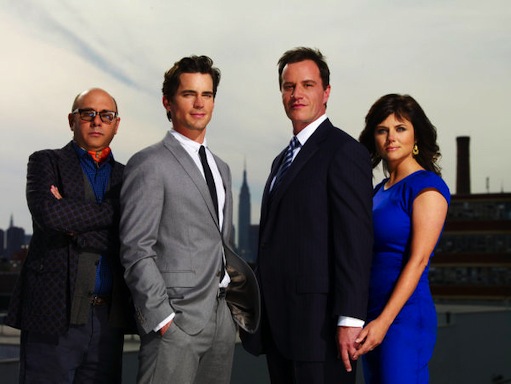 Premiering:
Friday, Oct. 23rd at 9 p.m. (central) on USA
Starring:
Matt Bomer, Tim DeKay, Tiffani Thiessen, Willie Garson
Created and produced by:
Jeff Eastin
By ED BARK
Is there no end to USA's roster of breezily entertaining dramas?
That's a very nice problem to have for a cable network that already has
Monk, Burn Notice, Royal Pains, PSYCH
and
In Plain Sight
. The Friday, Oct. 23rd launch of
White Collar
(
9 p.m. central
) affords USA another chance to look down its nose at corporate sibling NBC, which used to be somebody in the grand scheme of things.
In the realm of the here and now, NBC doesn't even have any weeknight 9 p.m. slots for the likes of
White Collar
. A certain lantern-jawed comedian holds down that real estate. So here's a bet. Airing opposite one another,
White Collar
's 90-minute premiere will draw more viewers nationally than
The Jay Leno Show
.
Both networks are under the same umbrella -- NBC Universal. But it continues to rain heavily on the Peacock's No. 4-rated prime-time lineup while USA keeps walking on the bright side with increasingly popular fare.
Friday nights in particular are best suited to diversions, not heavy lifting. And
White Collar
complies in this coupling of a dogged FBI agent and a charming con man. "Crime has never looked so good and been this much fun," according to USA publicity materials. Well, all right, so long as no one gets hurt. And in your basic USA series, grit, grime and mayhem invariably take a back seat to banter and slow-simmering bonhomie.
The opening episode begins with a nifty "super-max" prison escape by professional thief Neal Caffrey (Matt Bomer), who'd finally been jailed by FBI guy Peter Burke (Tim DeKay) after an extended game of cat-and-mouse.
Caffrey had just three months left on his four-year sentence, so why risk a prolonged return visit? Well, the love of his life is still at large, and he won't take her recent kiss-off as their final answer.
Burke and Caffrey of course hook up -- initially in the interests of apprehending a forger known as "The Dutchman." In return for his "freedom," Caffrey has to wear a tracking anklet, reside in a fleabag hotel and be available to Burke on a moment's notice and within a two-mile radius.
Impossibly -- but who really cares under these circumstances? -- the jaunty con artist meets a wealthy widow (guest star Diahann Carroll) at a thrift store, where she's donating her late husband's customized Sy Devore duds. Caffrey's soon both wearing his clothing and staying in one of her mansion's guest rooms for the same price as the fleabag.
"You look like a cartoon," Burke says upon first seeing Caffrey in a tight-fitting suit and matching hat.
"This is classic Rat Pack. This is a Devore," he retorts.
"Oh, sorry -- Dino."
DeKay as Burke is a scene-stealer throughout. He's gruff enough to fit the FBI mold, but with a snippy, dippy side, too. Not only that, he already
has
the girl, in the form of Tiffani Thiessen as his beauteous and loyal wife, Elizabeth. Rounding out the cast is former
Sex and the City
hanger-on Willie Garson as one of those prototypical ear-to-the-ground founts of information, this one named Mozzie.
White Collar
is just off-kilter enough to be a mock turtleneck. There are crooks to be caught, barbs to be exchanged and style to fight a knock-down/drag-out with substance. But it all comes off quite winningly, giving USA another bright light in its growing galaxy while NBC can do no better of late than to announce a spinoff of
The Biggest Loser
titled
Losing It with Jillian
.
Sigh. No, Sy Devore.
GRADE:
B+